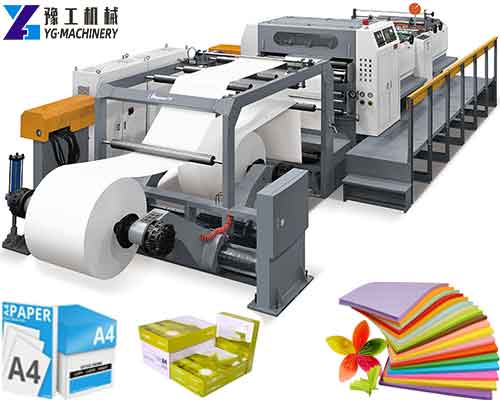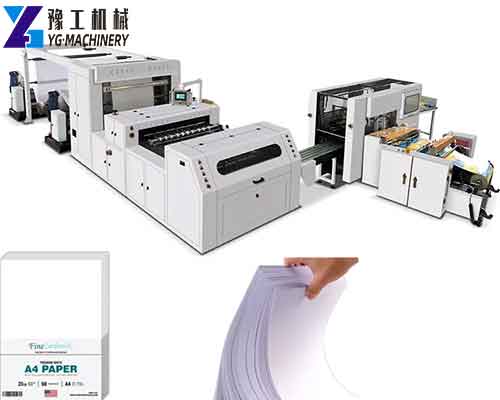 This is a fully automatic A4 paper cutting machine, or automatic A4 paper cutting & packing line, our machine is one of the most advanced types of A4 paper production line in the world, and it adopts the latest technologies in similar paper converting equipment in Europe, all electric components use world top brand, with 20 more years manufacturing experience, it is an ideal production line for A4, A3 copy paper converting. Want to know more machine details? Contact us now!【WhatsApp/WeChat/Phone/Skype】+86 136 1385 6800
A3 A4 A5 Sheet Cutting Machine Technical Parameter:
| | | | |
| --- | --- | --- | --- |
| Model | YG-800D | YG-1100D | YG-1400D |
| Max diameter of the material | Φ1400mm | Φ1400mm | Φ1400mm |
| Max. width of the cutting | 800mm | 1100mm | 1400mm |
| Min. width of the cutting | 50-100mm | 50-100mm | 50-100mm |
| Length of cutting | 20-800mm | 20-800mm | 20-800mm |
| Reference weight of cutting paper | 0.05-1.2mm | 0.05-1.2mm | 0.05-1.2mm |
| The precision of fixed-length | ±0.2mm | ±0.2mm | ±0.2mm |
| Speed | 10-150times/min | 10-150times/min | 10-150times/min |
| Total Power | 4.5kw | 4.5kw | 5.5kw |
| Weight (approx.) | 2300kg | 2700kg | 3100kg |
| Overall dimension(LxWxH)mm | 5000×1700×1200 | 5000×1900×1200 | 5000×2100×1200 |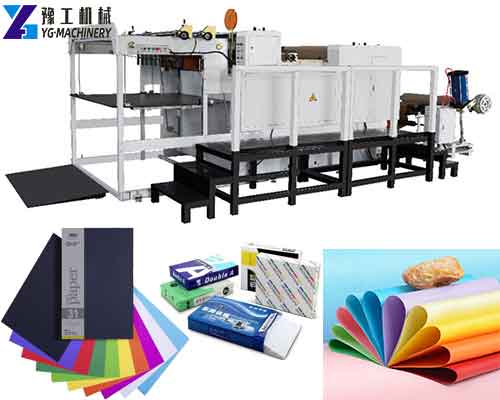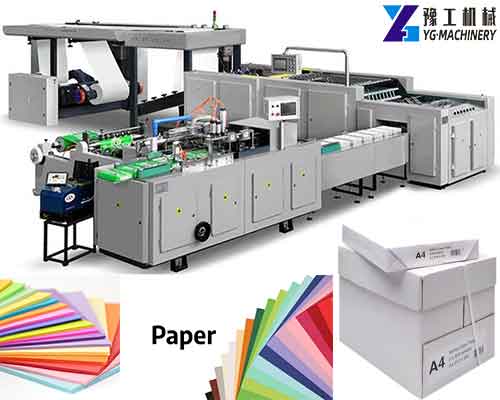 Application of YG A4 Paper Cutter Machine:
YG cross-cutting machine is an ideal equipment for producing A1, A2, A3, A4, and A5 office paper. It can connect with the automatic packing machine for A4 paper. It also can make front delivery structures for different sizes of cutting for paper, stickers, paper, film laminated materials, etc. Can also be custom cut across for hamburger wraps, sandwich wraps, hot dog wraps, and more.
Performance and Characteristics of YG A4 Paper Cutting Machine:
Adopts pneumatic automatic materials loading system with much easier operation and convenience.
Adopts down-up recurrent cutting with orderly finished products and without water caltrop; meantime, it can be used for horizontal cutting and vertical cutting at one time.
It adopts a servo motor for controlling constant-length cutting.
It adopts computer control, and contact screen operation.
It adopts a pneumatic, displacement sensor for controlling the transmission system, with photoelectric, and gas together, it has the function of easy operation, high precision, good stability, and low noise.
This machine has the function of the frequency converter timing device, automatic counting, stop working by alarm, magnetic powder tension control, can be vertical, and adopt a blower fan to get rid of waste.
It has the functions of high-precision cutting, high speed, etc. pneumatic structure combined with computer control be adopted for the transmission section, making it become a much more steady operation.
 It has the function of automatic stacking which is in order. Photoelectric auto tracing subtense system.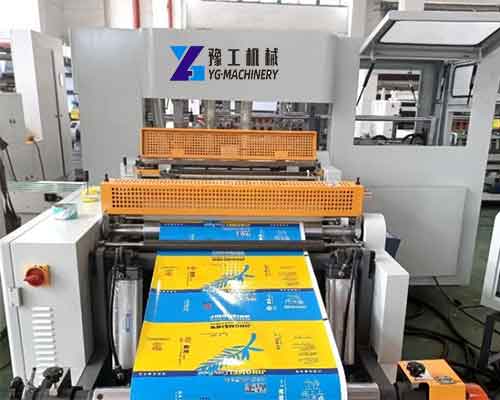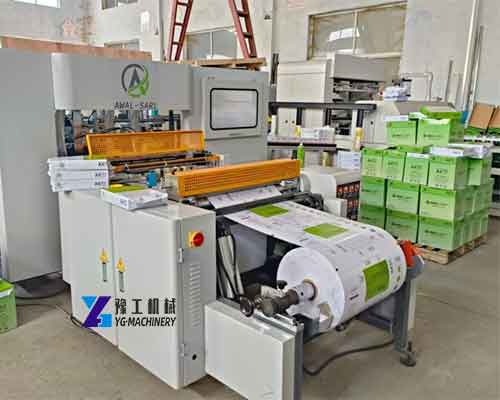 The A4 copy paper cutting and packing machine effectively shortens the cutting and packaging time, which is conducive to the high productivity of the paper cutting machine. The production process includes paper unwinding, paper cutting, counting, paper conveying, paper unloading, and packaging. The high automation reduces the labor intensity greatly. YG Machinery is a large-scale enterprise integrating design, production, sales, and after-sales. It has a series of paper product types of equipment, such as A4 paper-making machines, tissue-making machines, napkin-making machines, kraft paper-making machines, corrugated paper machines, paper cup-making machines, paper bowl-making machines, paper dish-making machines, paper drink straw machines, paper carton erecting machines, ultrasonic slitting machines, diaper making machines, wet wipe machines, tea cup printing machines, egg tray making machines, aluminum foil container machines, etc. Contact us if you are interested in our machines.【WhatsApp/WeChat/Phone/Skype】+86 136 1385 6800