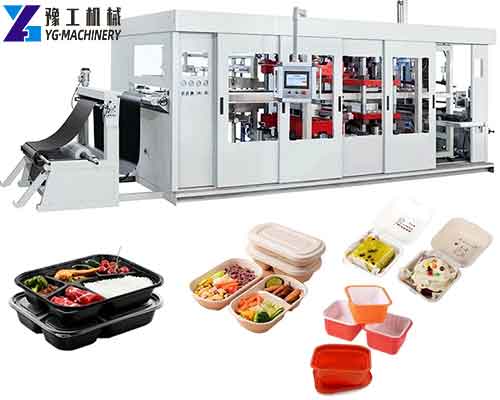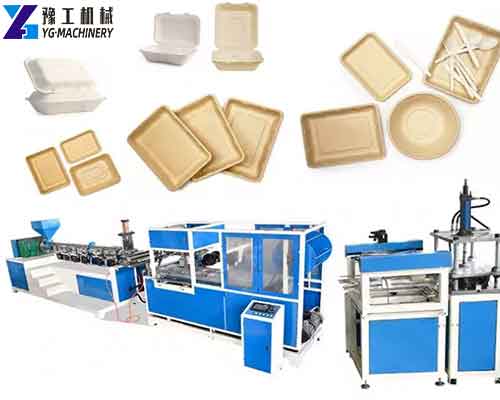 Thermoforming refers to the use of high temperatures to process thermoplastic semi-finished products into specified shapes. Plastic thermoforming machines produce workpieces through the thermoforming process. Due to the specificity of their application, these workpieces are often ready-to-use end products that do not require further processing. In the thermoforming process, the semi-finished product is fed into a thermoforming machine where it is "reshaped" by thermal energy. The thermoforming process can be used for a variety of products, such as plastic film on the surface of chocolate boxes, plastic cups for hot or cold beverages, and other products used in toy packaging. If you want to know more, please feel free to contact us.【WhatsApp/WeChat/Phone/Skype】+86 136 1385 6800
Thermoforming Machine Technical Parameter:
| | | |
| --- | --- | --- |
| Model | YG 660/350 | YG 750/450 |
| Sheet Materials | PP.PS.PET.PE.ABS | PP.PS.PET.PE.ABS |
| Sheet Width | 500-660mm | 600-750mm |
| Sheet Thickness | 0.3-2mm | 0.3-2.5mm |
| Max. Forming Area | 680x350mm | 720x450mm |
| Max. Forming depth | 140mm (Can be adjusted to220mm with request) | 180mm (Can be adjusted to220mm with request) |
| Forming Pressure | 0.5-0.8Mpa | 0.5-0.8Mpa |
| Productivity | 10-30 mould/min | 10-35 mould/min |
| Heating Power | 80 KW | 120 KW |
| Motor Power | 8.5 KW | 11 KW |
| Total Weight | 4.2 ton | 5 ton |
| Water Temperature | >30℃ | >30℃ |
| Overall Dimensions | 3500x1500x 2200 mm | 4000x1600x 2200 mm |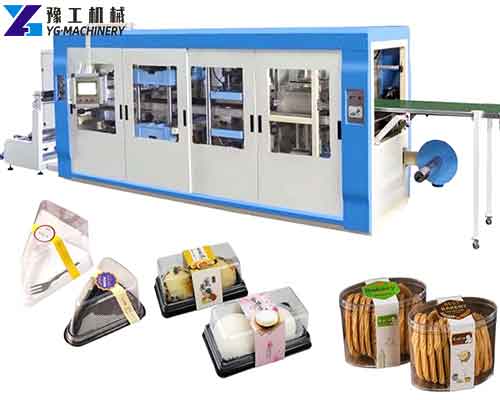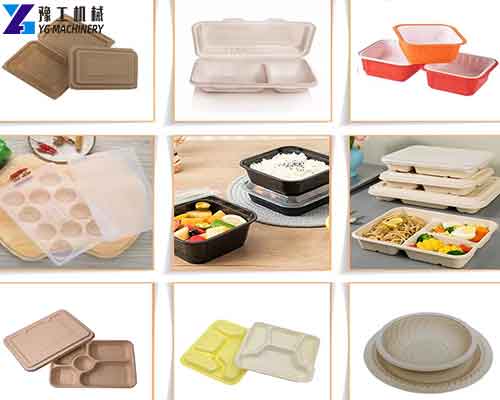 Application of YG Plastic Thermoforming Machine:
The multi-station thermoforming machine is suitable to handle different materials, such as A-PET, R-PET, C-PET, BOPS, HIPS, PP, PLA, PVC, and barrier material, and to produce many items: trays, lids, fruits, and vegetable boxes, flower pots, clamshells, nursery trays, and plates. It can make some products that are unable to be made in one station thermoforming machine, like for example PLA products, plastic lids or containers which has holes, the packing containers (fruit box, egg trays) with body and cover connected, etc.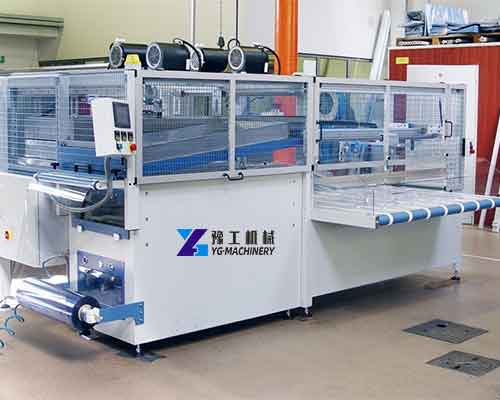 Thermoforming Machine Working Principle:
Plastic thermoforming (blister) technology is a plastic processing technology that processes thermoplastic sheets (plates) into various products. First, the plastic sheet (plate) is heated to a softened state in a heating furnace, and then placed in a forming mold, and under the action of external force (vacuum, positive pressure, or mechanical), it is tightly attached to the surface of the mold to form a and detailed contours of the fit surface. After cooling, shaping, trimming and other processes, the desired product is obtained.
Plastic Thermoforming Machine Price – YG Machinery Manufacturer
YG has high-quality and best-price thermoforming machines. We have different types of equipment to meet the needs of different customers, of course, we also support customization. As a professional manufacturer, we always stand with our customers in order to provide them with the most suitable and cheapest machines to complete their projects. In addition, we also have lunch box making machines, aluminum foil container machines, disposable cup making machines, tissue making machines, slitting machines, wet wipe machines, diaper making machines, woven bag making machines, garbage bag making machines, cast film machines, balloon making machines, condom making machines, disposable slipper machines, small soap making machines, etc. Contact us to learn more about profitable investment opportunities.【WhatsApp/WeChat/Phone/Skype】+86 136 1385 6800