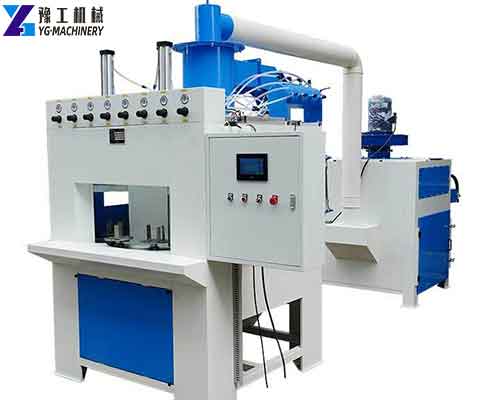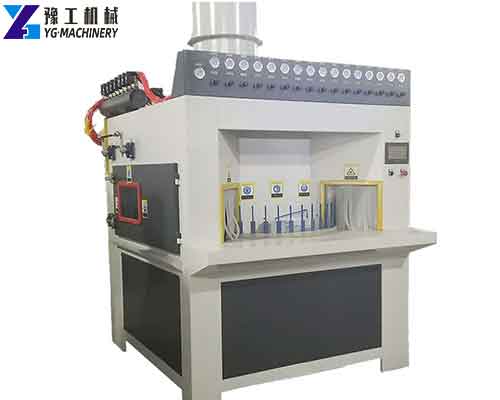 The automatic sand blasting machine also included rotary table sandblasting machines, also called turntable sandblasting machines, gap-type automatic sandblasting machines, and continuous automatic sandblasting machines. Turntable automatic sandblasting machine is an efficient surface treatment process equipment. Its principle is mainly to use the impact of high-speed sand flow to clean and roughen the surface of the workpiece so that the surface of the workpiece can obtain a certain degree of cleanliness and roughness. It is a high-capacity, high-efficiency machine. Also, we have portable sand blasting machines, sandblasting rooms, sandblasting chambers, pass-through shot blasting machines, etc. Want to know more about machine details?【WhatsApp/WeChat/Phone/Skype】+86 136 1385 6800
Turntable Automatic Sandblasting Machine Technical Parameters:
| | |
| --- | --- |
| Model | YG-5021-8A |
| Host device dimensions | 1600*3000*3150mm |
| Equipment working room size | 1300*1000*1000mm |
| Dust box dimensions | 1200*1200*2400mm |
| Dust removal fan | 380V/50HZ, 5.5KW |
| Automatic conveying motor | 380V/50HZ, 0.75KW (speed adjustable) |
| Automatic conveying mechanism | 380V/50HZ, 0.37KW (speed adjustable) |
| Lighting: 3w fluorescent lamps 3 | 3pcs,18w |
| Number of guns | 12pcs (an aluminum alloy with a boron carbide nozzle) |
| Sand bucket | 3pcs |
| Work station | 8 (12, customized) |
| Air pressure | >5bar(kg/cm2) |
| Air consumption | 8~12m³/min |
| Load capacity in the studio | ≤50Kg |
| Total power | 11Kw |
| Total weight | 1750Kg |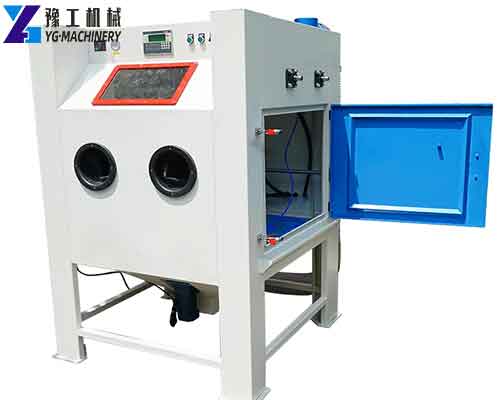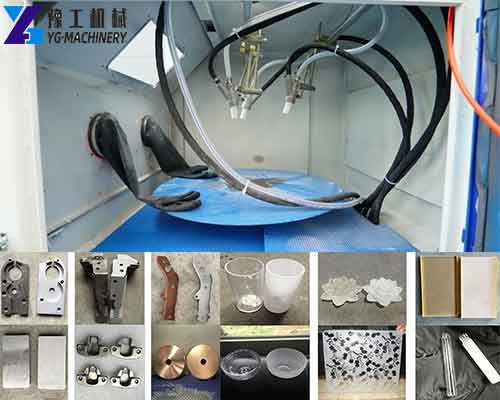 There are 8 small turntables on the big turntable. The big turntable is driven by a separate motor. The 8 small turntables are respectively driven by a single motor. The speed can be adjusted quickly. There are 12 guns, which are divided into two groups, one for each of the six guns. Clean 2 hot plates at the same time. After blasting, it automatically rotates to the blow-out area. After the blasting is completed, it automatically rotates out of the working chamber, and the blasting worker removes the processed heating plate. The spray gun group adopts a fixed rocking structure, which can adjust the spray distance, the swing speed, and the sand amount by 360 degrees. It can also open the number of sandblasting guns according to different workpiece selections. The large turntable adopts the proximity switch to control the positioning, and the positioning is accurate. At 90°, each station cleans up one workpiece and can work continuously for a long time.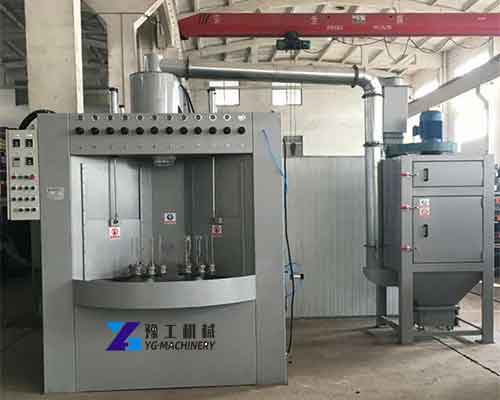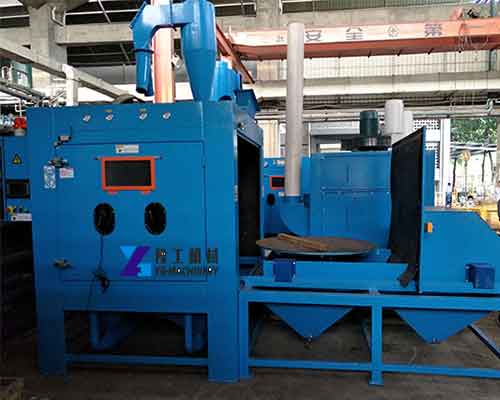 The turntable automatic sandblasting machine is suitable for mass production of sandblasting on the inner and outer surfaces of discs, cylinders, and square workpieces, such as handicrafts, glass lampshades, non-stick pans, flashlights, baking pans, stainless steel wash basins, communication equipment, and other workpieces.
Automatic Sand Blasting Machine Manufacturer – YG Machinery
Rotary disc automatic sand blasting machines have a wide range of applications and are not very expensive. Many customers will choose to use YG sandblasting machine. Because we not only have advanced technology but also have equipment that is more in line with customer experience, as well as professional sales staff and after-sales team. Therefore, when purchasing YG equipment, you don't need to worry too much, because it will definitely give you a perfect experience. In addition, we also have portable sand blasting machines, dry ice blasting machines, sandblasting rooms, sandblasting chambers, pass-through shot blasting machines, floor shot blasters, rebar derusting machines, mini excavators, fog cannons, hydroseeding machines, mortar sprayers, shotcrete sprayers, GRC machines, mini concrete pumps, etc. If you want to know more machine details? Contact us now!【WhatsApp/WeChat/Phone/Skype】+86 136 1385 6800