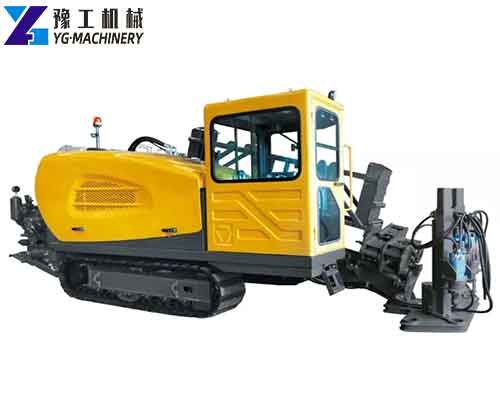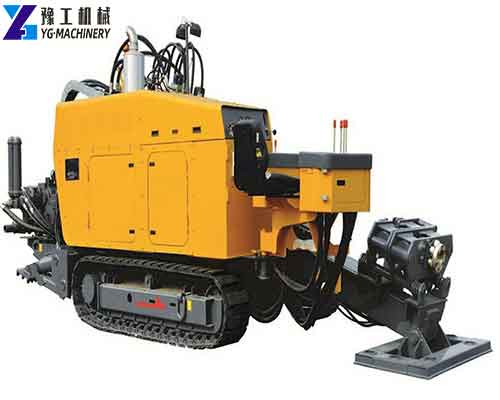 The horizontal drilling machine is also called a horizontal directional drilling machine, HDD machine, etc. The horizontal directional drilling machine is a construction machine that lays a variety of underground utilities (pipes, cables, etc.) without excavating the ground surface. It is widely used in flexible pipelines such as water supply, electricity, telecommunications, natural gas, gas, and petroleum. During paving construction, it is suitable for sand, clay, and other ground conditions, but not suitable for high groundwater levels and pebble formations. It can be constructed in most non-hard rock areas. We also have water well drilling rigs, core drilling rigs, small water well drilling rigs, rotary drilling rigs, crawler DTH drilling rigs, trailer mounted water well drilling rigs, DTH drilling machines, tractor water well drilling rigs, crawler mounted drilling rigs, anchor drilling rigs, hydraulic pile drivers, core drilling rig for mining, etc. If you are interested, please contact us.【WhatsApp/WeChat/Skype/Phone】+86 136 1385 6800
Horizontal Directional Drilling Machine Parameter:
Model
YG-160A
YG-180
YG-280
YG-320
YG-320A
Engine rated power
100KW
97KW
160KW
140KW/160KW
160KW
Push and pull
Cylinder
Motor
Motor
Cylinder
Motor
Maximum drag/feed force
160/100KN
180/180KN
280/280KN
320/320KN
320/320KN
The maximum torque of the powerhead
5000N.n
6000N.n
10000N.n
12000N.n
12000N.n
Powerhead speed
0-180r/min
0-140r/min
0-120r/min
0-140r/min
0-140r/min
Moving speed of powerhead
30m/min
20m/min
20m/min
20m/min
20m/min
Maximum reaming hole diameter
Φ600mm
Φ600mm
Φ750mm
Φ800mm
Φ800mm
Drill rod length (single)
3m
3m
3m
3m
3m
Drill pipe diameter
Φ60mm
Φ60mm
Φ73mm
Φ73mm
Φ73mm
Drill pipe diameter
10-23°
10-22°
10-23°
10-20°
10-20°
Maximum mudflow
160L/min
250L/min
320L/min
320L/min
320L/min
Maximum mud pressure
100bar
80bar
80bar
80bar
80bar
Overall quality
6700kg
8500kg
12500kg
11500kg
11200kg
Dimension(length*width*height)
5700*1820*2400

mm

6400*2270*2340

mm

7100*2260*2450

mm

7100*2250*2450

mm

7662*2162*2450

mm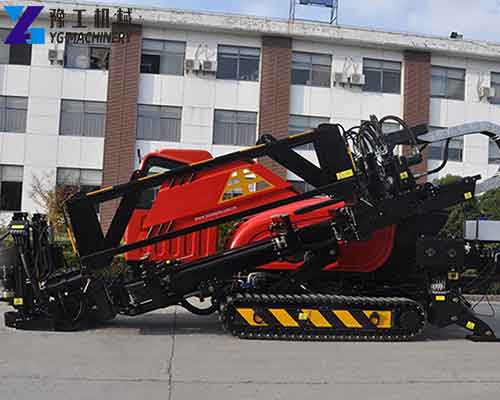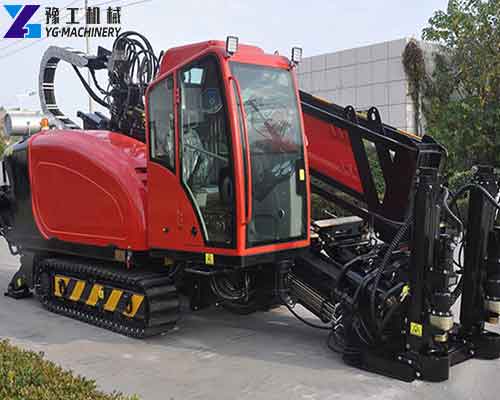 Feature and Application of the Portable Horizontal Drilling Machine:
The working environment temperature is -15℃~+45℃. Horizontal directional drilling technology is a new construction technology that combines the directional drilling technology of the petroleum industry with traditional pipeline construction methods. It has the advantages of fast construction speed, high construction accuracy, and low cost. It is widely used in water supply, gas, electricity, telecommunications, natural gas, oil, and other pipelines that are under construction. Horizontal directional drilling equipment has also achieved rapid development in more than ten years and has become an emerging industry in developed countries. Its development trend is moving towards large-scale and miniaturization, adaptation to hard rock operations, self-contained anchoring systems, automatic stacking and extraction of drill pipes, automatic lubrication of drill pipe connections, anti-shock systems, and other automated operation functions, ultra-depth guided monitoring and applications Development of characteristics such as a wide range. This kind of equipment is generally suitable for steel pipes and PE pipes with a pipe diameter of φ300~φ1200mm, and the maximum pipe laying length can reach 1500m. It is suitable for various soil conditions from soft soil to hard rock and has a broad application prospect.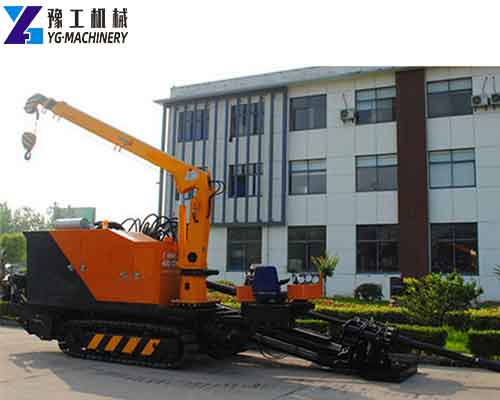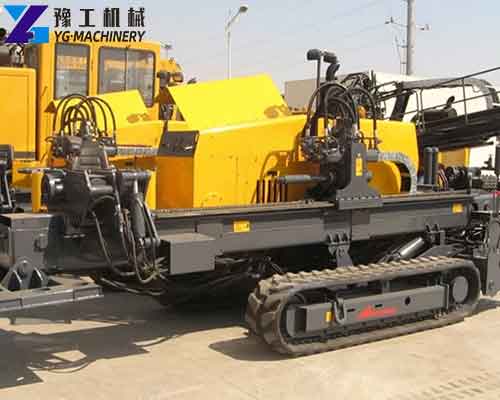 Main Characteristics of Small Directional Boring Machine:
Rotation, push-pull, clamping, and walking adopt the German Rexroth automatic variable system, load-sensitive control; its hydraulic system is 15%-20% more efficient than traditional hydraulic systems, reducing the heat generated in the system by 50%, and can save energy by 15%-20%.
It adopts Cummins's special engine for construction machinery with strong power.
The powerhead can be increased, with a maximum push-pull force of 900kN, which guarantees the safety of construction during large pipe diameter construction.
The frame adopts a four-bar amplitude modulating beam structure, which greatly increases the range of incident angle, and at the same time ensures that the crawler of the drilling rig does not leave the ground when the angle is large, improving safety performance.
Wire-controlled walking system to ensure the safety of personnel and equipment during walking.
The loading and unloading of the drill rod adopt the turning angle adjustable mechanical arm mechanism, which is convenient and quick to load and unload the drill rod, which greatly reduces the labor intensity of the construction personnel and improves work efficiency.
It is suitable for φ127×3000 mm, and φ114×3000mm drill rods and the machine body occupies a moderate area, taking into account the construction requirements of high efficiency and small space.
The main components are selected from international hydraulic component manufacturers, which greatly improves the reliability and safety of product performance.
The circuit design is scientific and reasonable, with a low failure rate and easy maintenance.
The use of rack and pinion push-pull, high efficiency, stable work, convenient repair, and maintenance.
The crawler adopts a steel crawler and rubber gasket, which can withstand high loads and meet the requirements of walking on various roads.
The double-wall rock drilling rig can perform efficient construction in rock formations and faster construction efficiency in ordinary formations (equipped with ordinary drilling tools).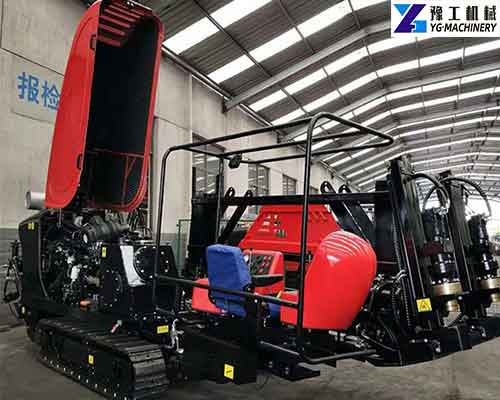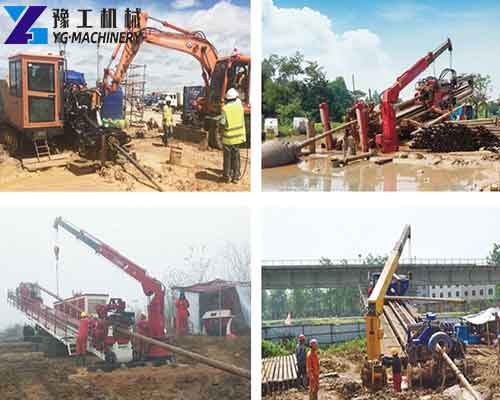 Horizontal Directional Drilling Rig System:
Horizontal directional drilling rigs of various specifications are composed of a drilling rig system, power system, direction control system, mud system, drilling tools, and auxiliary tools. Their structure and functions are introduced as follows:
Drilling rig system: It is the main body of the drilling operation and towing operation of the traversing equipment. It is composed of the main drilling rig, turntable, etc. The main drilling rig is placed on the drilling frame to complete the drilling operation and the retracting operation. The turntable is installed at the front end of the main body of the drilling rig, connected to the drill rod, and by changing the rotation of the turntable and the output speed and torque to meet the requirements of different operating conditions.
Power system: composed of hydraulic power source and generator. The power source is to provide high-pressure hydraulic oil for the drilling rig system as the power of the drilling rig, and the generator provides electricity for supporting electrical equipment and construction site lighting.
Direction control system: The direction control system is a directional tool to guide the drill bit to drill correctly through the computer to monitor and control the specific position and other parameters of the drill bit in the ground. Due to the control of the system, the drill bit can drill according to the design curve. There are two types of hand-held wireless and wired steering systems that are often used.
Mud system: The mud system is composed of a mud mixing tank, a mud pump, and a mud pipeline to provide the drilling rig system with mud suitable for drilling conditions.
Drilling tools and auxiliary tools: various tools used for drilling and reaming during drilling. Drilling tools mainly include drill pipes, drill bits, mud motors, reamers, cutters, and other tools suitable for various geological conditions. Auxiliary equipment includes snap rings, swivel unions, and drag heads of various pipe diameters.