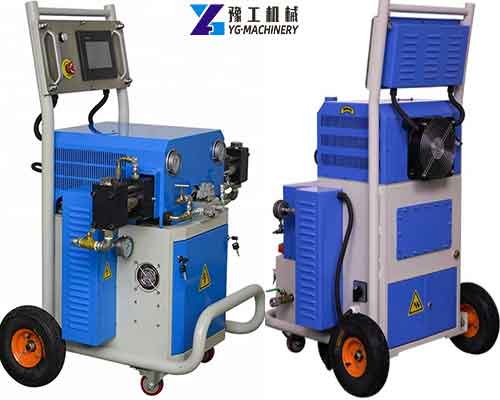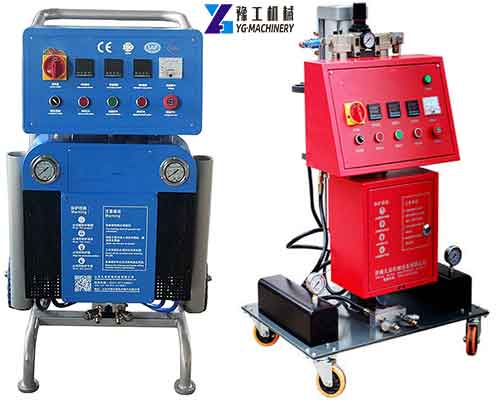 The polyurethane foam spray machine, as the name suggests, is a spraying machine for spraying polyurethane coatings. Polyurethane is a thermal insulation and waterproof coating widely used in construction. A polyurethane spraying machine is a high-pressure polyurethane spraying machine. The polyurethane material is impacted and rotated at high speed in the small space of the mixing chamber, and the mixing is very thorough. The material moving at high-speed forms fine mist droplets at the nozzle of the spray gun, which is evenly sprayed on the surface of the object. Want to know more about polyurethane foam spray machine details? Contact us now!【WhatsApp/WeChat/Skype/Phone】+86 136 1385 6800
Polyurethane Spraying Machine Parameter:
| | |
| --- | --- |
| Project | YGMC-500 high configuration PU Machine |
| Proportion Fixed Mainframe | 1 set |
| Self-cleaning spray gun | 1 set |
| Gross weight | 300KG |
| Net weight | 250KG |
| Feed pump | 2 sets |
| Heated hose | 49.2 ft (15 m) |
| Data ratio of raw materials | 1: 1 (fixed) |
| Raw material viscosity range | 200-1000CPS (at working temperature) |
| Max Working pressure | 35MPa (350 bar) |
| Maximum Fluid Temperature | 88 ° C (190 ° F) |
| Maximum output | 24kg/min (42 lb/min) |
| Each heater power | 6000W |
| Heating hose power | 1000W / 15m |
| Total power | 15000W |
| Voltage | 230V 1-ph / 3-ph 220V/400V 3-ph |
| Machine size | 870mm* 700mm* 1150mm |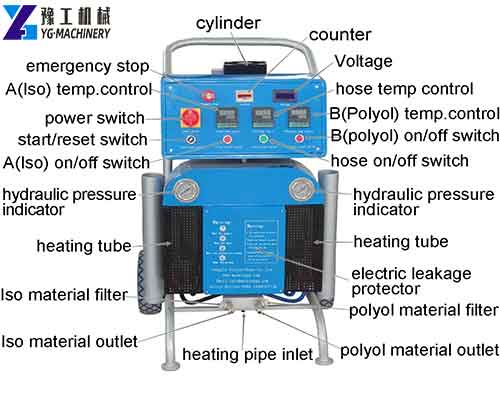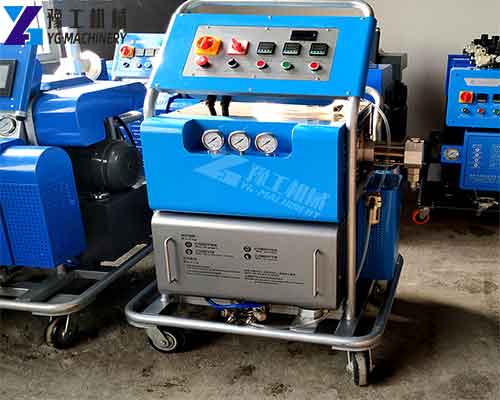 Insert two lifting pumps into the industrial vat containing components A and B. The material from the straight pump enters the main machine along with the feeding pipe. The volume ratio is controlled by the precision metering pump in the main machine, and the main machine is heated and pressurized at the same time. Then, the material flows out from the main machine, reaches the spray gun through the insulation hose, and after the trigger is pulled, it passes through the filter in the mixing chamber from each direction for high-pressure impact mixing and then sprays at a high speed. The compressed air is received at the nozzle to form a uniform fan-shaped or circular material surface, which is sprayed on the steel pipe to solidify.
Application of Polyurethane Foam Spray Machine:
This equipment can be used for various construction environments by spraying a variety of two-component spray materials and has been widely used in embankment waterproofing, pipeline corrosion, auxiliary cofferdam, tanks, pipe coating, cement layer protection, wastewater disposal, roofing, basement waterproofing, industrial maintenance, wear-resistant linings, cold storage insulation, wall insulation and etc.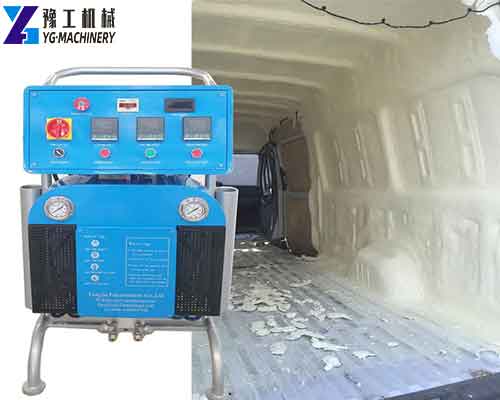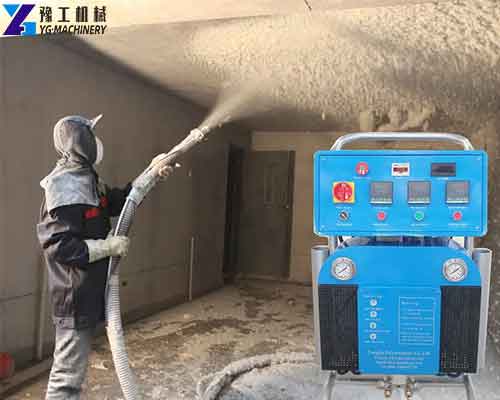 Polyurethane Foam Spray Machine Manufacturer – YG Machinery
As a multi-purpose material involving automobiles, shoemaking, home appliances, construction, furniture, textiles, medicine, and many other industries closely related to people's lives, the development of the polyurethane spraying machine industry will bring people a more convenient and comfortable life. YG is already a very mature and well-known brand with its own factory and a complete product system and has been sold to many countries around the world and has received unanimous praise. Besides, we also have polyurea spraying machines, mortar spraying machines, shotcrete machines, gypsum spray plaster machines, GRC machines, mini concrete pumps, concrete mixer pumps, hydroseeding machines, fog cannons, sandblasting machines, micro excavators, auto brick making machines, small backhoe loaders, electric forklifts, dry ice blasting machines, wood shredder machines, etc. If you want to buy more related machines, you can contact us now!【WhatsApp/WeChat/Skype/Phone】+86 136 1385 6800