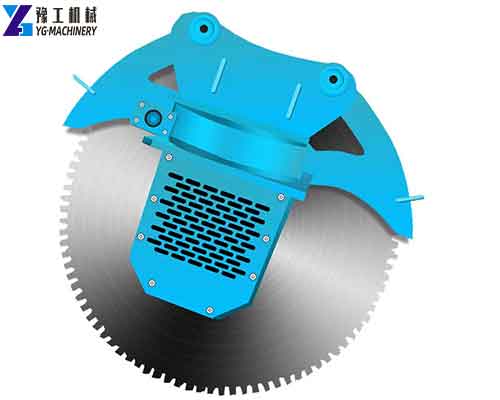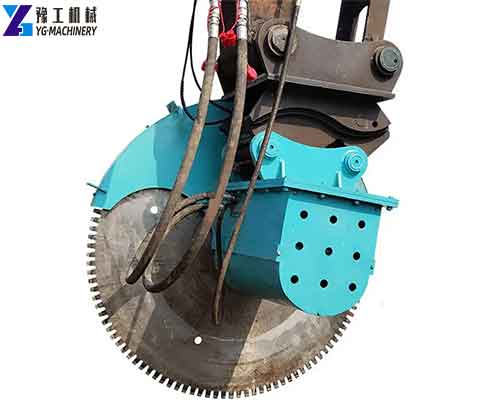 This excavator rock saw is a hydraulic-driven large disc saw designed for excavators, which is used to explore and mine hard geology such as granite, basalt, marble, quartz stone, granite, and reinforced concrete. According to different needs to replace the different sizes of the saw blade, the saw blade can also be replaced into a logging saw blade for forestry logging. In addition, this equipment can also be designed and installed according to your other equipment, and the product is tailored for you.【WhatsApp/WeChat/Phone/Skype】+86 136 1385 6800
Excavator Hydraulic Rock Saw Parameter:
| | | | | |
| --- | --- | --- | --- | --- |
| Model | YG-CF1 | YG-CF2 | YG-CF3 | YG-CF4 |
| Suitable for excavators | 2~4T | 6~9T | 10~18T | 20~30T |
| Saw Disc Diameter | 0.4~0.8M | 1.2~1.6M | 1.8~2.2M | 2~2.8M |
| Cutting width | 5mm | 9mm | 14mm | 20mm |
| Cutting depth | ≤400mm | ≤800mm | ≤1100mm | ≤1400mm |
| Pressure | 30Mpa | 30Mpa | 30Mpa | 30Mpa |
| Flow | 30L/min | 80L/min | 120L/min | 190L/min |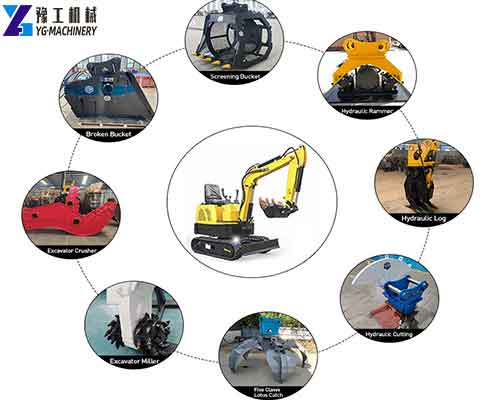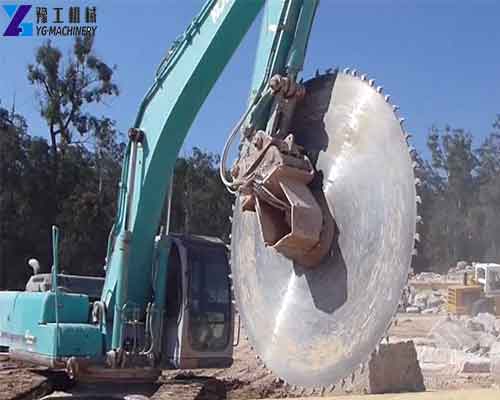 Excavator Hydraulic Rock Saw for Sale:
The saw is an attachment that can be installed on the excavator. It can be powered by the excavator's own hydraulic system. It only needs to install another set of hydraulic pipes on the excavator to achieve a perfect combination with the excavator. A high-performance attachment can achieve an efficient working range, and we offer optional units that allow you to use one circular saw or two circular saws on one excavator at the same time, depending on the tonnage of the excavator. Different, we provide multiple models for customers to choose from. According to the requirements of the operation, we provide two types of saw teeth, one with replaceable teeth, and the other with non-changeable teeth. Due to the high requirements for the operation, of the hydraulic rock saws, we provide wear-resistant teeth with full protection, and their special process design and high-strength wear-resistant materials ensure high efficiency during their work. This product is easy to disassemble and assemble, and has high cutting efficiency, after sawing the rock and then using the crushing hammer to strike the quarry greatly improves efficiency and saves cost.
Rock Saws are Suitable for the Following Situations:
Building demolition, used for cutting reinforced concrete, cement floors, highway construction, and maintenance operations; cutting and crushing operations of hard rock and powder rock; cutting operations of underground cable trenches; quarry mining operations, rock blocks For shaping, trimming, and other operations; rock tunnel excavation, rock trench excavation, etc., this saw can be used to cut the rock first, and then a breaker or rock splitter can be used to crush the rock.
4 Features of Rock Saws for Excavators:
High power and easy to install. It can be directly installed on the excavator for water cooling.
After sawing the hard rock, using a breaker hammer to hit the quarrying effect is very good and the cost is low.
Flexible application. Saw discs of different sizes can be replaced according to the working environment, and tree saws can also be replaced for sawing trees.
It is simple to install economical in maintenance and brings strong sawing power to construction. It can be customized according to the power of the excavator and loader and construction requirements.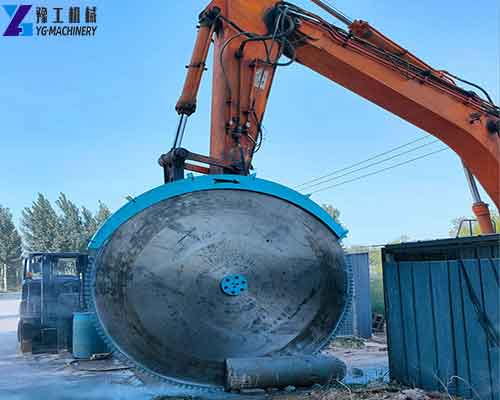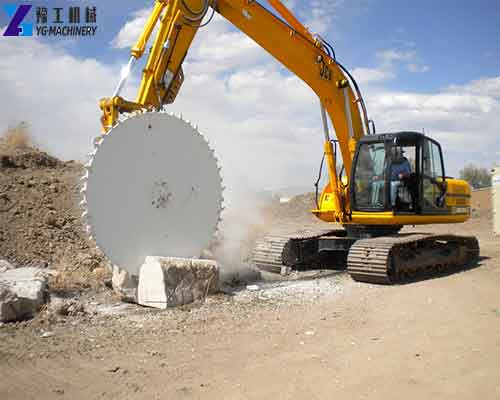 Excavator Rock Saw Manufacturer – YG Machinery
YG Machinery's excavator attachments are already a very well-known brand, because our products are of high quality, and sales and after-sales personnel have professional technical knowledge, which can perfectly help customers solve problems. Our attachments can be applied to excavators of various models and tonnages and can be customized for customers. In addition, we have excavator hydraulic shears, excavator crusher buckets, excavator drum cutters, hydraulic breaker machines, hydraulic pile breakers, excavator rock splitters, excavator drill and splitter machines, wire saw cutting machines, crawler wire saw machines, hydraulic frequency wall saws, concrete wall saws, hydraulic rock splitters, firewood splitter machines, horizontal band saw machines, etc. Contact us to learn more about machines!【WhatsApp/WeChat/Phone/Skype】+86 136 1385 6800