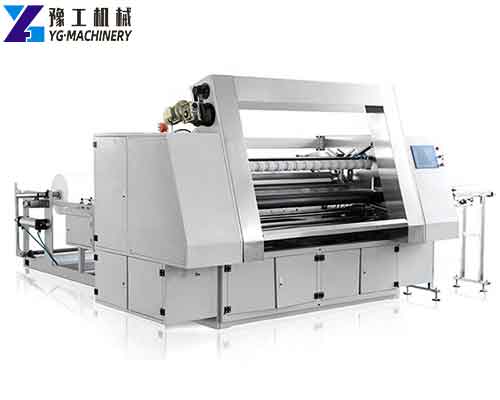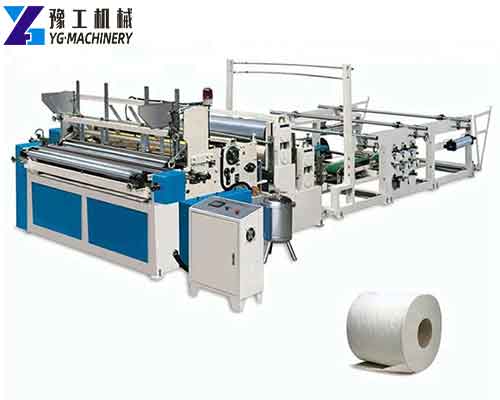 The non-woven fabric rewinder is to make the non-woven fabric a regular interruption and adhesion through a rewinding and perforating device, which is convenient for customers to use. This rewinding machine for sale in YG Machinery is suitable for cutting all kinds of spun lace non-woven, felt, cloth, leather, needle-punched cloth, plastic film, kraft paper, and other products. The equipment is equipped with a wide belt synchronous conveying device and two sets of gear-type infinitely variable speed-adjusting tension devices to ensure the precise size of the finished product and a set of positive and negative guide cloth conversion devices. This equipment can be used in conjunction with our company's wet tissue machine and toilet paper production line to improve efficiency. Contact us now!【WhatsApp/WeChat/Phone/Skype】+86 136 1385 6800
Fabric Rewinder Machine Parameter:
| | |
| --- | --- |
| Power supply | 380V 50Hz |
| Total power | 9KW |
| Applicable materials | dust-free paper, non-woven fabric |
| Material weight | 30-60G/M2 |
| Maximum size of raw materials | 1200×1500 |
| Maximum size of a single piece of wet wipes | adjustable |
| Roll size (mm) | 120×width |
| Rewinding speed | 90M/MIN |
| Machine weight | 2000kg |
| Machine ruler (mm) inch | 3405×2108×2032 |
| Capacity | about 600 rolls/hour |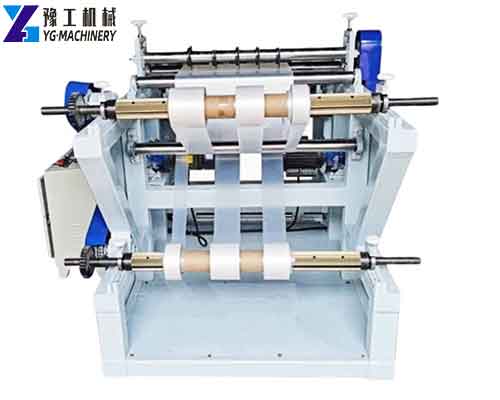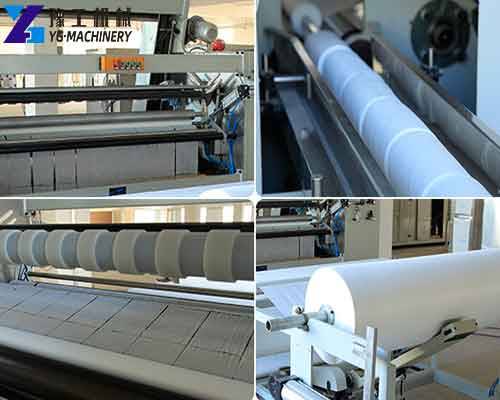 Performance and Characteristics:
This machine adopts PLC touchscreen control, servo motor controls fixed length cutting.
The transmission system adopts centralized control such as pneumatic and photoelectric sensors. This machine integrates light, electricity, and gas, convenient operation, high cutting precision, mechanical stability, and low noise.
Motor frequency conversion speed regulation, automatic counting, alarm stop, magnetic powder tension control. It can be divided into multiple sections longitudinally, and the waste edges are automatically removed by a fan.
Multiple rolls can be cut horizontally and vertically at the same time.
Before You Buy A Slitting Machine:
What is the material that needs to be slit (film, paper, non-woven fabric, etc.)
What is the roll diameter of the material? What is the diameter of the receiving and unwinding? The more meters, the larger the diameter.
The width of the material and the size to be cut, including the thickness.
According to different materials, thickness, width, rewinding, and unwinding diameter, recommend the corresponding equipment.
Analysis of the Causes of Longitudinal Instability of the Rewinder:
It is possible from the entire flow system to the headbox.
It is estimated that the main factors are concentration and automatic control systems.
Equipment MD control problem, check the components related to MD and DCS control system.
Check whether the liquid level and total pressure of the lower headbox are stable.
The large changes in equipment slurry concentration and flow changes follow these two paths to find the reasons. Description of the way to stop the operation of the rewinder: When the operation switch is turned off, the rewinder stops working and slows down at a fixed deceleration.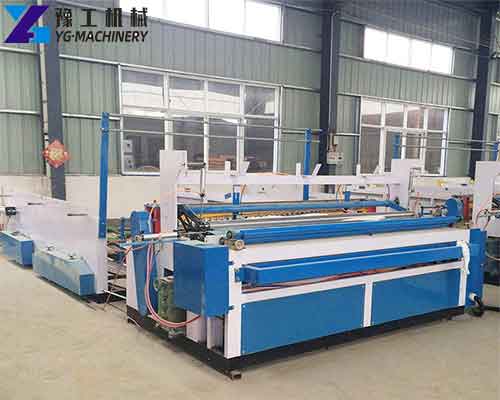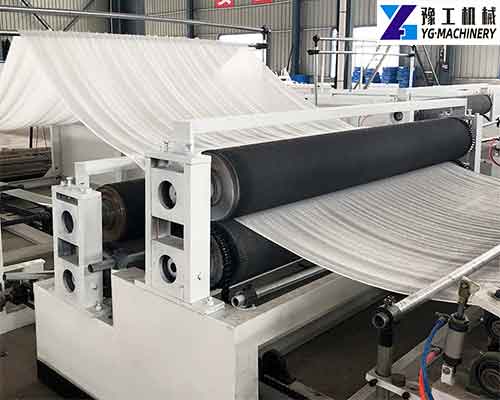 Three Major Trends in the Development of Automatic Non-woven Fabric Rewinders:
The world is advancing, and the fully automatic non-woven fabric rewinder is also constantly moving forward. According to insiders from YG Machinery, the fully automatic non-woven fabric rewinder has gradually shown three development trends in the development:
Trend 1: Serialization and large-scale.
Serialization is an important trend in the development of fully automatic non-woven fabric rewinders. Famous foreign companies have gradually realized the serialization of their products, forming products of different specifications from miniature to extra-large. At the same time, the cycle of product upgrades has been significantly shortened. Fully automatic non-woven fabric rewinder products are characterized by high technology content.
Trend 2: Electronic and Intelligent.
The market prospects for products with high reliability, superior performance, and mechanical and electrical integration of automatic non-woven fabric rewinders equipped with advanced electronic technology are promising.
Trend 3: Energy saving and environmental protection.
Generally speaking, the automatic non-woven fabric rewinder has high power, a wide application range, and high noise pollution. However, in order to improve the energy-saving effects of products and meet the increasingly stringent environmental protection requirements, YG Machinery reduces engine emissions, improves hydraulic system efficiency, and reduces vibration and noise. To be sure, in the long run, YG's low-emission, low-noise fully automatic non-woven fabric rewinder will inevitably be welcomed by the market.
Fabric Rewinding Machine for Sale in YG Machinery with Factory Price
In this era of highly automated and more expensive labor, fully automatic rewinders have become a popular trend. YG Machinery's rewinder has a PLC programmable controller, which greatly reduces the difficulty of human operation. We have been committed to designing modern, high-quality equipment for customers, and because it is a direct manufacturer, the price is also the ex-factory price. In addition to automatic rewinders, we also produce wet tissue machines, cryogenic air separation plants, toilet paper production lines, industrial oxygen generators, PSA nitrogen generators, home beer brewing machines, glove making machines, face mask making machines, balloon making machines, condom making machines, and other conventional equipment. For the post-epidemic era, we also have various disinfection equipment, such as fog cannons, disinfection doors, automatic trolley disinfection machines, UV smart disinfection robots, intelligent disinfection channels, hand-held spray guns, chlorine dioxide disinfection tablets, and so on. Please contact us! Get more product information.【WhatsApp/WeChat/Phone/Skype】+86 136 1385 6800