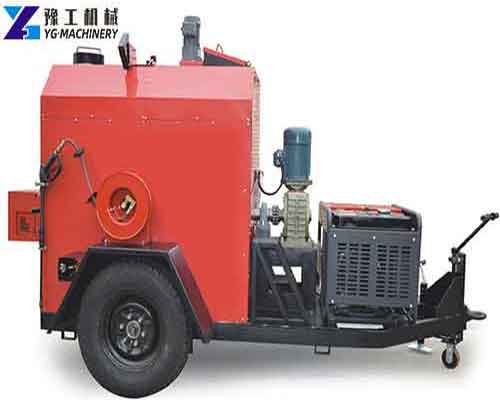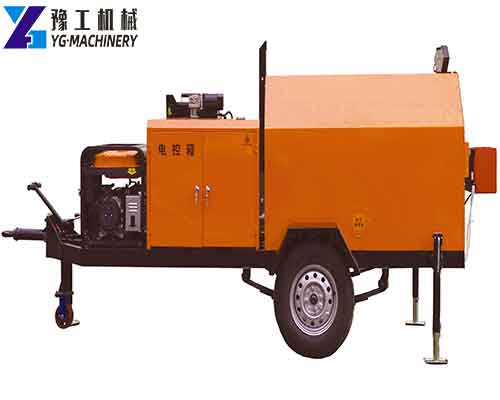 An asphalt recycling machine is used for pavement repair, to provide the required hot-mixed asphalt mixture or thermal recycling of waste materials. The product is used in many functions such as old material regeneration, cold material heating, new material stir-frying, filling, and repairing. At YG Machinery, we also have the same series of road machinery for you to choose from, such as asphalt crack filler machines, non-curing spraying machines, curb and gutter machines, floor shot blasters, floor grinders, road marking machines, road rollers, electric road sweepers, etc. If you need it, please contact us.【WhatsApp/WeChat/Skype/Phone】+86 136 1385 6800
Asphalt Recycling Machine Working Principle:
The diesel burner conducts heat energy to the heated material through the hot air, and heats the cooled asphalt mixture or waste asphalt mixture to soften and regenerate it; it can also be used on-site for simple hot mixing with asphalt and gravel.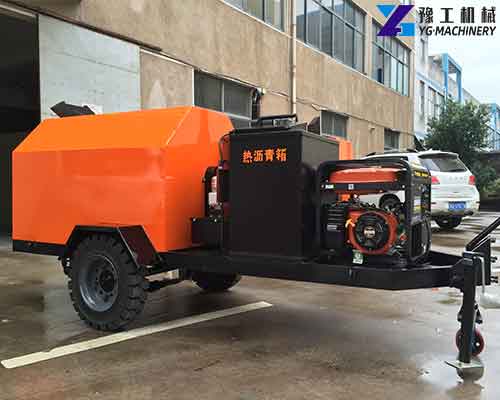 YG-800 Small Mobile Asphalt Regenerator Parameter:
| | |
| --- | --- |
| Model | YG-800 |
| Productivity | 1.5t/h |
| Machine power | 11KW |
| The maximum percentage of recycled material added | 40% |
| Gas tank capacity | 30L |
| Diesel tank capacity | 40L |
| Thermal oil capacity | 25L |
| Hot Lek Box Capacity | 100L |
| Roller variable speed motor | 2.2KW |
| Spray motor | 0.37KW |
| Agitating motor | 0.25KW |
| Dimensions | 4300*1650*1720(length*width*high) |
| Quantity of asphalt pump spray | 1.5 kg/ seconds |
| Weight of equipment | 1650KG |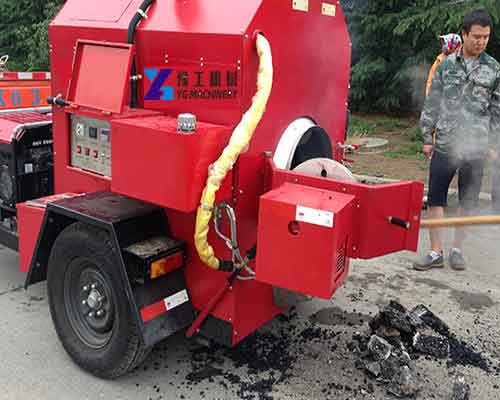 Performance Advantages of  YG-500 Trailer-type Asphalt Mixture Recycling Machine:
With on-site heating and on-site regeneration functions, convenient, fast, energy-saving, and environmentally friendly.
It has the functions of old material regeneration and cold material heating. In any case, it will not be repaired due to the lack of a hot asphalt mixture. It can realize the reuse of waste materials, maximize the saving of raw materials, reduce maintenance costs, and achieve environmental protection. Conservation.
An optional 80-100L asphalt box is provided, which can be used for adding asphalt or sprinkling bottom oil.
Integrated intelligent control: adopt time control mode to prevent the heating aging of asphalt mixture.
The material box has a double-layer heat insulation system, and the heat preservation time is up to 3 hours.
Trailer design, no need to occupy engineering vehicles, low investment at one time.
The equipment design is simple and intelligent, with few mechanical transmission parts, and easy to use; basically, no maintenance is required.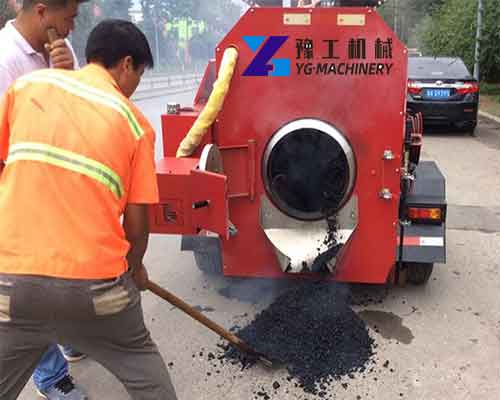 Type YG-600 Asphalt Recycling Machine Features:
Fast heating speed: using the heating method of hot air circulation, each heating time is about 15 minutes,
Multi-purpose for one machine.
Kohler engine: the power of the American Kohler engine, the generator set has an external 4. Connect the power output connector, configure high-end, good stability.
Double dust removal device: with the latest double dust removal device, the construction is more environmentally friendly.
Drum brake device: The chassis is equipped with a drum brake device, which is more secure.
Temperature control system: Japan's Omron's temperature control system can detect the temperature of the hot melt kettle, the temperature of the heating hose, and the temperature of the cabinet.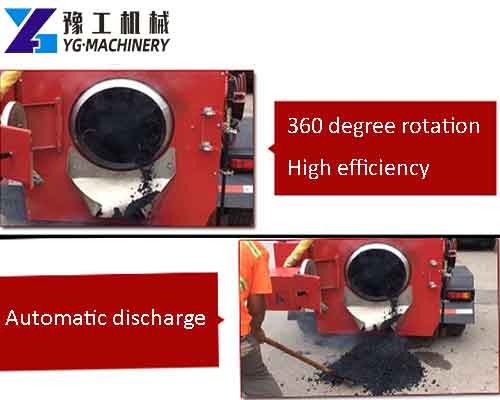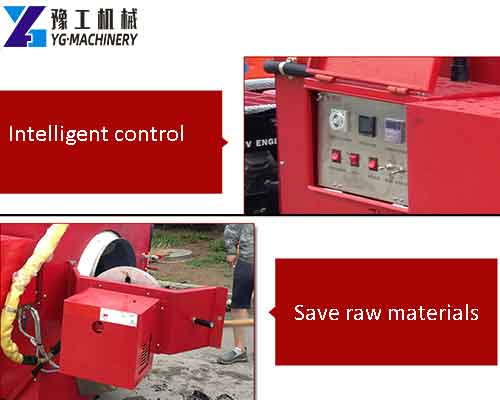 Asphalt Recycling Machine Performance:
Silo volume: 0.35-0.6m³ (single barrel material can repair 10cm deep and 2.5 square pits), efficiency: 0.75-1.8m³/h, single heating of the mixture at 160℃ takes 12-15 minutes ( 25 minutes for the first barrel of the chiller).
Machine weight: 1030-1230kg, towing speed ≤45-50km/h.
South Korea Olympia diesel burner, burning 100,000 kcal/hour.
The feeding height is only 50cm, reducing labor intensity.
Equipped with positive and negative spiral automatic feeding and discharging system, it can finish discharging in 2 minutes.
Standard 5-10KVA (10kV 7kw) high-power generator.
Intelligent automatic intermittent heating control system to control the heating temperature to ensure that the asphalt mixture will not age.
Benefits of Asphalt Recycling Machine:
360-degree rotation, high efficiency. Rotating diesel heating, 360-degree rotation, high thermal efficiency, the heating time per box is only 12-18 minutes.
Intelligent control. Integrated intelligent control, combined with a time relay and temperature controller, to prevent the aging of the asphalt mixture in the barrel.
Comes with other systems. With a hot asphalt system and emulsified asphalt system.
Automatic discharge. With the automatic discharge mechanism, the material box is turned into heating and stirring, and the material is reversed, and the material can be controlled.
Save raw materials. 100% of old materials are recycled to maximize raw materials and cost savings.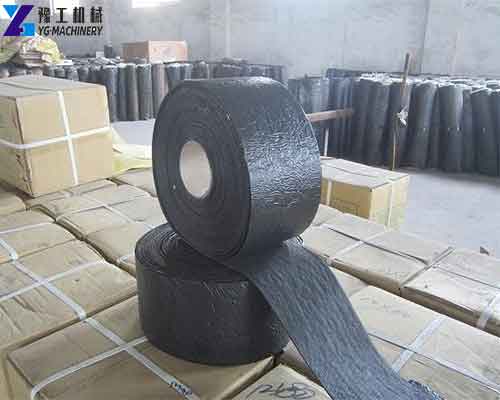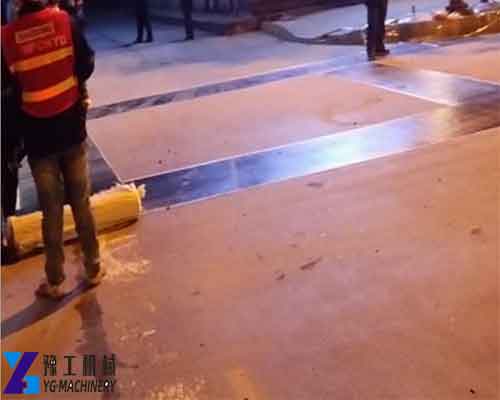 Pavement Anti-crack Adhesive Film (Anti-crack Paste):
Anti-crack stickers for highways have effectively solved the problem of cracking in road use and achieved the effect of road safety, durability, beauty, and comfort. The crack shape of the surface layer is irregular, complex, and changeable, which seriously affects the appearance and waterproof performance of the pavement. The anti-crack stickers for highways can be used directly on the road surface, eliminating the drawbacks of slotting and filling in the past and avoiding secondary damage to the pavement, it is suitable for the maintenance construction of different-grade highways. The product has a simple construction, strong cohesive force, wide operating temperature range, long service life, and complete sealing of cracks.
Anti-crack stickers seen in inroads are also called anti-crack stickers. The use of anti-crack stickers for pavement cracks has always been a worldwide technical problem for road disease prevention, including reflection cracks caused by the base layer and surface cracks caused by the surface layer. The anti-cracking stickers for highways developed by our company have effectively solved the problem of cracking in road use and achieved the effect of road safety, durability, beauty, and comfort.【WhatsApp/WeChat/Skype/Phone】+86 136 1385 6800