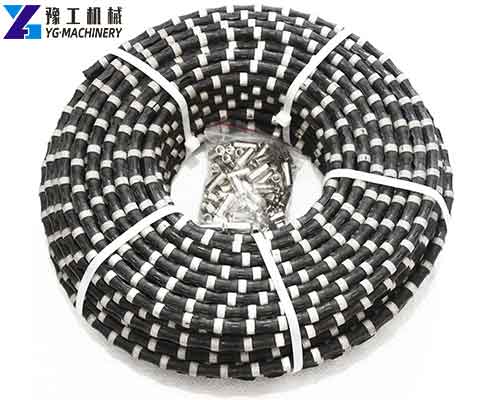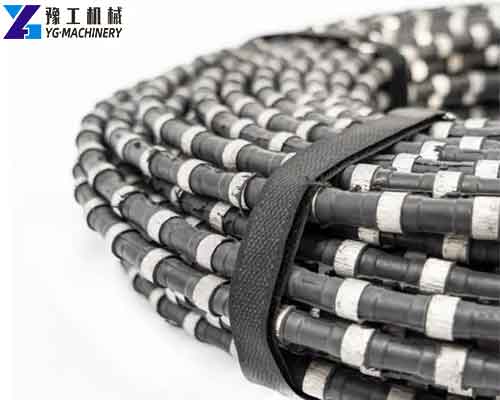 Diamond wire saw, diamond rope saw, sintered wire saw, diamond wire, multi diamond wire saw fixed by rubber, plastic, spring with sintered diamond wire saw bead or electroplated diamond wire saw beads, to be widely used for stone quarry, stone block, stone slab, as the granite, marble, limestone, travertine, sandstone, basalt, lava stone, etc, and reinforced concrete, application for the quarry cutting, block, and slab squaring and contouring, as well as a special application of cutting reinforced concrete. Contact us to learn more details!【WhatsApp/WeChat/Phone/Skype】+86 136 1385 6800
Diamond Rope Saw Technical Parameter:
Usage
Cutting Material
Specification

(mm)

Reinforcement
Beads

(meter)

Line Speed

(m/s)

Cutting Speed

(m2/h)

Life

(m2/m)

for granite and sandstone
hard granite
Φ11.5

Φ11.0

rubber

rubber+spring

40
18-22
2-4
7-9
middle hard granite
22-25
4-8
8-15
soft granite
25-30
8-12
16-22
hard sandstone
32-36
5-10
10-20
soft sandstone
28-32
1-5
15-30
for marble
hard marble
Φ11.5

Φ11.0

Φ10.5

or

Φ11.0

Φ10.5

rubber

or

spring+plastic

40

37

33

or

30

28

20-30
4-9
15-25
middle hard marble
20-35
8-15
15-35
soft marble
25-35
10-20
20-50
for block squaring
hard granite
Φ11.0

Φ10.5

rubber/plastic
40

37

25-30
6-10
7-10
middle hard granite
8-15
8-15
soft granite
12-20
10-20
hard marble
30-40
10-20
15-30
middle hard marble
15-25
20-40
soft marble
20-30
30-50
for reinforced concrete
normal reinforced
Φ11.5

Φ11.0

Φ10.5

rubber+spring
40
20-30
2-5
3-8
strengthening reinforced
20-25
1-2
1-3
steel or metal structure
20-25
0.5-1.5
0.5-1.5
for multi-wire saw for block cutting
hard granite
Φ8.5

Φ7.5

Φ6.5

plastic
37
25-32
0.5-0.7
6-9
middle hard granite
0.6-1.2
9-11
soft granite
1.0-1.6
11-15
for profiling
hard granite
Φ8.8

Φ8.4

rubber/ plastic
40

37

25-30
7-10
7-10
middle hard granite
8-15
10-15
soft granite
10-20
15-20
hard marble
plastic
37

33

30-40
10-20
20-30
middle hard marble
15-25
25-35
soft marble
20-30
30-40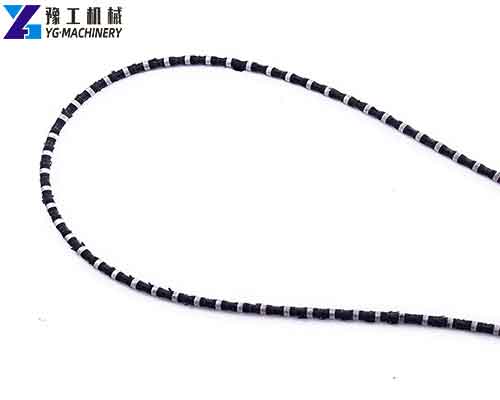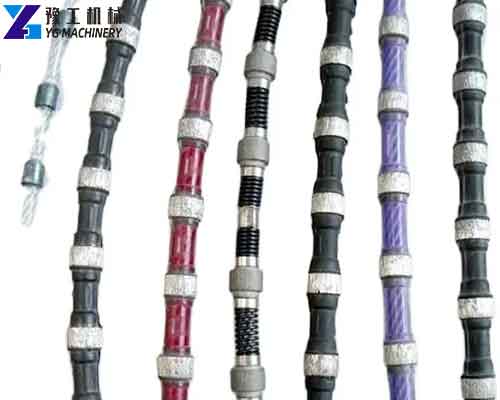 8 Advantages of YG Diamond Wire for Marble Stone Cutting:
Good quality diamond wire saw for stone/granite/marble/sandstone/quarring stone cutting.
Improving the quarrying efficiency, working safely, and protecting the environment well.
The high performance brings good-sized blocks without inner breaks.
Can exploit large dimension blocks with low quarry cost.
Working in low noise with no dust.
Mature production process.
Strict product quality inspection processes.
Perfect after-sale service. If you have any problem, contact us anytime.
Why Do You Need to Purchase Enough YG Wire Saw Rope?
At present, more and more customers choose to use hydraulic diamond wire saws for construction. The wire saw cutting process is currently the most advanced cutting process in the world. It has the advantages of fast cutting speed, flat cutting surface, wide application range, etc., and has no vibration, low noise, environmental protection, and safety, etc., suitable for bridges, houses, culverts, concrete columns, beams, slabs, and concrete with various cross-sections. It can preserve the safety of building parts during protective demolition and renovation construction of buildings and is widely used in the construction of design changes, renovation of old structures, and demolition of old structures. But the rope is a consumable product. If there is not enough rope, it may affect the timeliness of the project and increase the cost. YG Machinery's diamond ropes strictly control the quality of raw materials to reduce waste, and are suitable for all hydraulic wire saw machines, reducing problems such as difficulty in customer selection. In addition, YG Machinery also provides other accessories, such as diamond segments, diamond saw blades, diamond grinding tools, etc. The hydraulic wire saw and accessories can be customized for customers, so there is no need to worry about too many problems. Choose YG, and win more money.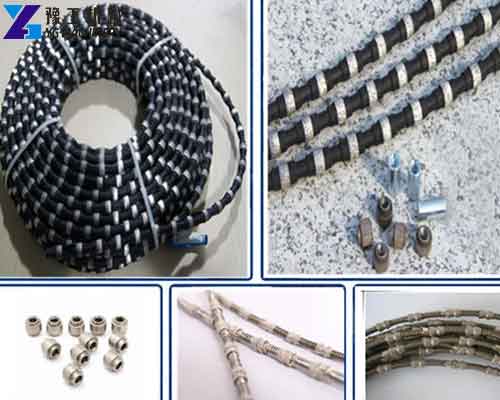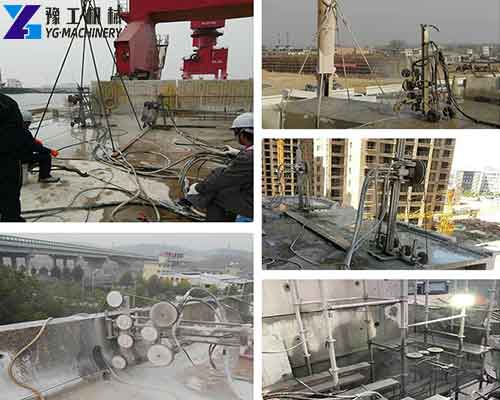 Buy Diamond Rope Saw from YG Machinery:
Our diamond-beaded wire can be used for wire sawing in reinforced concrete and metal structures to help grow your business. YG offers a wide range of diamond-beaded ropes that are specially developed for cutting different materials in numerous applications. With a wire saw there are virtually no limits to the depth or contour of the cut. Our diamond beaded rope can be used on all YG wire saws as well as other manufacturers' wire saws. When your wire saw cutting equipment needs maintenance or repairs, our expert technicians are ready to serve you. In addition, we also have diamond wire saw machines, hydraulic stone cutters, wire saw cutting machines, crawler wire saw machines, concrete wall saws, high-frequency wall saws, hydraulic rock splitters, excavator rock splitters, excavator drill and splitter machines, excavator hydraulic shears, hydraulic breaker machines, excavator drum cutters, excavator crusher buckets, excavator pile breakers, firewood splitter machines, horizontal band saw machines, etc. Contact us to know more!【WhatsApp/WeChat/Phone/Skype】+86 136 1385 6800