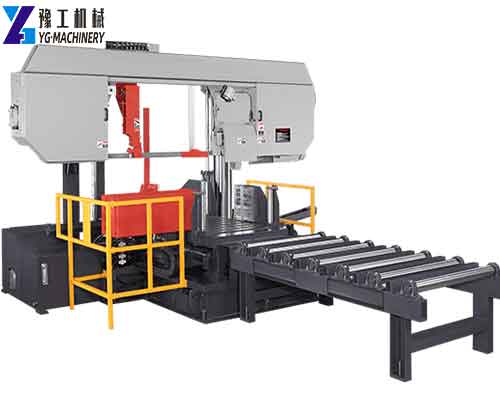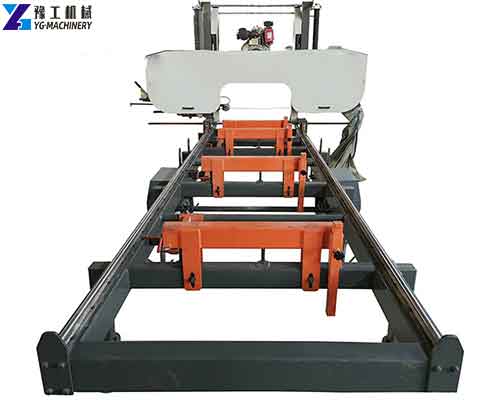 The horizontal band saw machine is a saw machine that uses a ring-shaped endless band saw blade as a saw tool and makes a one-way continuous linear motion around two saw wheels to saw wood. It is mainly composed of a bed, saw wheel, upper saw wheel lifting, and pitching device, band saw blade tensioning device, saw blade guiding device, worktable, guide plate, and so on. The bed is made of cast iron or steel plate welded. If you are interested in this machine, pls contact us now!【WhatsApp/WeChat/Phone/Skype】+86 136 1385 6800
Horizontal Band Saw Machine Technical Parameter:
Model
YG25-800
YG32-1000
YG40-1300
Saw wheel diameter
630mm
800mm
1000mm
Max sawing diameter
800mm
1000mm
1300mm
Max sawing length
4000mm
4000mm
4000mm
Saw blade width
50mm
80mm
100mm
Saw head power

Electric: 18.5kw

Diesel: 22hp

Electric:22kw

Diesel:27hp

Electric: 30kw

Diesel: 40hp

Saw blade tension
Manual
Manual
Manual
Max cutting thickness
200mm
240mm
240mm
Saw head up&down
Electric motor
Electric motor
Electric motor
Saw head Walking
Electric motor
Electric motor
Electric motor
Log locking
Manual
Manual
Manual
Log turning
optional
optional
optional
Log loading
optional
optional
optional
Log leveling
optional
optional
optional
Voltage
380v/50hz/3phase
380v/50hz/3phase
380v/50hz/3phase
Hydraulic power
5.5kw
5.5kw
7.5kw
Length of track
6 Meter
6 Meter
6 Meter
Total weight
2000kg
2400kg
2700kg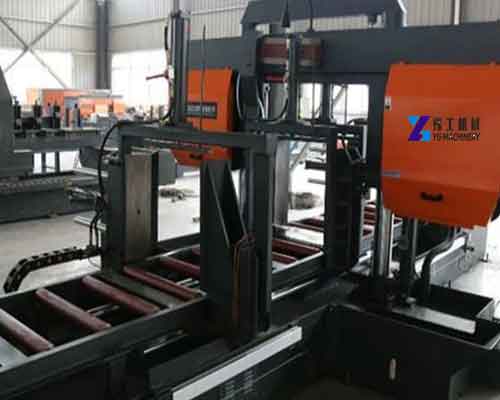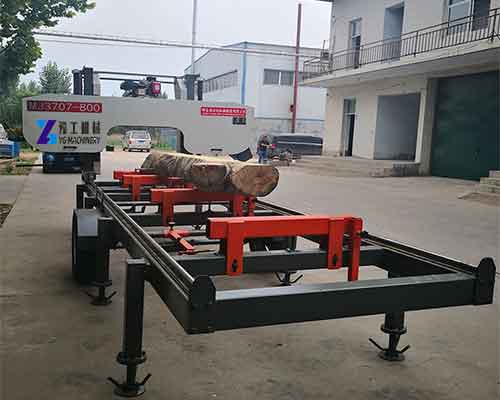 Working Principle of Horizontal Metal Bandsaw:
The working principle of the band saw machine is to clamp the log to feed the band saw blade, control the forward and reverse rotation of the motor to move the table forward and backward, and drive the main shaft of the sports car to reciprocate through the gear transmission.
7 Features of Horizontal Band Saw Machine:
Horizontal Band Saw Machine Price – YG Machinery
A diesel mobile horizontal band saw machine is a portable sawing equipment designed and developed by our company for sawing work sites where the power supply is inconvenient. It has the advantages of reliable performance, stable rotation, simple structure, convenient maintenance, and durability. It has received good feedback from many customers so far, it is a good device if you want to invest or use it yourself. In addition, we have firewood splitter machines, diamond wire saw machines, crawler wire saw machines, high-frequency wall saws, concrete wall saws, excavator rock splitters, excavator hydraulic shears, excavator drum cutters, mini spider cranes, excavator pile breakers, hydraulic breaker machines, CNC waterjet cutting machines, etc. If you want to know more, pls contact us!【WhatsApp/WeChat/Phone/Skype】+86 136 1385 6800