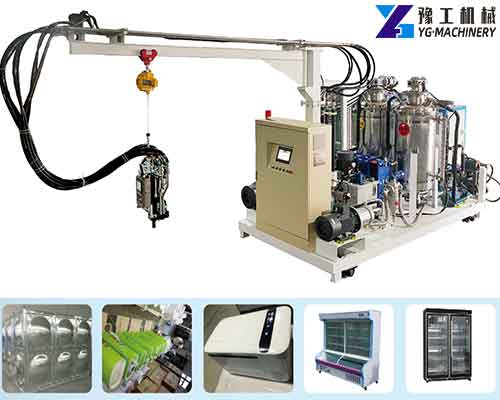 The polyurethane foaming machine is a special equipment for pouring and foaming polyurethane foam as long as the performance indicators of the polyurethane component raw materials (isocyanate component and polyether polyol component) meet the formulation requirements. This equipment can produce uniform and qualified foam products. It is made of polyether polyol and polyisocyanate in the presence of various chemical additives such as foaming agents, catalysts, emulsifiers, etc., and foams through a chemical reaction to obtain foamed plastics. The polyurethane foaming machine can be used for automotive interior decoration, thermal insulation wall spraying, thermal insulation pipe manufacturing, and bicycle and motorcycle seat sponge processing. Want to know more machine details? Contact us now!【WhatsApp/WeChat/Skype/Phone】+86 136 1385 6800
Polyurethane Foaming Machine Parameter:
Item/Model
YG-12
YG-28
YG-55
YG-107
Pouring flow(g/s)
150-400
200-750
500-1500
1500-3200g
Mixing head model
FLT10-14
FLT10-14 FLT12-18
FLT12-18 FLT16-25
FLT16-25
Metering pump model(A2FK, A2VK, A7VK)
12
12-28
28-55
55-107
Equipment power(380V, 50HZ)(KW)
21
28
45
78
Flowmeter(optional)
VCG2FCP2
VCG2FCP2
VCG2FCP2
VCG2FCP2
Gas source

0.6mpa(Nitrogen best)

Injection time accuracy
0.1s-99.99s
A: B injection ratio
1.3-3.1
Raw material injection pressure
8-15mps
Injection repeat accuracy
≤1%
Temperature control accuracy
±2°
Working pressure of hydraulic station
12-20mpa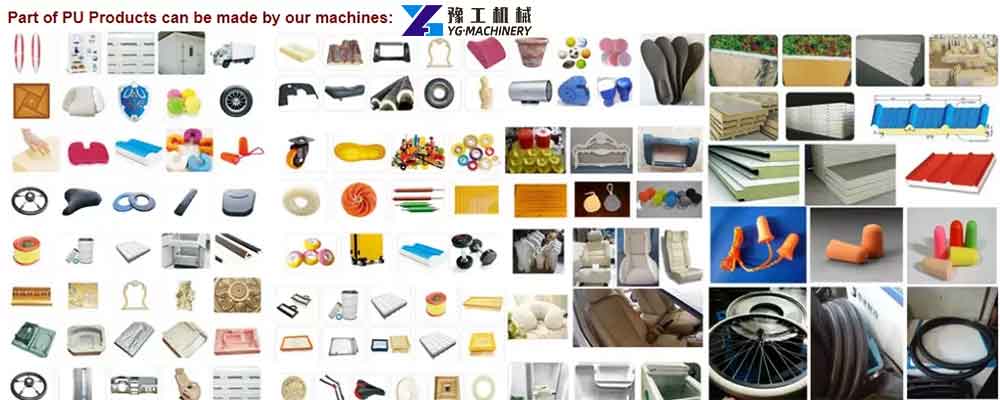 Application of YG PU Foaming Machine:
It is suitable for soft foam self-skinned polyurethane foam, mainly used in high-rebound/slow-rebound industries such as automobile/motorcycle/bicycle seat cushions, self-skins, automobile steering wheels, pillows, mattresses, insoles, etc. Polyurethane is an indispensable thing for the comfort, safety, and energy-saving of future cars. The products produced by the foaming machine can be used for heat and sound insulation roof materials or car seat cushions that require comfort, etc., with a wide range of applications.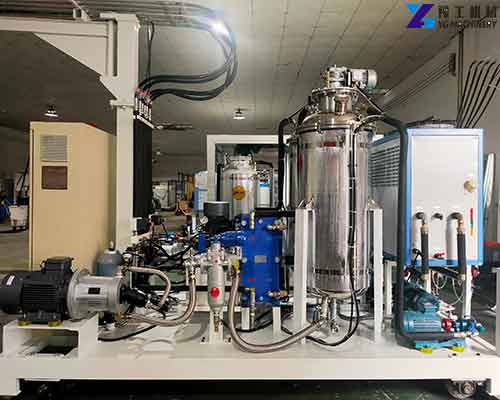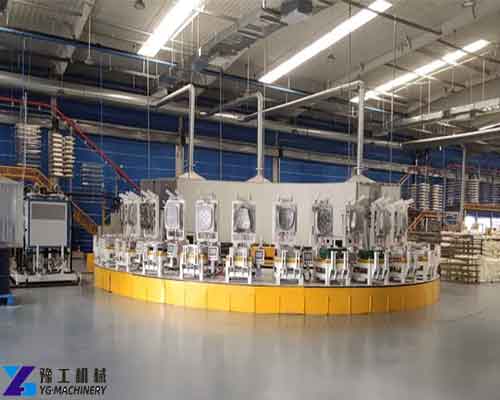 Polyurethane Foaming Machine Price – YG Machinery Manufacturer
YG Machinery is a company specializing in the production of various large-scale machinery and equipment. We have the most advanced technology and many years of industry experience. The equipment is easy to operate and fully automated to reduce labor costs. In addition, we have a professional sales team and after-sales team, so that you can easily buy machines and make money easily, without worrying about all follow-up problems because we will help you solve them.
In YG Machinery, we also have other series machinery, wet wipe machines, tissue-making machines, A4 paper-making machines, A4 paper cutting machines, sanitary napkin-making machines, diaper-making machines, paper bag-making machines, lunch box-making machines, disposable cup-making machines, paper straw-making machines, paper bowl making machines, paper dish making machines, egg tray making machines, nonwoven bag making machines, woven bag making machines, etc. If you want to know more details, pls contact us now.【WhatsApp/WeChat/Skype/Phone】+86 136 1385 6800