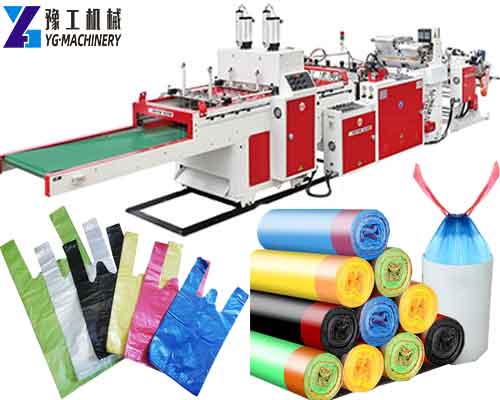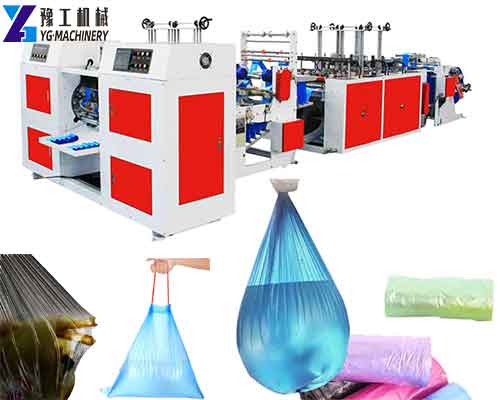 The plastic bag-making machine is the ideal equipment for producing various plastic flexible packaging, such as continuous roll and rope garbage bags, flat open continuous roll garbage bags, and so on. It is suitable for making LDPE, HDPE materials, and other continuous roll-through (drawstring) garbage bags, flat-mouth continuous-roll garbage bags, etc. Plastic bags are packaging bags made of thin, flammable plastic film. Plastic bags are mainly used to hold objects and are commonly found in supermarkets, traditional markets, department stores, warehouses, garbage dumps, etc. Garbage bags are a daily necessity that consumes a lot of money. Want to know the plastic bag machine price? Contact us now!【WhatsApp/WeChat/Phone/Skype】+86 136 1385 6800

Plastic Bag Making Machine Specification:
Model
YG-A45
YG-A50
YG-A55
YG-A60
Suitable material
HDPE / LDPE / LLDPE
Film Width
100-500mm
300-600mm
400-800mm
500-1000mm
Roller width
600mm
700mm
900mm
1100mm
Take-up speed
10-100m/min
10-100m/min
10-100m/min
10-80m/min
Type
Surface friction type
Surface friction type
Surface friction type
Surface friction type
Winding motor
6N.m
10N.m
10N.m
16N.m
Winding speed
10-100m/min
10-100m/min
10-80m/min
10-80m/min
Power Supply
380v, 50hz, 3 phase
380v, 50hz, 3 phase
380v, 50hz, 3 phase
380v, 50hz, 3 phase
Dimension
3.8*2.0*4.1m
5.5*2.2*4.5m
5.5*2.5*5.2m
5.8*2.8*6.3m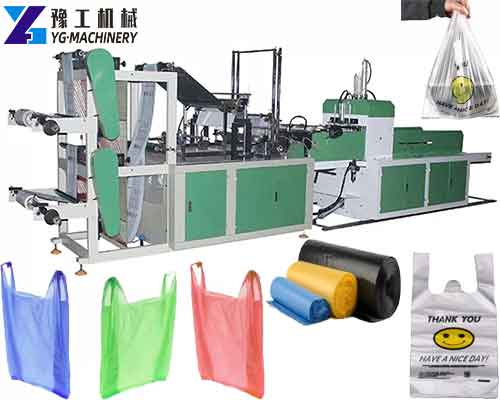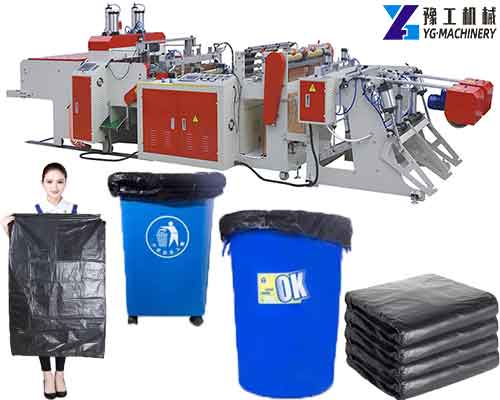 This machine is manufactured by our company using advanced technology at home and abroad (the first case in China).
It adopts a computer control and a stepping motor (servo motor) structure model.
It has automatic photoelectric tracking, a white bag, a color bag conversion function, a microcomputer fixed length, automatic counting, an alarm when arriving, and automatic temperature.
It has automatic cutting, blowing holes, semi-circular holes, belt threading, belt shifting, side sealing, bottom sealing, and point breaking.
It adopts the sealing mechanism without opening, the sealing and breaking are synchronized, and the back cover is firm and beautiful.
The machine can process continuous rolling and wearing garbage bags, endless rolling flat pockets, and flat pockets.
The whole machine adopts a one-stop production line with a high degree of automation. It is ideal for making garbage bags with belts and advanced equipment to replace imported similar products.
Biodegradable Plastic Bags: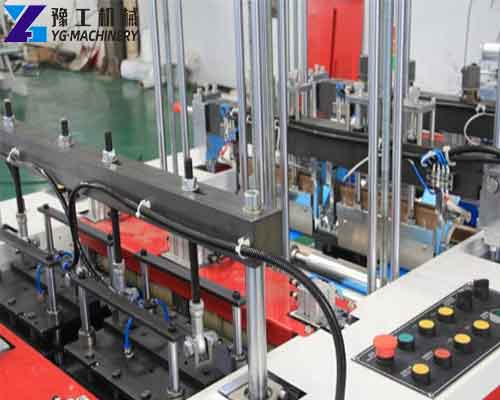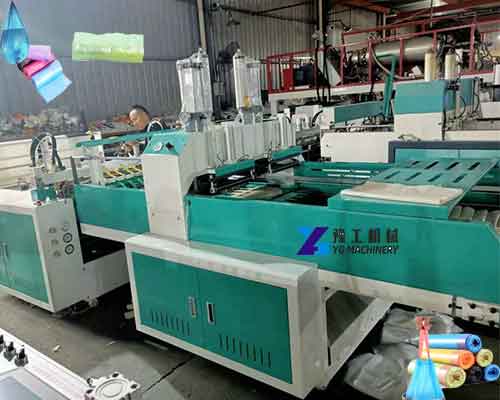 Application & Feature of Plastic Bags:
Plastic bags are lightweight, easy to shape, and can be used in a wide range of applications, including soft, hard, wet, dry, sealable, breathable, one-time use, and long-term use. Since the advent of plastics, it has been studied to use plastics to replace materials such as metal, wood, or glass, in order to reduce weight, facilitate convenient use, facilitate storage, transportation, or reduce fuel consumption. Plastic bags can also be used to protect goods, keep food fresh, hold liquids, and trap air. Most of the goods in the supermarket are all plastic packaging. The outside of the plastic bag can be used for printing, advertising, publicity, instructions for use, etc. Most people think that plastic bags have appeared in recent human history, have been widely used, and cannot be easily replaced.
Plastic Bag Machine Price – YG Machinery Manufacturer
The plastic bag is a bag made of plastic (commonly used plastics include polypropylene, polyester, nylon, etc.) as the main raw material. It is an indispensable item in people's daily lives and is often used to hold other items. It is widely used because plastic bag machine price is reasonable, and plastic bag is extremely lightweight, large capacity, and easy to store. Nowadays, plastic bags are still commonly used in various countries, and of course, it is a very good opportunity to invest in plastic bag production lines. At present, in YG Machinery, the technology of the machine is mature, the delivery time is short, the stability of the machine is high, and it can make many different types of bags. The most important thing is that the price of the machine is very reasonable, and we already have many customers who buy the machine for the second time to increase the output. In addition, we also have garbage bag-making machines, woven bag-making machines, nonwoven bag-making machines, plastic thermoforming machines, egg tray-making machines, disposable cup-making machines, aluminum foil container-making machines, paper bowl-making machines, paper straw-making machines, paper making machines, kraft paper bag making machines, A4 paper making machines, kraft paper making machines, tissue making machines, sanitary napkin making machines, diaper making machines, wet wipe machines, cast film machines, lighter making machines, balloon making machines, condom making machines, disposable slipper machines, shoe cover making machines, glove making machines, etc. Please contact us if you are interested in our machines!【WhatsApp/WeChat/Phone/Skype】+86 136 1385 6800