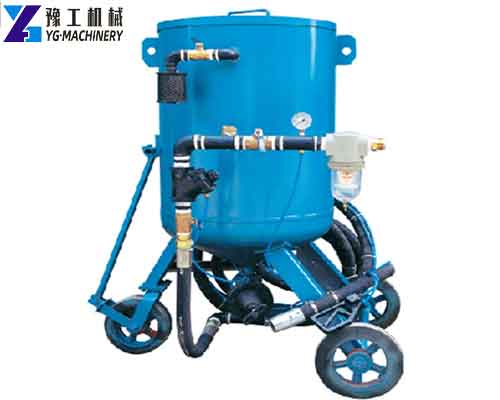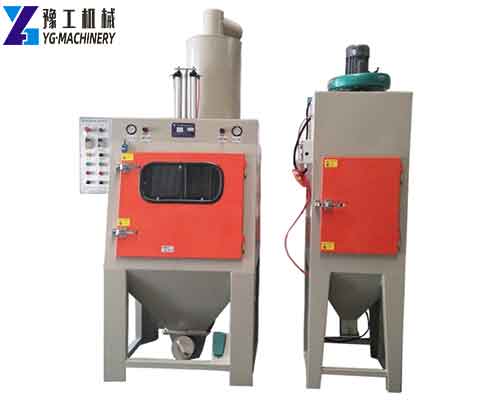 The mobile sandblasting equipment for sale in YG Machinery has always been the most popular product, and it is shipped every day, customers also have very good feedback. We have customers who open their own stores in their country, so every other month, they will order 100 sets for themselves. Now it is our long-term partner. Welcome to our agent, and we will give you the best discount. In addition, we also have other construction machinery, such as fog cannons, mortar spraying machines, shotcrete machines, hydroseeding machines, dust control water trucks, wheel washing machines, sandblasting rooms/cabinets, auto sandblasting machines, etc. Contact us now!【WhatsApp/WeChat/Phone/Skype】+86 136 1385 6800
Mini Sandblasting Equipment Parameter:
Machine models
YG400
YG500
YG600
YG700
YG800
YG900
YG1000
Diameters(mm)
400
500
600
700
800
900
1000
Height(mm)
1150
1150
1150
1250
1700
2000
2000
Volume(cubic meter)
0.26
0.26
0.26
0.3
0.6
0.8
1

Pressure(Mpa)

0.4-8

Air consumption(cubic meter per minute)

3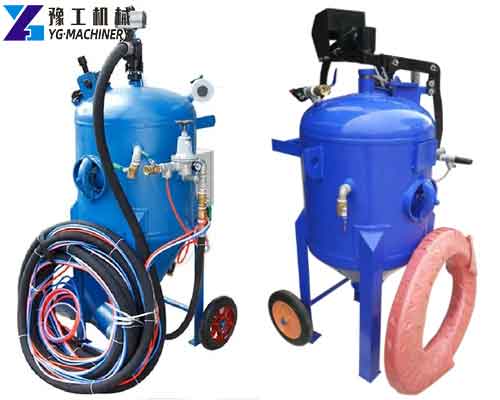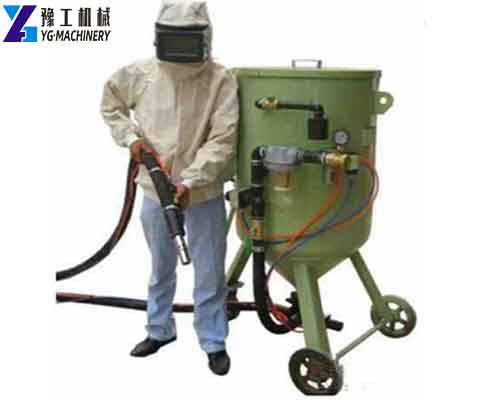 Classification of Sandblasting Machine:
Sandblasting machines are the most widely used products in abrasive jets. Sandblasting machines are generally divided into two categories: dry sandblasting machines and liquid sandblasting machines(water sandblasting machines, and wet sandblasting machines). Dry sandblasting machines can be divided into the suction type and the press-in type. A complete suction dry sandblasting machine generally consists of six systems, namely a structural system, medium power system, pipeline system, dust removal system, control system, and auxiliary system. The suction dry sandblasting machine is powered by compressed air, and the negative pressure formed in the spray gun by the high-speed movement of the airflow passes the abrasive through the sand-conveying pipe. Of course, you need a portable air compressor.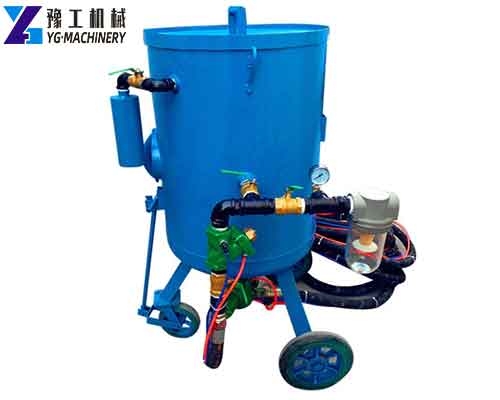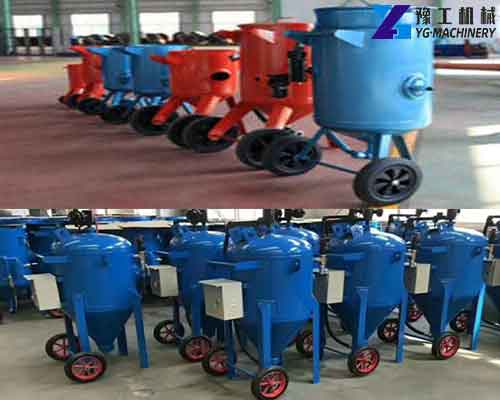 Safety Operation Rules of Wet Sandblasting Machine:
The gas storage tank, pressure gauge, and safety valve of the sandblasting machine should be checked regularly. The gas storage tank discharges dust once every two weeks, and the filter in the sand tank is checked once a month.
Check whether the vent pipe of the sandblasting machine and the door of the sandblasting machine are sealed. Five minutes before work, the ventilation and dust removal equipment must be activated. When the ventilation and dust removal equipment fails, the sandblasting machine is prohibited from working.
Wear protective equipment before work, and do not operate the sandblasting machine with bare arms.
The compressed air valve of the sandblasting machine should be opened slowly, and the air pressure must not exceed 0.8MPa.
The blasting particle size should be compatible with the work requirements, generally between 10 and 20, and the sand should be kept dry.
When the sandblasting machine is working, no unrelated persons are allowed to approach. When cleaning and adjusting the operating parts, the machine should be stopped.
Mobile Sandblasting Equipment Manufacturer:
YG Machinery's products have always been serving our customers with the best quality and the best price. Of course, there is also the best after-sales team. There is never a customer who can't use it or the machine is not working properly but no one has the status of the response. We will visit our customers regularly and ask if they are satisfied with the machine.
We also have some production lines for sale, and all equipment supports OEM. Wet wipe machines, fabric rewinder machines, shoe cover production lines, tissue paper making machines, woven bag production lines, balloon making machines, condom making machines, A4 paper making machines, paper cup making machines, paper bowl making machines, aluminum foil container machines, diaper making machines, folder gluer machines, A4 paper cutting machines, etc. Please contact us!【WhatsApp/WeChat/Phone/Skype】+86 136 1385 6800