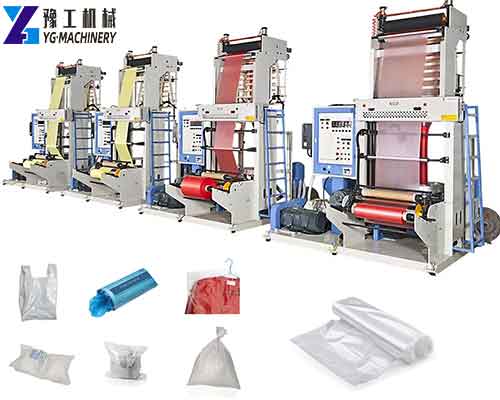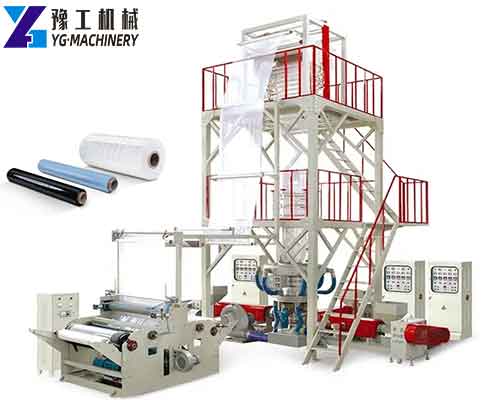 The plastic film blowing machine is a kind of equipment that heats and melts plastic particles and blows them into films. There are many kinds of film blowing machines, such as PE, POF, and so on. The film blowing machine is widely used, in daily life, factories, farms, and many other aspects. Want to know more details?【WhatsApp/WeChat/Skype/Phone】+86 136 1385 6800
Plastic Film Blowing Machine Parameter:
Model
YG-50
YG-55
YG-65
optional device
Suitable material

PP/PE

Film width
100-500mm
150-600mm
200-800mm

Autoloader

Corona treater

Air compressor

Rotary die head

Film thickness
0.03-0.11mm
0.03-0.11mm
0.03-0.11mm
Max extrusion
30kg/h
45kg/h
60kg/h
Screw diameter
50mm
55mm
65mm
Cylinder cooling
370w*2
370w*2
370w*3
Main motor
11kw
15kw
22kw
Die size
150mm
200mm
250mm
Air blower
1.5kw
2.2kw
2.2kw
Roller width
600mm
700mm
900mm
Take up speed
5-60m/min
5-60m/min
5-60m/min
Motor
0.75kw
1.1kw
1.5kw
Winding motor
10N.m
10N.m
16N.m
Winding speed
5-60m/min
5-60m/min
5-60m/min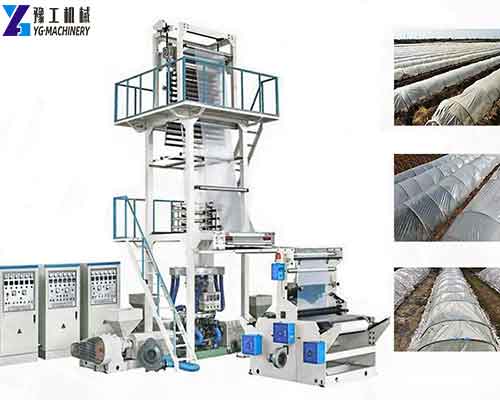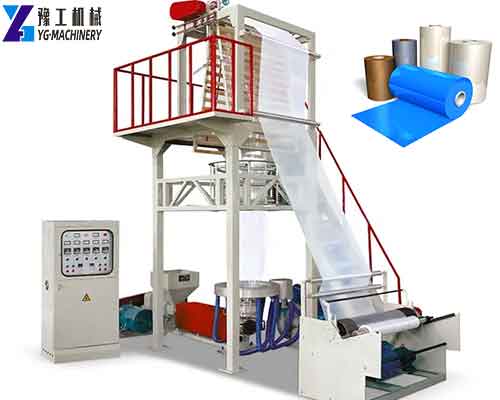 Application Scope of Blown Film Extrusion Machine:
The cylinder and the screw stem of the above extruders are made of high-quality alloy steel with optimum hardness and strong corrosion resistance which after precision accomplishment and nitrogen treatment. The auxiliary machine has a platform working table for making operation easy. The coiling unit adopts a torque motor to keep proper tension and make rolling even regular and roll-changing easy.
It is used to blow various LDPE thermal shrinking film and HDPE film rolls which are applied extensively to food, Medicine, beer bottles, material bottles, boxes, cases, cloth reels, floors, glass, all sizes of trays, pottery, tissue, etc.
Plastic Film Blowing Machine Features:
This machine adopts two times of inflation to make the blown film have a memory effect, good shrinkage rate, and high transparency.
The screw and barrel are made of 38CRMOALA, which is processed by nitriding and precision processing, with high hardness, corrosion resistance, and durability. The die head is plated with hard chrome, and the air volume of the air cooling device is uniform.
The coiling device adopts pressure friction coiling or torque motor adjustment, the coiling is smooth and the coil is easy to change. Cooling air ring, first traction, hot water tank, setting sleeve, second traction (can be electrically lifted), double-station winder, extruder control cabinet, and auxiliary control cabinet.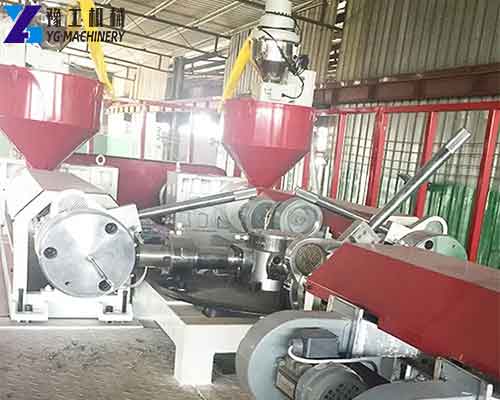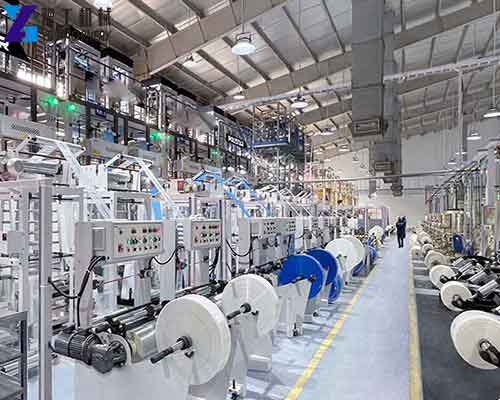 Plastic Film Blowing Machine Manufacturer – YG Machinery
With high-quality products, a good reputation, and high-quality service, YG plastic film-blowing machines sell well in many countries and regions. Our after-sales service organization is perfect and fast, so as to provide 24 hours of professional maintenance and solve difficult customer problems in time. This machine set is used for blowing Low-density polyethylene(LDPE) and high-density polyethylene (HDPE)plastic film to make various vest bags and flat bags which have been widely used for packing in the food industry, garment industry, and textile industry. In addition, we also have cast film machines, plastic bag-making machines, garbage bag-making machines, woven bag-making machines, nonwoven bag-making machines, small injection molding machines, shoe cover-making machines, surgical cap-making machines, balloon-making machines, condom-making machines, paper cup making machines, paper bowl making machines, paper dish making machines, paper carton erecting machines, folder gluer machines, paper bag making machines, paper tea cup printing machines, etc. Contact us to know more machine details soon!【WhatsApp/WeChat/Skype/Phone】+86 136 1385 6800