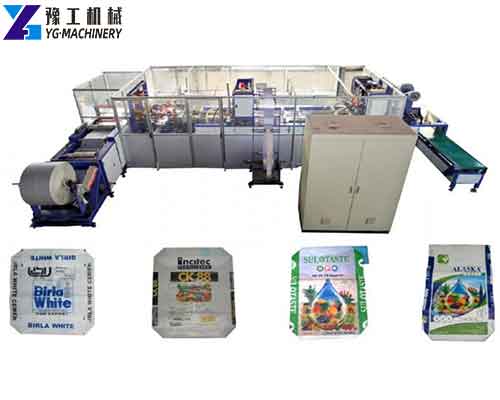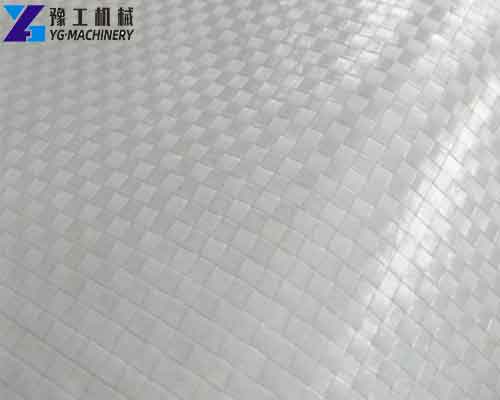 The woven bag is a widely used and relatively inexpensive packaging product. Its raw material is mainly polypropylene PP, which becomes a thread of a certain width after high-temperature melting, extrusion, and stretching, and then processed and cut by a loom to become our daily finished products. A woven bag production line is also a very good investment idea. In addition, YG Machinery has many other production lines, such as nonwoven bag making machines, plastic bag making machines, cast film machines, disposable cup making machines, paper bag making machines, diaper making machines, and other large production lines. If you have any interests or questions, please contact us. 【WhatsApp/WeChat/Phone/Skype】+86 136 1385 6800
Woven Bag Making Machine Parameter:
| | |
| --- | --- |
| Bag width | 350-600mm |
| Bag length | 450-910mm |
| Bag bottom width | 80-180mm |
| Valve port length | 80-200mm |
| Maximum production speed | 100 pcs/min |
| Maximum unwinding diameter | 1200mm |
| Power supply | 380V/3P/50HZ/A.C. |
| Installed power | 85kW |
| Dimensions (LxWxH) | 13000×8500×2500mm |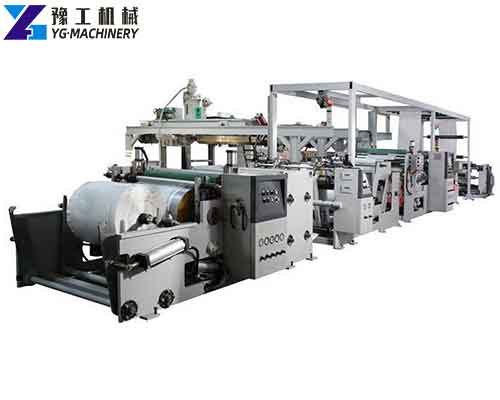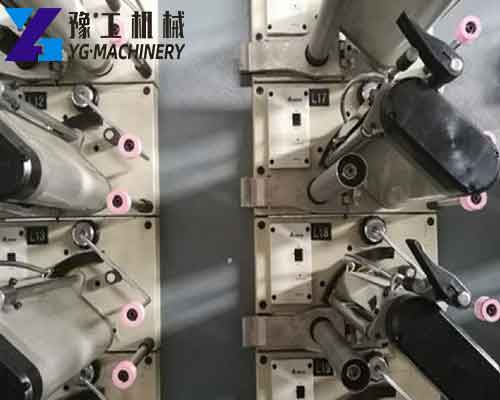 Classification of Woven Bags:
There are many types of woven bags, the thickness of the flat yarn is different, the color is different, the size is different, the weight per square meter is different, the thickness is more than 40 grams per square meter to more than 100 grams per square meter, and the strength is different. The difference in woven bags.
But roughly according to the packaged products, there are not so many divisions. Fertilizer bags, cement bags, grain bags, feed bags, flour bags, bran bags, ton bags, etc., are what the bag is.
The General Process of the Plastic Woven Bag Production Line:
PP, PE material or recycled materials → drying mixer → wire drawing machine → winder → circular loom → bag cutting machine → sewing machine → printing machine → PP woven bag → baler
Production Range
Raw Material
100%virgin PP or 100% recycling PP or virgin PP mixed with recycling PP
Tape Width
2.5-4mm
Tape Usage Application
For Standard Woven Bags, Rope, and Tarpaulin
Working Environment
Power Condition
The Installed Capacity(about)
98KW
The Working Capacity(about)
64KW
Standard Electric Voltage
380V/3P/50Hz
Allowed Tolerance
-5%~+10%
Water Condition
Normal Water
Total Water Supply
>0.6m3/min
Water Pressure
3-5Bar
PH Value
7.0-7.8
Hardness
12DH
Tolerance
±1Bar
Inlet water temperature
18-22°C
*Circulated Chilling Water be built by Buyer
Use of Woven Bags in YG:
Agricultural products packaging: feed woven bags, chemical woven bags, putty powder woven bags, urea woven bags, vegetable mesh bags, fruit mesh bags, etc.
Cement packaging bags: 6 billion woven bags are used for cement packaging in my country every year, accounting for more than 85% of bulk cement packaging. With the development and application of flexible coke bags, plastic woven container bags are widely used in aquatic product packaging, poultry feed packaging, covering materials for farms, sunshades for crop planting, windproof, hail-proof sheds, and other materials.
Food packaging: rice woven bags, flour woven bags, corn woven bags, and other woven bags.
Geotechnical engineering. Since the development of geotextiles in the 1980s, it has broadened the application fields of plastic woven fabrics, which are widely used in small water conservancies, electric power, highways, railways, seaports, mining construction, and military engineering construction. In these projects, Geosynthetics have the functions of filtration, drainage, reinforcement, isolation, and seepage prevention.
Temporary tents, parasols, various travel bags, and travel bags in the tourism industry all have plastic-woven applications. Various tarpaulins are widely used as covering materials for transportation and storage. Common ones include logistics bags and logistics packaging bags, shipping bags, shipping packaging bags, etc.
Daily necessities: such as shopping bags, supermarket shopping bags, supermarket environmentally friendly shopping bags; freight woven bags for logistics transportation, and logistics woven bags.
Woven bags are indispensable for flood control materials. Woven bags are also indispensable in the construction of dams, river banks, railways, and highways. They are flood control woven bags, drought prevention woven bags, and flood control woven bags.
Specially woven bags: Some industries need to use woven bags that are not usually used, such as carbon black bags, due to special factors. The biggest feature of carbon black bags: is sun protection. That is, carbon black woven bags have stronger sun protection ability than ordinary woven bags, and ordinary woven bags cannot withstand long-term exposure to the sun. There are also anti-UV woven bags: with anti-ultraviolet function and anti-aging functions.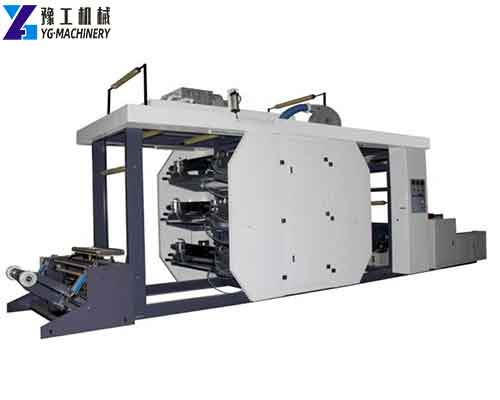 Woven Bag Making Machine Price in YG Machinery:
The woven bag-making machine can make bags of different colors, according to different dyes, they can have different colors. I personally recommend white because it is easier to distinguish whether recycled materials are added. The general method of distinguishing is to observe whether the silk thread is uniform in color and whether there are impurities. The quality is judged by the tensile strength and whether it is durable. Now it is a good investment project to invest in a woven bag production line. Woven bags have many uses, the market is very wide and there are fixed customer groups, and you can quickly see the benefits. YG Machinery can customize drawings for you, and make the most suitable machine for you. In addition, we also have shoe cover-making machines, wet tissue machines, glove making machines, balloon making machines, condom making machines, paper cup forming machines, paper bowl making machines, paper straw making machines, paper dish making machines, paper carton erecting machines, aluminum foil container machines, egg tray making machines, ultrasonic quilting machines, surgical cap making machines, double wall paper cup machines, paper cup printing machines, roll die cutting machines, folder gluer machines, etc. Of course, because we are a factory, we will give you the best quality equipment. Please contact us!【WhatsApp/WeChat/Phone/Skype】+86 136 1385 6800