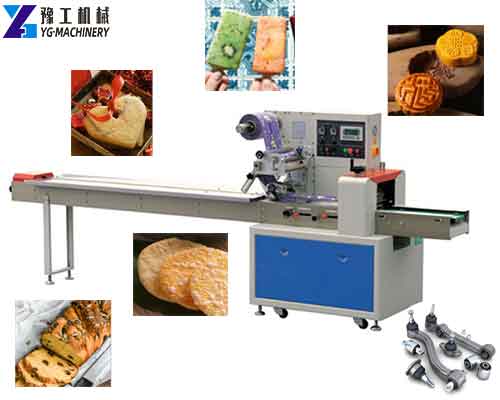 A pillow packaging machine is a continuous packaging machine with a very strong packaging capacity and is suitable for a variety of specifications for food and non-food packaging. This series is the best-selling packaging machine of Henan YG Machinery. The application field is very wide, if you have the need for such products, please feel free to contact us. In addition, we also have wet tissue making machines, face mask making machines, meltblown production lines, glove making machines, tissue paper making machines, sanitary napkin making machines, etc, which can be used in conjunction with the packaging machine to improve work efficiency. Contact us now!【Whatsapp/Wechat/Phone/Skype】+86 136 1385 6800
Parameter of Hot Sale YG Pillow Packaging Machine
Models
YG-250
YG-320
YG-400
Membrane width
≤250mm
110-320mm
≤400mm
Long bag
65-190mm,120-280mm
80-230mm, 100-300mm
130-320mm
Products are highly
5-40mm(More than 40mm customized according to customer's request)
5-40mm(More than 40mm customized according to customer's request)
5-50mm(More than 50mm customized according to customer's request)
Roller diameter

≤320mm

Packing speed
40-230bags/min
30-280bags/min
40-230bags/min
The power supply
220V50HZ 2.5KW
220V50HZ 2.8KW
220V50HZ 3KW
Machine size
3770*670*1450mm
4000*900*1500mm
4100*950*1520mm
Weight
800kg
800kg
900kg
Note

Can match pneumatic (air or nitrogen), code device
Note: We can design and manufacture according to customers' special needs.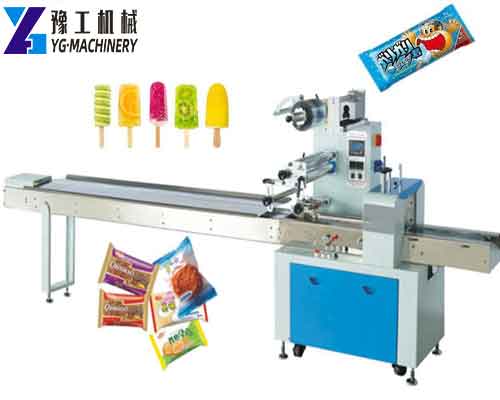 Scope of Application
It is suitable for the packaging of various regular objects such as moon cakes, ice cream, rice tongs, snow cakes, egg yolk pie, caramel treats, chocolate, candy, bread, instant noodles, biscuits, medicines, daily necessities, industrial parts, paper boxes or trays.
Main Performance and Structural Characteristics
Stepper motor control (servo motor can be used), bag length can be set and cut immediately, no need to adjust idling, one step in place, saving time and film.
Man-machine interface, convenient and quick parameter setting.
The fault self-diagnosis function, the fault display is clear at a glance.
High-sensitivity photoelectric eye color mark tracking, digital input of the sealing and cutting position, so that the sealing and cutting position is more accurate.
Independent PID control of temperature, is better suitable for various packaging materials.
Positioned stop function, no sticking to the knife, no wasting of film.
The transmission system is simple, the work is more reliable, and the maintenance is more convenient.
All control is realized by software, which is convenient for function adjustment and technical upgrades, keeping advanced.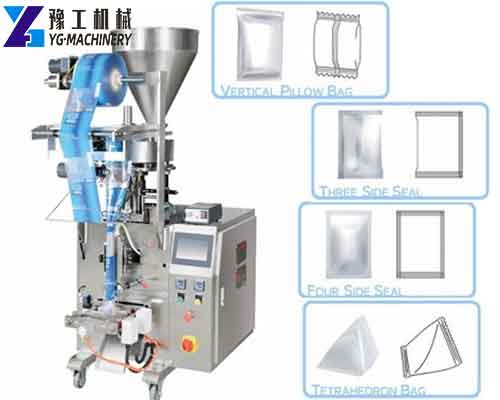 The Working Principle of Pillow Packaging Machine
The pillow packaging machine adopts positioning sealing and cutting during packaging. In packaging production, due to the error between the positioning color marks printed on the packaging material, the stretching of the packaging material, and the influence of mechanical transmission and other factors, the packaging material has predetermined The sealing and cutting part may deviate from the correct position and cause errors. In order to eliminate errors and achieve the purpose of correct sealing and cutting, packaging design must consider the problem of automatic positioning. The solution to this problem is mostly to complete the design of a continuous photoelectric automatic positioning system based on the positioning mark of the packaging material. The continuous photoelectric positioning system is divided into forward and retreat types, brake types, and two-transmission system synchronization types according to the error compensation working mode.
Buying Advice from YG Packaging Machine
First of all, you must determine which products you want to pack in the packaging machine you will buy. Some packaging machinery manufacturers have a wide variety of products. When buying a packaging machine, they hope that one device can pack all their varieties. In fact, the packaging effect of a dedicated machine is often better than that of a compatible machine. It is best not to exceed 3-5 varieties in one packaging machine. In addition, products with a large difference in dimensions should be packaged separately as much as possible.
High-cost performance is the first principle. But what is right, not what is expensive.
As far as possible, choose models with guaranteed quality, mature technology, and stable quality to make packaging faster and more stable, with low energy consumption, low manual work, and low waste rate.
In terms of after-sales service, we must have a good reputation. Timely after-sales service.
As far as possible, choose simple operation and maintenance, complete accessories, and an automatic continuous feeding mechanism, which can improve packaging efficiency and reduce labor costs, which is suitable for the long-term development of the enterprise.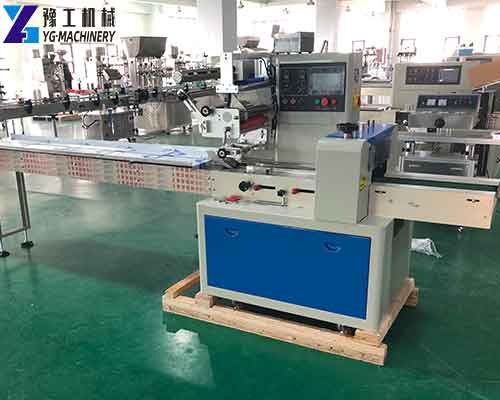 Pillow Packaging Machine Manufacturer – YG Machinery
Henan YG Machinery's packaging machines have been sold to many countries in the world, and there are countless customers. If you are interested in packaging machines, please feel free to contact us, we will definitely give you the best service. YG Machinery has always been customer-centric and has no worries about the future. Of course, since the world epidemic has not been controlled, we are still vigorously producing protective equipment, disinfection doors, fog cannon machines, nitrile glove machines, disposable protective gloves, industrial oxygen generators, portable nitrogen generators, face mask making machines, PE gloves machines, balloon making machines, condom making machines, disposable cup making machines, paper bag making machines, lunch box making machines, disposable slipper machines, etc. Welcome to our agent.【Whatsapp/Wechat/Phone/Skype】+86 136 1385 6800