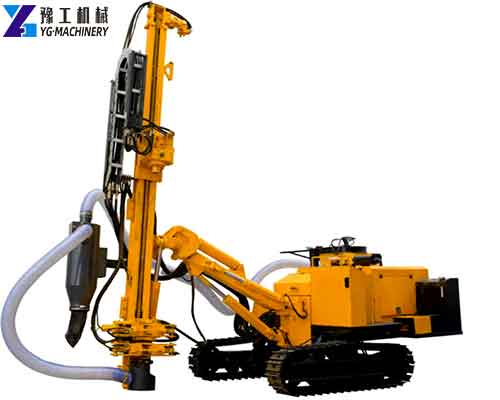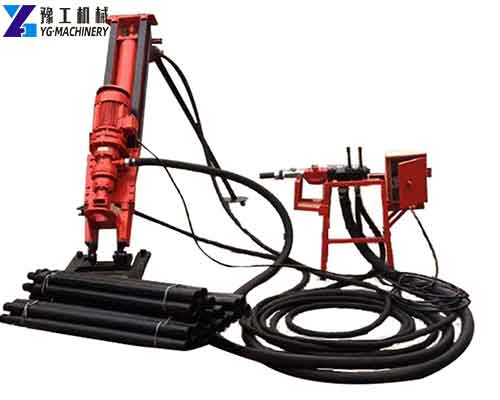 DTH drilling machines can be used for drilling rock anchor cable holes, anchor holes, blasting holes, grouting holes, and other drilling operations in urban construction, railways, highways, rivers, hydropower, and other projects. YG's pneumatic rock drill rig is slightly superior in terms of shape design and working performance. Many customers who purchase our equipment have reported that our machines are stable and easy to operate, saving them a lot of cost.  We have 2 types of machines, crawler dth drilling rig and portable dth drilling rig. If you need the machine, contact us now!【WhatsApp/WeChat/Phone/Skype】+86 136 1385 6800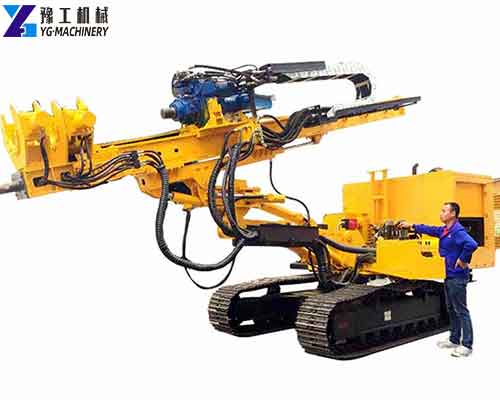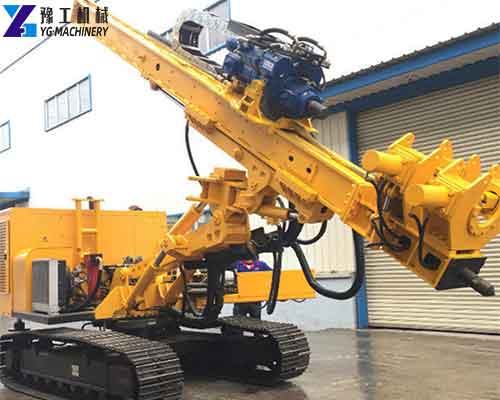 Crawler DTH Drilling Rig Introduction
The crawler-type down-the-hole drilling rig is a new type of comprehensive drilling rig specially used for rotary drilling of soft rock. It adopts new hydraulic technology, with high rotation speed and convenient drilling displacement. It is mainly suitable for open-air projects such as drilling and blasting when leveling foundations in urban construction. The drilling equipment has reliable performance and high drilling efficiency. It is a cost-effective drilling equipment.
Crawler DTH Drilling Rig Parameter:
Model
YGK130
YGK150
YGK153
YGK300
Drilling Depth
25M
30M
35M
40M
Max Drilling Diameter
130mm
150mm
225mm
275mm
Power
37Kw
45Kw
55Kw
70Kw
Working Pressure
0.7~2.4Mpa
Air Consumption
9~13m3/min
10~15m3/min
12~18m3/min
15~22m3/min
Weight
3400Kg
5900Kg
6300Kg
8000Kg
Dimension
6500*2110*2400mm
6500*2110*2400mm
6680*2110*2500mm
7600*2350*2800mm
Crawler DTH Drilling Machine Main Performance Features:
It adopts the Yuchai diesel engine, which is equipped with a clutch device and can be started without load. The power output is all at one end of the machine head, with a novel structure and easy maintenance.
It adopts the air intake load-reduction structure, which has a good energy-saving effect, low noise, smooth air intake, and reliable performance.
High-speed built-in five-star motor, reliable performance, and long service life.
The excavator travel motor is used, with large driving torque, and the down-the-hole drilling rig has strong climbing ability.
Use a world-renowned brand MAN air filter. The air compressor and diesel engine share a set of air filters, which improves working reliability and saves maintenance time.
The diesel engine operating instrument panel can monitor working conditions such as water temperature, oil pressure, and battery in real time, and is equipped with an oil pressure alarm device to ensure workplace safety.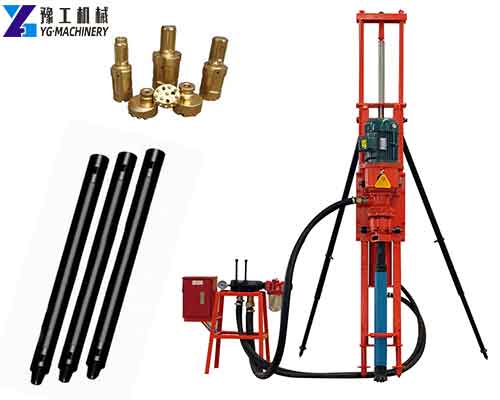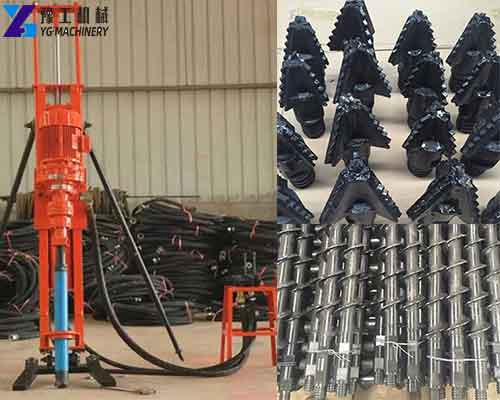 Portable DTH Drilling Machine
The small bracket-type down-the-hole drilling rig is a bracket-type drilling equipment driven by a pneumatic motor to rotate and directly propelled by a cylinder. Its process is stable and its performance is reliable. With single power, small size, lightweight, and high efficiency, it is the ideal downhole drilling equipment for users. It is an ideal perforating equipment for small open-pit mines and quarries, and small and medium-sized earth and stone excavation projects. It is an auxiliary perforating equipment for large and medium-sized mines and engineering construction.
Portable DTH Drilling Rig Parameter:
| | | | | |
| --- | --- | --- | --- | --- |
| Model | YGD70 | YGQ70 | YGD100 | YGQ100 |
| Drilling depth | 15M | 20M | 25M | 30M |
| Drilling diameter | 60~130mm | 60~150mm | 90~200mm | 90~250mm |
| Working pressure | 0.5~0.7Mpa | 0.5~0.7Mpa | 0.5~1.0Mpa | 0.5~1.0Mpa |
| Air consumption | 3.5m3/min | 10m3/min | 6m3/min | 12m3/min |
| Power | 3Kw | / | 4Kw | / |
| Size | 1740*260*420mm | 1740*260*420mm | 2280*4400*550mm | 2230*380*550mm |
| Weight | 320Kg | 320Kg | 470Kg | 450Kg |
Portable DTH Drilling Rig Main Performance Features:
Small size, lightweight, and easy to move.
Low air consumption, high efficiency, and fast footage.
Smooth operation, small noise interval, and large overload capacity.
Reliable operation and long service life.
The whole machine automatically loads and unloads the drill pipe, and the steel crawler track is more suitable for walking on terrain.
DTH Drilling Machine Price – YG Machinery
There are two types of down-the-hole drilling rigs: pneumatic and electric motors. The dynamic ratio of the pneumatic drill is larger, and the depth of the drill is also larger than that of the electric drill. The advantage of the electric drill is that the number and weight of the complete set of equipment are smaller, making it more suitable for transportation on the construction site. We have been in the field of drilling rigs for more than ten years, so we understand the needs of our customers. Our machine design is very easy to operate, and we need to complete the production of dozens of down-the-hole drilling rigs every month, so we are a very large-scale manufacturer, and the price is competitive. We also have small water well drilling rigs, crawler water well drilling rigs, trailer water well drilling rigs, tractor water well drilling rigs, core drilling rig for mining, horizontal directional drilling rigs, and rotary drilling rigs. In addition, we also have rock drills, rock-splitter machines, and integrated drilling and splitting machines. Contact us for more details now!【WhatsApp/WeChat/Phone/Skype】+86 136 1385 6800