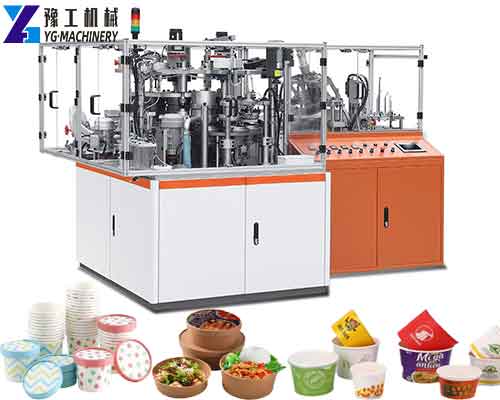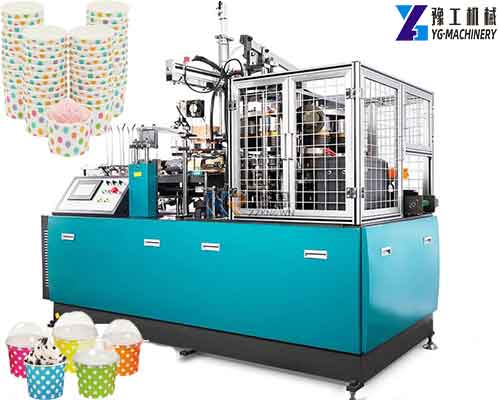 The paper bowl is a kind of paper container made by mechanical processing and bonding of the base paper (white cardboard) made of chemical wood pulp, and its appearance is bowl-shaped. Waxed paper cups for frozen food, can hold ice cream, jam, butter, etc. YG paper bowl machine has a double turntable, dual-segment high-performance with functions of automatic paper fan feeding, imported heater side seal, cup top lubrication, automatic bottom paper feeding, double curling artwork, automatic cup collect, and stock. Can make bowls both single PE and double PE, for cold drinks and hot drinks. Contact us to know more! 【WhatsApp/WeChat/Phone/Skype】+86 136 1385 6800
Fully Automatic Paper Bowl Machine Parameter:
| | |
| --- | --- |
| Model | Fully automatic paper bowl-forming machine |
| Bowl size | 20-50oz (It can be replaced according to the actual size of the user) |
| Raw material | single/double PE-coated paper |
| Paperweight | 140-350 g/m2 PE-coated paper |
| Machine speed | 110-130 pcs/min |
| Voltage | 380V 50Hz |
| Power | 4.8KW |
| Weight | 1980KG |
| Overall dimension | 2350 x1250 x1900mm |
| Air source | 0.6Mpa, 0.6 m3/minute |
| Remark | Machine production needs to be equipped with an air compressor |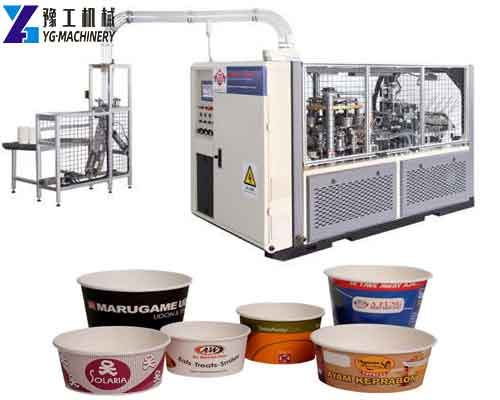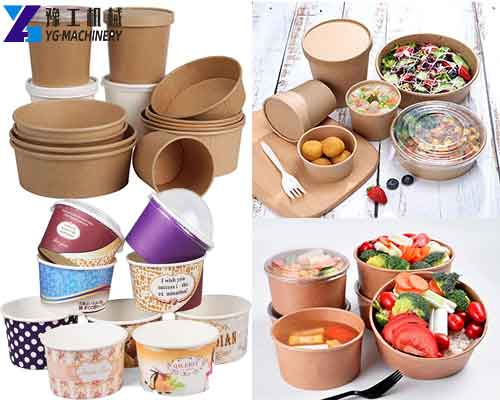 In this type of machine, we add an ultrasonic system to seal the paper bowl body, you can produce both single-sided PE-coated paper bowls and double-sided PE-coated paper bowls. Automatic paper feeding, two-step pre-heating, sealing, oil silicon lubrication, bottom punching, two-step bottom heating, knurling, curling, and bowl discharge with photo-cell detection, failure alarm, and counter.
This type of machine is the ideal equipment for producing bigger size bowls, such as soup bowls, fast noodle bowls, large food cone-shaping containers, and other fields, etc.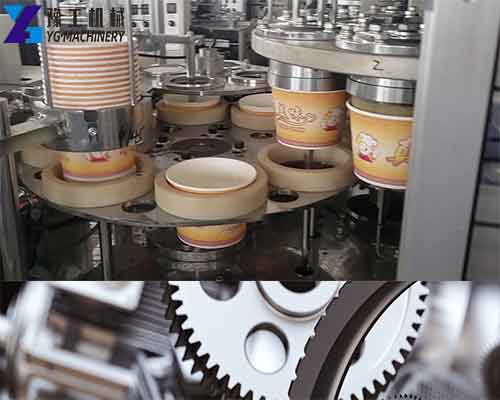 Paper Bowl Making Machine Manufacturer – YG Machinery
The paper bowl is hygienic and safe, and it is light and convenient to carry. It can be used in restaurants and restaurants in public places. It is a disposable product. It does not need to be cleaned, it is very convenient to throw it away after use, the quality is light, it is convenient to carry, and the price is very low. YG Machinery's equipment has always been the most advanced, with a good-looking appearance and stable speed, and there is a professional after-sales team, no worries. In addition, we have other related products, disposable cup-making machines, paper dish-making machines, paper straw-making machines, double wall paper cup machines, paper cup printing machines, roll die cutting machines, folder gluer machines, paper bag making machines, paper making machines, A4 paper making machines, tissue making machines, kraft paper making machines, corrugated paper machines, diaper making machines, sanitary napkin making machines, egg tray making machines, nonwoven bag making machines, shoe cover making machines, etc. 【WhatsApp/WeChat/Phone/Skype】+86 136 1385 6800