The anchor drilling rig is mainly used in landslide and dangerous rock mass anchoring projects to prevent and control various geological disasters of hydropower stations, railways, and highway slopes, especially suitable for high slope rock mass anchoring projects. The anchoring drilling rig of YG Machinery is very efficient and can be operated by one person without more labor. If you are interested, please contact me now!【WhatsApp/WeChat/Phone/Skype】+86 136 1385 6800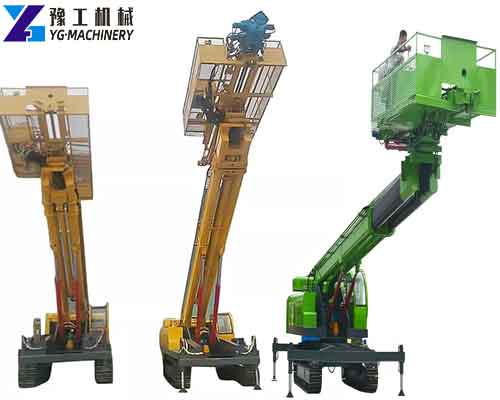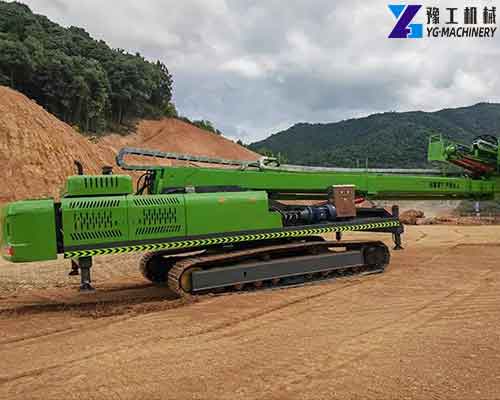 Crawler High Lifting Anchor Drilling Equipment Parameter:
Model
6M
15M
30M
Track(mm)
2300*3500
2300*4000
5000*3000mm
Width of crawler(mm)
400
400
600
Main arm
Double boom two sections
Double boom two sections
Double boom four sections
Drilling angle
Drillable flat hole/drillable inclined hole/drillable vertical hole
Drilling diameter
5-300mm
5-300mm
5-300mm
Depth
0-70m
0-70m
0-70m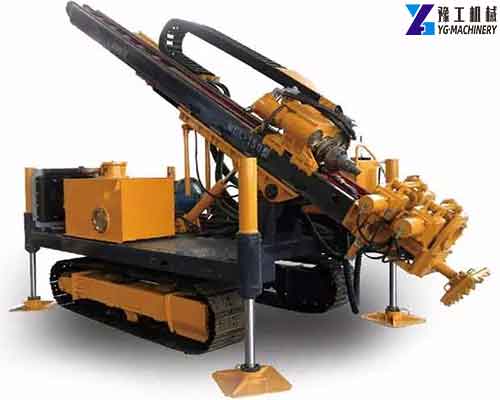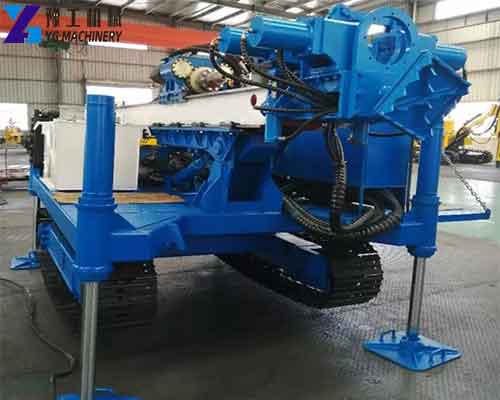 High-efficiency Anchor Drilling Rig Parameter:
Machine Parameters
Weight
6T
Drilling diameter
150-250mm
Drilling depth
130-170m
Drill pipe diameter
73,89,102,114mm
Shipping size
5400*2100*2000mm
Vertical working size
3600*2500*5600mm
Power Configuration
Electric motor
Power 55kw+18.5kw
Powerhead
Rated output torque
7500Nm
Rated speed
10,20,30,35,40,60,65,70,85,130,170rpm
Propeller
Boost speed
0-5 Adjustable,7,23,30m/min
Feed speed
0-10 Adjustable,14,46,59m/min
Rated lifting force
70kN
Rated feed force
36kN
Feed process
3400mm
Slip process
900mm
Drilling rig angle
Drilling angle
0-90°
Climbing angle
25°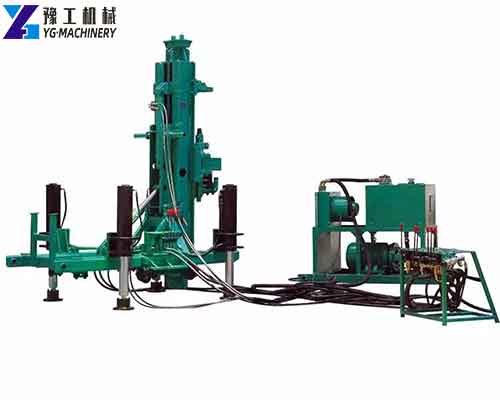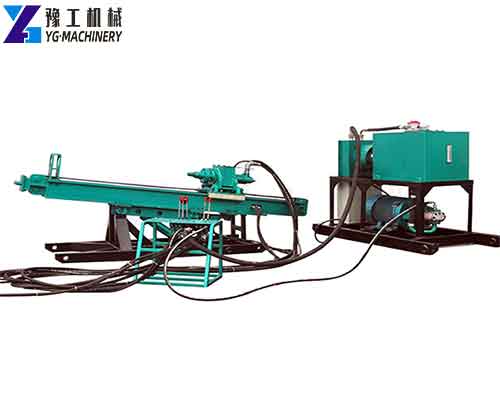 Split Anchor Drilling Rig Technical Parameter:
Model
YGMG40
YGMG50
YGMG70
Hole depth(m)
10-60
25-70
35-80
Hole diameter(mm)
90-180
90-165
90-200
Rod spec(mm)
Φ76*1500
Φ76*1500/
Φ89*1500
Φ76*1500/
Φ89*1500
Hole angle
0-90°
0-90°
0-90°
Output rotary speed(rpm)
90
70
70
Rated output torque(N*m)
2400
2500
3900
Powerhead max stroke(mm)
1800
1800
1800
Max lifting force(KN)
25
30
35
Powerhead max feeding force(KN)
20
25
25
Hydraulic system-rated pressure(Mpa)
16
17-18
17-18
Rotary electric power
4-pole/7.5kw
Hydraulic
Hydraulic
Oil pump electric power(kW)
4
22
22
Electric voltage
380v
380v
380v
Weight(kg)
1000
1260
1460
Hydraulic station dimension(mm)
640*600*580
1850*780*1360
1850*810*1280
Dimension(mm)
2800*800*1400
3000*780*1360
3100*1000*1500
Anchor Drilling Rig Application:
Hydropower station/railway/highway slope plus solid, and various types of geological disaster prevention of landslide and dangerous rock anchorage construction, It is especially suitable for high rock slope anchorage engineering.
It is also suitable for supporting deep foundation pits, Bolt and foundation grouting reinforcement project holes, blasting holes, high-pressure jet grouting piles, and tunnel pipe shed support holes, its power head slightly changes, and you can easily all-around construction.
The main drilling methods are DTH Hammer conventional drilling, drilling with the tube, and screw drilling. In all kinds of complex formations and different drilling methods in the hole construction practice, its excellent perforation performance, the majority of construction units, and peer recognition.
YG Anchor Drilling Rig Features:
The drilling rig has a compact structure, energy saving, high efficiency, low noise, and environmental protection.
This machine adopts low-speed and high-torque motors to make the performance stable, reliable and has a long life.
This machine has a wide range of applications and strong drilling ability.
The power head has a long stroke and the drilling efficiency is high.
The power head and the guide rail are connected by a new type of wear plate, and the guide rail wears little.
The drilling angle range is large, multi-functional design makes drilling positioning convenient and reliable.
Anchor Drilling Rig Price – YG Machinery Manufacturer
YG Machinery's anchoring drilling rigs have been sold to various countries in the world, such as Pakistan, the Philippines, Vietnam, Peru, Chile, India, the United States, and other countries, and received good feedback from customers. And there is a lot to buy more machines to expand their business, which has been very successful, and said that they will continue to buy our machines. In addition, we have other types of drilling rigs, core drill rigs, hydraulic drilling rigs, small water well drilling rigs, crawler mounted water well drilling rigs, tractor water well drilling rigs, trailer water well drilling rigs, crawler DTH drilling rigs, down the hole drilling rigs, horizontal drilling rigs, rotary drilling rigs, diamond core drilling rigs, spindle core drilling rigs, gasoline rock drilling rigs, hydraulic pile drivers, portable air compressors, core drilling rig for mining, etc. Contact us if you are interested in our machines.【WhatsApp/WeChat/Phone/Skype】+86 136 1385 6800