A floor scarifier is a kind of small milling machine for road construction, which is one of the main pieces of equipment for asphalt and concrete pavement maintenance. Also known as the names of concrete milling machine, asphalt milling machine, or concrete scarifier machine, it is widely used in bridge deck pavement, bridge deck shearing, the removal of old road surfaces, as well as the ground operations of the airport runway, parking lots, squares some other concrete ground. The floor scarifier can not only be used to excavate and renovate asphalt and concrete pavement such as highways, roads, airports, and freight yards but also can be used to remove some pavement surface defects. In addition, it's also suitable for excavating the pavement pit and trench, roughing the surface of the cement road.【WhatsApp/WeChat/Phone/Skype】+86 136 1385 6800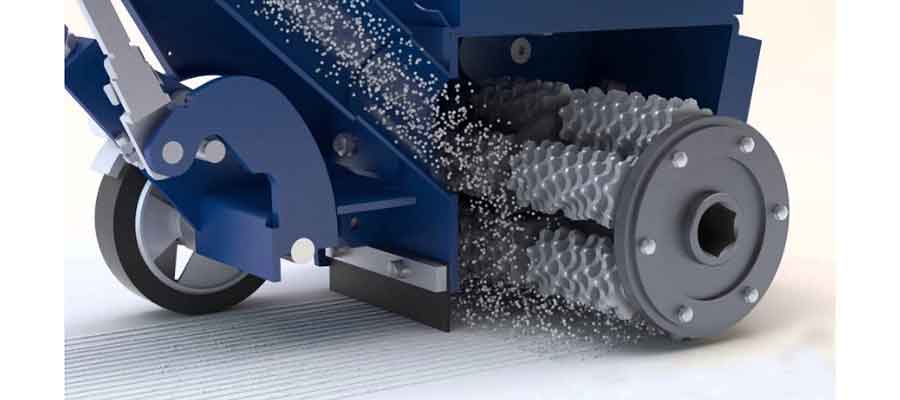 Different Types of Floor Scarifiers in YG Machinery:
The machine can be divided into the mechanical type and hydraulic type according to the transmission mode. The mechanical floor scarifier is reliable in operation, convenient in maintenance, high in transmission efficiency, and low in manufacturing cost, but it is a little complex in structure, not easy to operate, as well as a little low working efficiency, and low traction. So it is more suitable for small road maintenance of shallow cutting. The hydraulic type is compact in a structure that makes it easy to operate for workers. It also has greater traction and more maneuverability. However, the manufacturing cost is high and the maintenance is difficult. So the hydraulic floor scarifier is more suitable for deep cutting of medium and large-scale pavement maintenance.
Electric Floor Scarifying Machine
We have the walk-behind electric floor scarifier and automatic walking electric scarifying machine for sale. The automatic type is more convenient and efficient, but its price is also a little high. Customers can choose the model referring to the parameters below and the budget. If you have any questions, feel free to send us an email or call us to consult.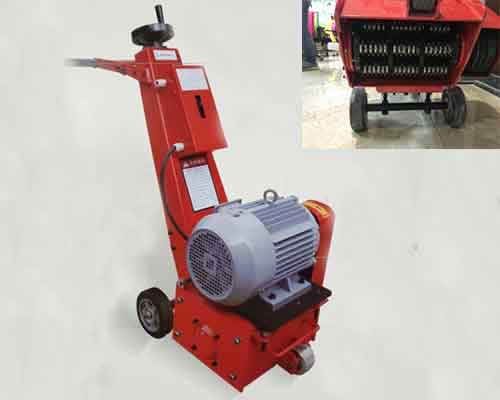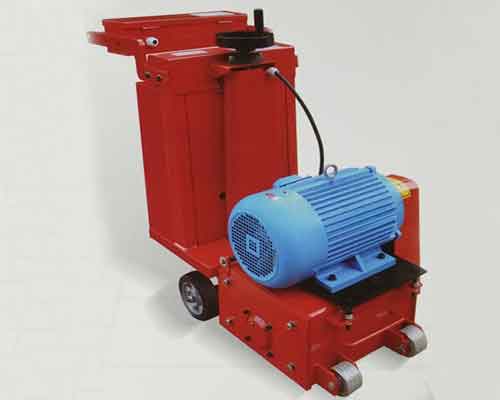 Technological Parameter: 
| | | |
| --- | --- | --- |
| Model | YG-250E | YG-300E |
| Power | 5.5Kw | 7.5Kw |
| Cutter Shaft No. | 8 | 8 |
| Blade No. | 6-axis 8-tooth 105-pieces | 6-axis 8-tooth 120-pieces |
| A Milling Depth | 1-5mm | 1-8mm |
| A Milling Width | 250mm | 300mm |
| Working Efficiency | 30-100㎡/h | 40-120㎡/h |
| Dimensions | 1100*500*1100mm | 1130*650*1050mm |
| Weight | 170kg | 295kg |
YG-300Z    Automatic Electric Floor Scarifier Milling Machine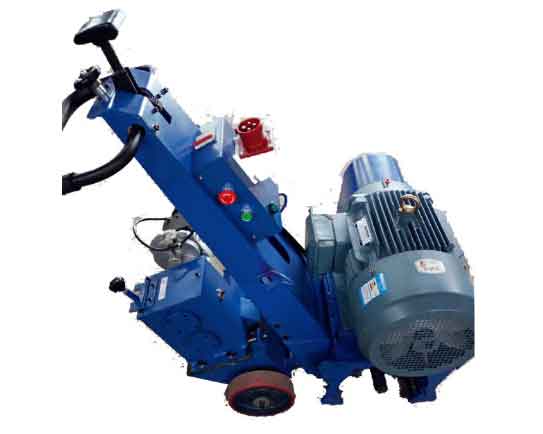 Technological Parameter:
Model: YG-300Z
Power: 11kw/380V
Blade No.: 6-axis 8-tooth 120-pieces
A Milling Depth: 5mm–20mm(concrete)
5mm–30mm(asphalt)
Walking speed: 4m/min
Dimensions: 1380×730×1180mm
Weight: 306kg
Diesel and Gasoline Floor Scarifying Machine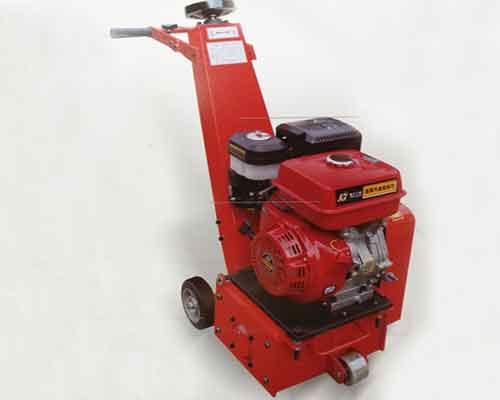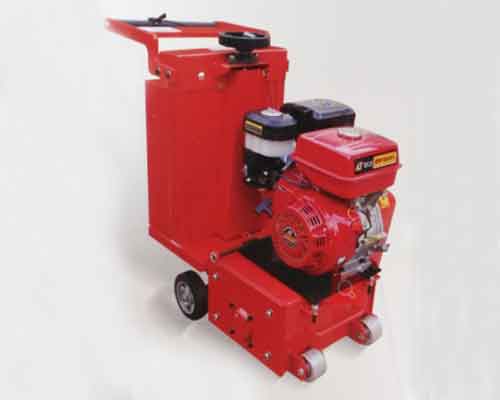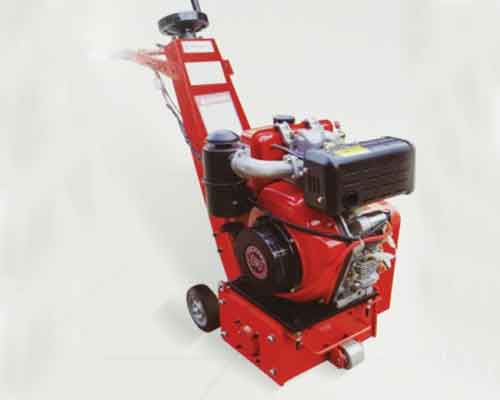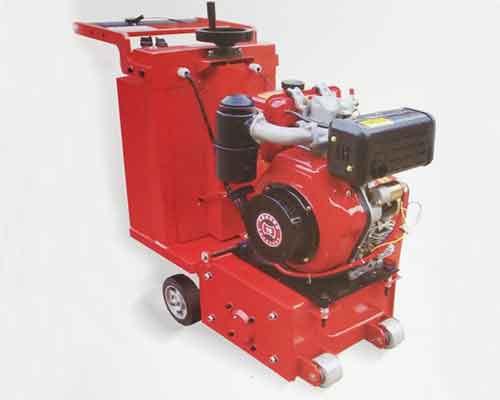 Diesel and Gasoline Floor Scarifier Specifications:
Model
YG-250G/YG250D
YG-300G/YG-300D
Power
190CC(gasoline)

168F(diesel)

190CC(gasoline)

186F(diesel)

Cutter Shaft No.
8
8
Blade No.
6-axis 8-tooth 105-pieces
6-axis 8-tooth 120-pieces
A Milling Depth
1-5mm
1-8mm
A Milling Width
250mm
300mm
Working Efficiency
30-100㎡/h
40-120㎡/h
Dimensions
1100*500*1100mm
1130*650*1050mm
Weight
170kg
295kg
Hydraulic Floor Scarifier Machine
The hydraulic type is widely used in the removal of ultra-high parts of high-strength concrete and asphalt pavement, the machine power is enough to automatically walk and the milling depth and width are moderate. Meanwhile, the machine body is stable and the milling surface is uniform. So it is an ideal scarifying machine model that some other large motor milling machines and ordinary small floor planer machines can't replace. This kind of equipment contains two types: internal combustion and electricity. You can choose the suitable model according to the technical specifications in the below table.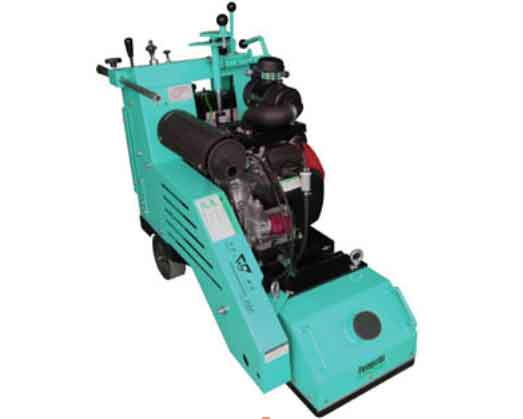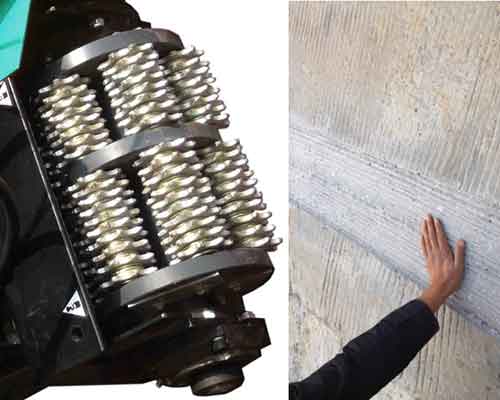 Technological Parameter: 
| | | |
| --- | --- | --- |
| Model | PC300XBJ | PC300XBJ-E |
| Power | KOHLER CH40/730 20HP | 11kw |
| Cutter Shaft No. | 4 – 6 | 4 – 6 |
| A Milling Depth | 10mm (adjustable) | 10mm (adjustable) |
| A Milling Width | 295mm | 295mm |
| Working Efficiency | 200㎡/h | 220㎡/h |
| Dimensions | 1020*670*1200mm | 1020*670*1200mm |
DYL – 500 Multi-function Hydraulic Floor Scarifier
The machine is equipped with imported original equipment, full hydraulic infinitely variable speed drive. The working depth can be adjusted flexibly and it's very stable and flexible in operation.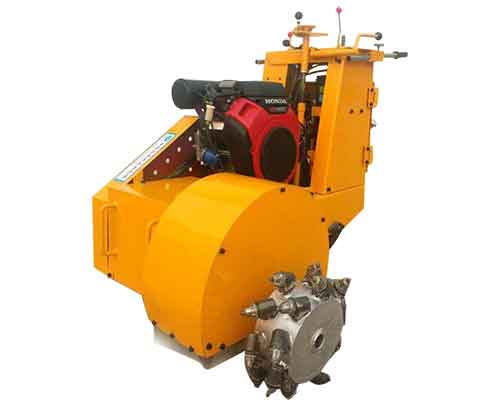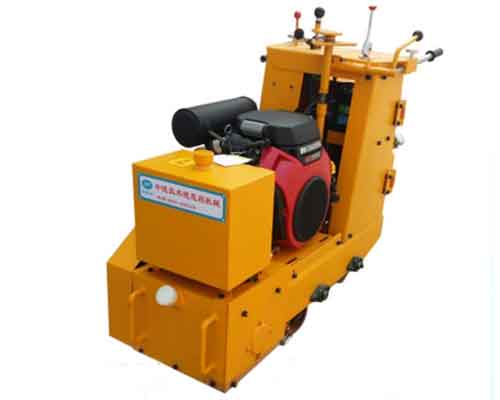 Technology Parameter:
Model
DYL-500F
DYL-500H
Power
11kw
11kw
Cutter Shaft No.
6
6
A Milling Depth
0mm–40mm(concrete)

0mm–70mm(asphalt)

(adjustable)

0mm–40mm(concrete)

0mm–70mm(asphalt)

(adjustable)

A Milling Width
0-200mm
300-500mm
Dimensions
1200*600*1000mm
1200*600*1000mm
Technology
Germany
Germany
The Applications of Floor Scarifier
Milling and planning the pavement, the old materials can be recycled at the same time so that new materials can be laid and the road surface can be renovated.
Milling and planning the roads to be repaired for local damage and making it a square pit groove. Then the joint will be neat and beautiful after repair.
Milling and trimming the road accumulation package, oil wave, rut, and some other road problems.
The floor scarifier can make a road with a low friction coefficient more rough and safe.
The Maintenance of Floor Scarifier
First, the machine should be operated by professional personnel after they read the operation manual carefully. Proper use can increase the service life of the machine.
For safety reasons, all repairs must be carried out by a qualified mechanic. And the spark plug of the engine should be removed before maintenance.
It must be maintained on a flat surface and check the milling cutter to prevent the machine from overturning.
Check the oil level before each operation and clean the air filter after use.
Check if all fasteners are tightened and whether parts wear or crack. Check the bearing and see if it needs oil.
Check the belt tightness before each operation. The new belt should be adjusted after four hours of operation. If the belt has a broken mark, or serious wear, please replace it with a new one immediately.
Proper belt tightness must be maintained. You can adjust the two height adjustment studs under the engine mounting plate and change the center distance between the motor output shaft and the milling drum center shaft to control the belt tightness.
Check the milling cutter shaft and shaft lining when the milling cutter alignment is changed. If there is a scuffed groove on the shaft, please change it to a new one.
Concrete Scarifier Price – YG Machinery Manufacturer
Floor scarifiers, as well as floor shot blasters, floor grinder machines, and concrete surface roughing machines, are widely used road machinery. In addition, we also have road roller machines, road marking machines, asphalt crack filler machines, concrete curb machines, asphalt recycling machines, trowel machines, electric road sweepers, etc. YG Machinery can supply you with high-quality machinery at a much lower price. Choose the suitable model you want and send us an email to tell us more about your requirements, we will send you a quotation as soon as possible.【WhatsApp/WeChat/Phone/Skype】+86 136 1385 6800