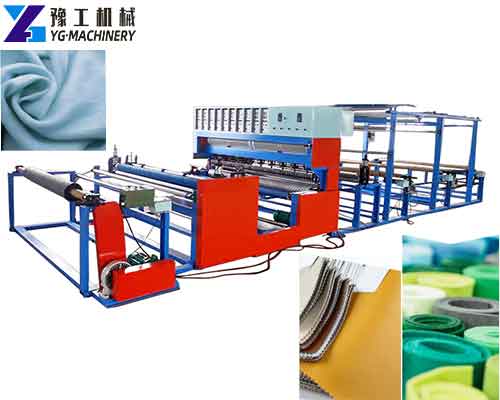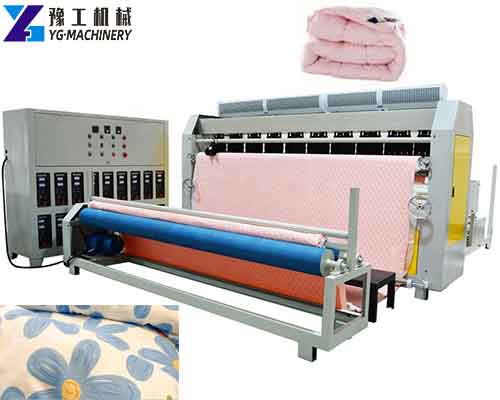 Ultrasonic quilting machine (no needle quilting machine, ultrasonic quilting, and embossed machine, ultrasonic quilter for bedding, ultrasonic embossing machine, ultrasonic quilter for mattress, ultrasonic welding machine for storage bag, no needle quilting sewing machine), is the intelligent ultrasonic laminating machine, which is the most ideal environmental protection equipment without needle and thread sewing by using ultrasonic principle. ​It is the ideal equipment for the production of bed sheets, bedspreads, pillowcases, quilt covers, sofa covers, clothing, and decorative soft bags.【WhatsApp/WeChat/Phone/Skype】+86 136 1385 6800
Automatic Quilting Machine Technical Parameter:
| | | | | | | |
| --- | --- | --- | --- | --- | --- | --- |
| Model | Power supply | Speed | Effective width | Max quit thickness | Machine size | N.W |
| YG-1000-S | 6KW 380V 3-phase | 0~20m/min | 1000mm | Cotton: 300gsm Fabric: Any thickness | 5×3.5×1.8m | 1500KG |
Applications of YG Automatic Sewing and Quilting Machine:
This machine can perform high-frequency ultrasonic embossing, embossing, and compounding of rayon, non-woven fabrics, chemical fiber fabrics, silk, leather, leather, and other open-width flexible materials. It is suitable for car tarpaulins, Car seat covers, luggage handbags, footwear shoes, clothing coats, children's jackets, pillows, quilts, mattresses, bed covers, cushion pillows, table mats, table cloths, curtains, shower curtains, cold gloves, baby mats, moisture urinal pads, home decorative supplies, wardrobe, incorporating storage, tents, wardrobe, washing machine covers, mummy bag, blanket, cosmetic bags, suit cover, bed cabinet, sauna kits cover, shoes, PVC pool bottom, etc. Note: natural material like cotton cloth, real silk, and real leather is not suitable.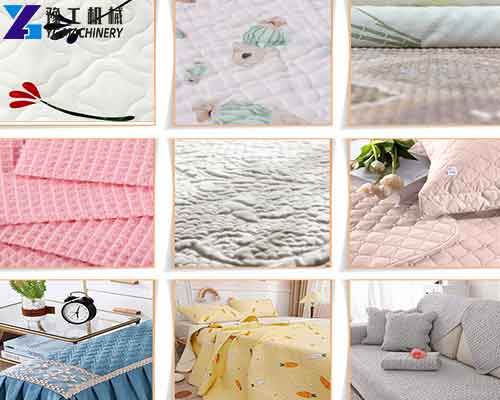 Sewing and Quilting Machine Working Principle:
Using high-frequency oscillation (20,000 cycles per second), the welding head transmits the sound wave to the fabric welding surface, which instantly causes the fabric to rub and dissolve quickly, thereby completing the joint.
Ultrasonic Quilting Machine Characteristics:
Short welding time, ultrasonic automatic bonding without thread and needle is more efficient and convenient, and the sewing speed is more than 5 to 10 times compared with the traditional way. The width of the ultrasonic quilting machine is decided by the client.
The needle is not used, which avoids leaving the needle inside the product and hurting users. It's a new, safe, and environmental protection product.
Compared with the traditional way, ultrasonic quilting is of more cementation, clearly embossed surface, and more three-dimensional relief effect, looking more high-classed and beautiful.
After Pinhole-free processing, it is waterproof and warm.
It is easy to change roller dies and sew many kinds of designs that can be designed according to the user's request.
This machine is fully automatic, equipped with an infrared auto edge system that can align layers of materials, and let all layers of material keep in an aligned state, with low consumption of processing. The product is more smooth and even.
Final products are without needle holes so they can keep warm.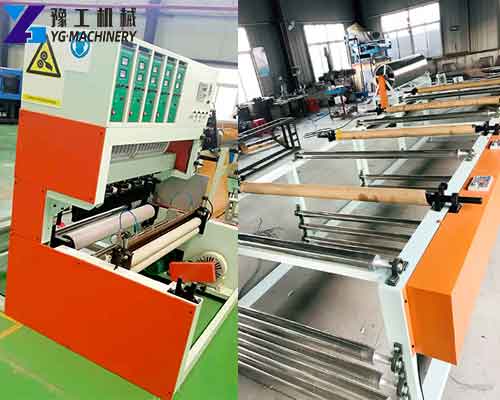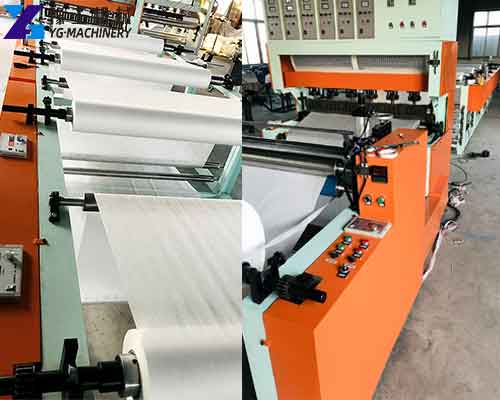 Ultrasonic Quilting Machine for Sale in YG Machinery Manufacturer:
The ultrasonic quilting machine adopts domestic intelligent ultrasonic quilting technology for needle-free wireless operation. It is ideal environmental protection equipment for laminating and bonding various chemical fiber fabrics. The machine is easy to operate, easy to maintain, has high production efficiency and has firm adhesion and no pinholes. This device has received good reviews from many customers. And said that the return on investment is very fast, and it is a very good investment project.
Related Machinery:
We also have other machinery, fabric spreading machines, slitting machines, shoe cover-making machines, face mask-making machines, wet wipes machines, tissue-making machines, disposable cup-making machines, surgical cap-making machines, disposable slipper machines, paper bowl-making machines, paper dish-making machines, paper straw-making machines, paper carton erecting machines, egg tray making machines, paper tea cup printing machines, paper bag making machines, napkin paper machines, etc. Contact us to know more!【WhatsApp/WeChat/Phone/Skype】+86 136 1385 6800