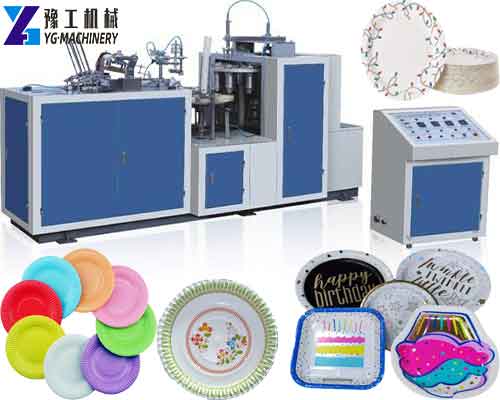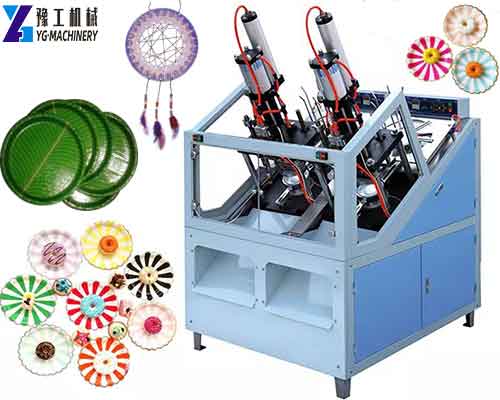 A paper dish is a kind of paper container pressed by a rolling mill using white cardboard made of chemical wood pulp. The paper plate has the same shape as other porcelain plates, but the plate is much lighter. It can be used to hold the bread, cakes, snacks, etc. Food with soup should not be used. The amount of paper trays is very large, and it is a product that we will use in our daily life. It is not only very environmentally friendly but also very convenient, it is disposable and does not need to be cleaned. If you want to invest in this paper dish making machine, please contact us!【WhatsApp/WeChat/Phone/Skype】+86 136 1385 6800

Paper Dish Making Machine Technical Parameter:
| | |
| --- | --- |
| Paper plate size: | 2–12 inches (mold exchangeable) |
| Raw material: | Raw Material: Paper/paperboard, aluminum foil coated paper, one side PE coated paper or other |
| Suitable paper weight: | 100–500 gsm (gram a square meter) |
| Rated productivity: | 100–150 piece/minute (total two stations, about 6000–9000pcs per hour) |
| Total power: | 8.5 KW |
| Power source: | 380V 50Hz or other required |
| Total weight: | 2000 Kg |
| Package size (L x W x H): | 3.0m x 1.7m x 1.7m |
| Air source: | Air compressor in the building, the client does not need to buy an air compressor |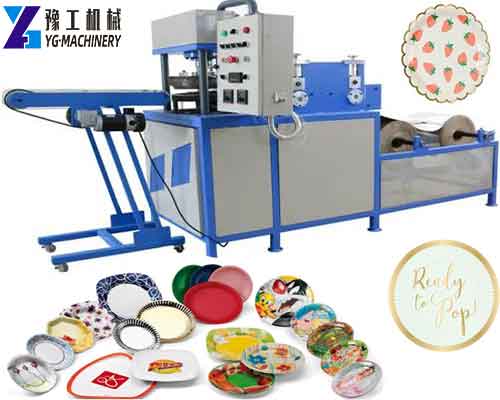 Perform paper feeding, suck paper down, slide perform paper to the mold, press down &heating-forming the shape, release mold (plate/tray out). Press and make round, rectangle, irregular, customize shaped paper plates, dishes, and trays. The pneumatic air cylinder(piston) provides the press power, press UP-mold to DOWN-mold. Standard machine press power is 5 tons, heater in Down-mold, make the shape nice and hard.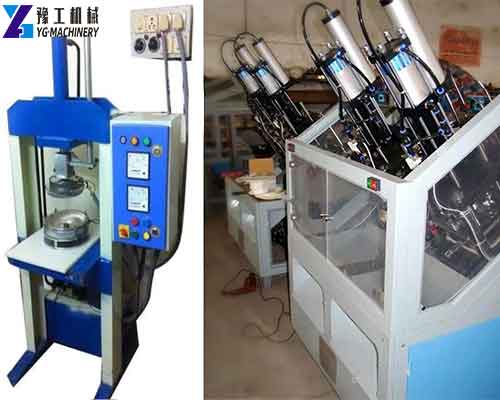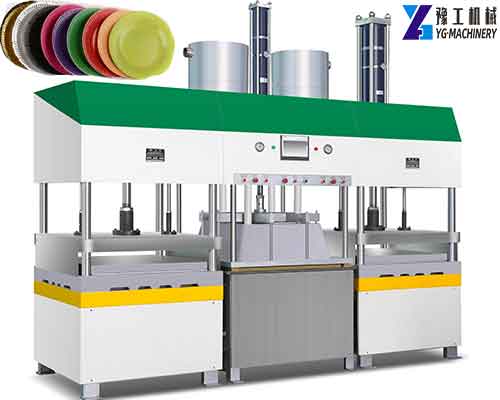 A high-speed automatic paper plate forming machine is developed and designed as the requirement of the market. It is a pneumatic type automatic paper dish-forming machine with owned unique intellectual property right, which has functions such as automatic paper feeding, forming, dish ejecting, temperature constant controlling, automatic counting, high working speed, safe operation, and easy maintenance, etc.
In addition, we also have other machinery, disposable cup making machines, paper bowl making machines, paper straw machines, roll die cutting machines, paper cup printing machines, folder gluer machines, lunch box making machines, aluminum foil container machines, egg tray making machines, sanitary napkin making machines, diaper making machines, wet tissue machines, paper making machines, A4 paper making machines, kraft paper making machines, napkin paper machines, woven bag making machines, nonwoven bag making machines, plastic bag making machines, balloon making machines, condom making machines, shoe cover making machines, disposable slipper machines, glove making machines, etc.【WhatsApp/WeChat/Phone/Skype】+86 136 1385 6800