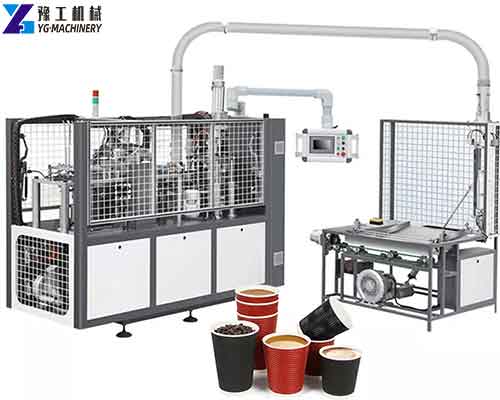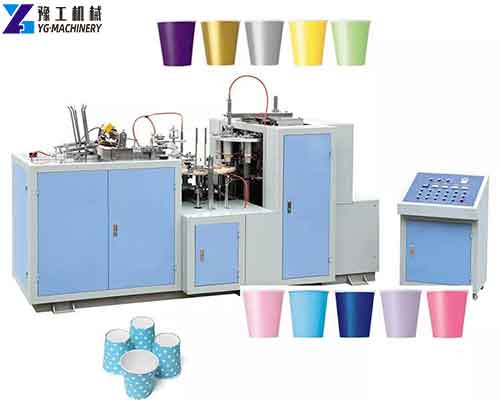 YG paper cup machine is improved based on the normal chain driving type. This machine runs a whole procedure of paper-feeding, cup-fan-wall sealing, oiling, bottom punching, heating, rolling, rimming, rounding, and tripping. It is ideal equipment for producing drinking cups, market cups, coffee cups, advertising cups, etc. It is widely used for hot drinks and beverages. If you need double PE-coated paper cups or paper grams higher than 250g/m2, we recommend you use an Ultrasonic paper cup machine. It can produce single PE-coated paper cups and double PE-coated paper cups. Learn more about the low-price paper cup machine details.【WhatsApp/WeChat/Skype/Phone】+86 136 1385 6800
Paper Cup Machine Technical Parameter:
Model
YG-M100
Paper Cup Size
3-16 OZ
Raw Material
One-side or two-side PE coated paper(Singe PE or Double PE coated paper)
Speed
80-100pcs/min
Suitable paper weight
160-260g/㎡;±20g/㎡
Voltage supply
380V(220V)  50HZ
cup size
bottom28-54mm,top40-75mm,high30-95mm
Working Air Source
0.4-0.6Mpa; 0.4m³/min
General power
4.5kw
Net weight
1500kg
Cup Side Sealing
Ultrasonic
Bottom Knurling
HOT AIR SYSTEM

We can customize the machine and mold according to the customer's requirements!!!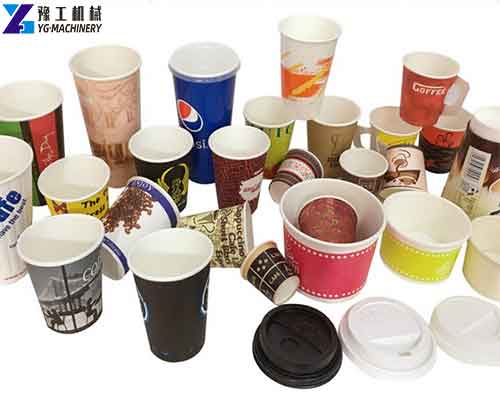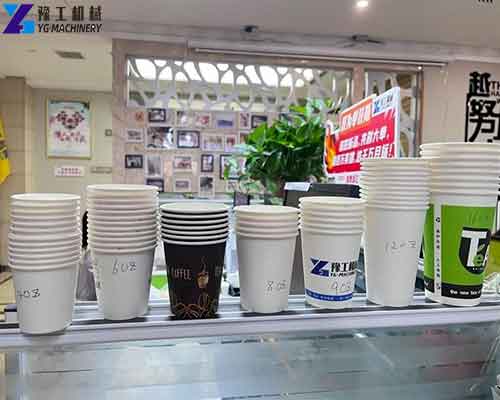 7 Advantages of High-speed Paper Cup Making Machine:
This paper cup automatic forming machine has the advantages of high performance, high efficiency, and high quality.
The indexing of the station plate adopts an open cam, and the advanced high-precision cam drive and gear. Transmission makes the forming of each station accurate.
The maintenance and lubrication are more convenient and simpler than the closed splitter. The transmission parts in the machine have a large space, easy to operate and maintain, and are superior to similar products on the market in all aspects.
Servo tracking bottom feeding paper ensures the size of the cup bottom paper, ensures the size of the cup bottom paper, and effectively saves raw materials.
The human-machine interface PLC system controls the stable operation of the whole machine for a long time.
The reasonable setting of an automatic counting cup collection table can replace the busy work of manual work.
This paper cup automatic forming machine has over-cup detection, cup tube forming detection, and an automatic shutdown alarm for faults.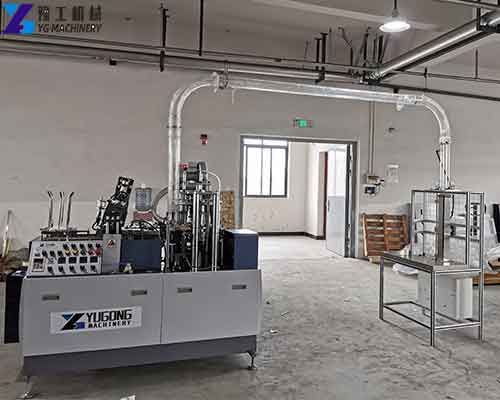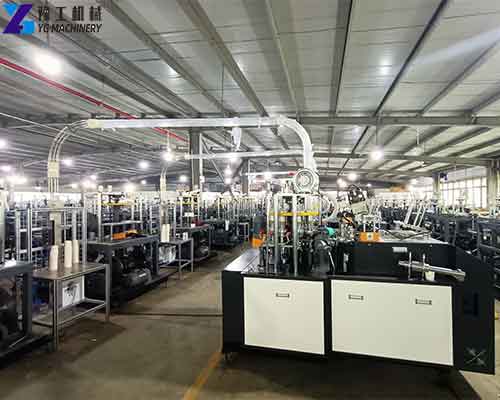 Low Price Paper Cup Machine Manufacturer – YG Machinery
YG Machinery is a company dedicated to providing the machinery industry with fully automatic paper cup forming series equipment, paper cup-making machines, paper bowl-making machines, paper dish-making machines, paper straw-making machines, double wall paper cup machines, roll die cutting machines, paper cup printing machines, paper carton erecting machines, paper bag making machines, egg tray making machines, folder gluer machines, wet wipe machines, A4 paper making machines, A4 paper cutting machines, toilet paper making machines, napkin making machines, and other machinery in the mechanical industry. We produce many different types of products for your selection. If you are interested in any product, please contact us; we can give you our best service.【WhatsApp/WeChat/Skype/Phone】+86 136 1385 6800