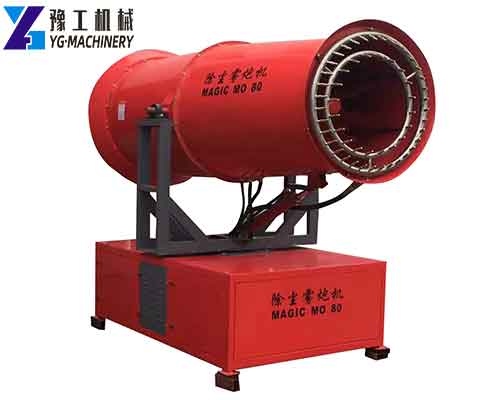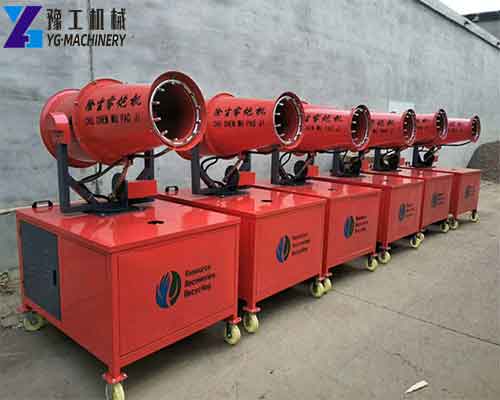 On March 17, 2010, a customer from Qatar sent us an email from the website saying that he was very interested in our spray cannon machine and wanted a catalog and price list, our sales manager contacted us after arriving at the customer, according to the customer's requirements, quickly sort out everything the customer needs, and answer them one by one. On the afternoon of the second day after receiving the email, our client paid us and praised our sales manager for being professional and patient enough.
Our customers eventually purchased 12 machines for dust removal in the streets and factories and said that if the machines were used without problems, they would continue to buy. We are very grateful to the customer for their trust in us, I believe he will be satisfied!【WhatsApp/WeChat/Phone/Skype】+86 136 1385 6800
Note: Spray Cannon can also be used for disinfection.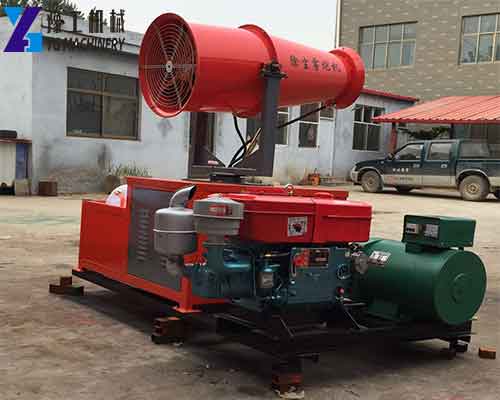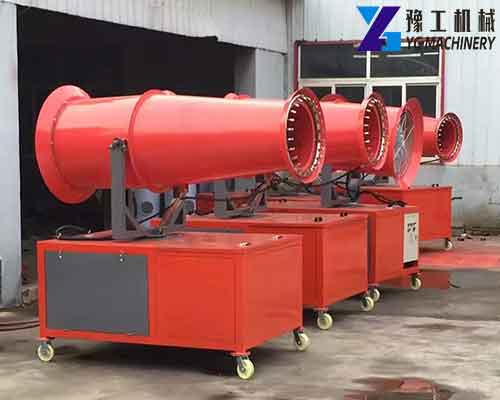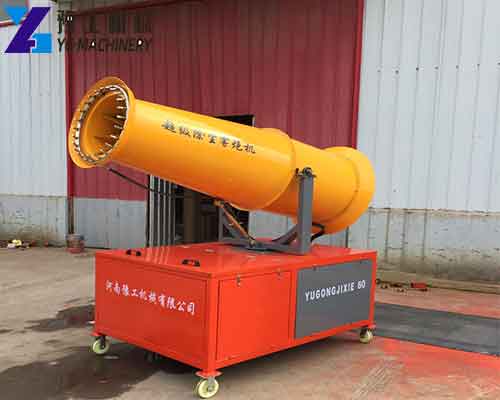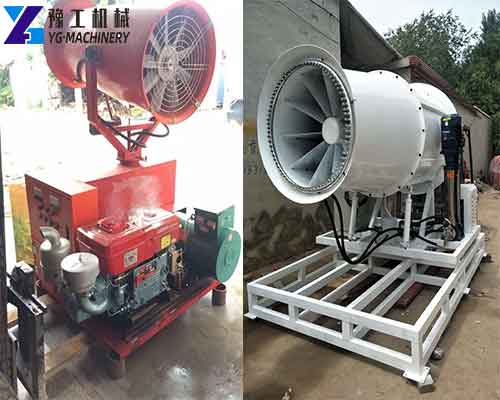 Parameter of Spray Cannon:
| | | | | | |
| --- | --- | --- | --- | --- | --- |
| Model | YG-F30 | YG-F40 | YG-F50 | YG-F60 | YG-F100 |
| Horizontal Range | 30m | 40m | 50m | 60m | 100m |
| Fog Size | 40-200μm | 40-200μm | 40-200μm | 40-200μm | 30-200μm |
| Fan Diameter | 500mm | 500mm | 700mm | 700mm | 1200mm |
| Fan Length | 1.25m | 1.5m | 2.1m | 2.1m | 2.55m |
| Voltage | 380V | 380V | 380V | 380V | 380V |
| Fan Power | 3kw | 5.5kw | 15kw | 18.5kw | 55kw |
| Water Pump Power | 3kw | 3kw | 5.5kw | 5.5kw | 11kw |
| Dimension | 1350*1000*1600mm | 1650*1000*1750mm | 1800*1200*2100mm | 1800*1200*2200mm | 2700*2000*2300mm |
Dust Control Water Cannon Scope of Application:
Dust control during construction demolition, construction waste or waste slag waste unloading and shipping, local dust control during mechanical operation, road dust pollution control during heavy vehicle transportation; mine mining, material storage yard, coal terminal, coal terminal, coal storage yard of the power plant, coking dust control in factories, truck discharge ports, dump truck discharge dust, large loading truck work dust, coastal port shipments, transshipment coal, ore, bulk powder handling, etc. Airfields, highways, stations, wharves, and public places, dust-reducing, moisturizing, cooling, and disinfecting for sports venues and hot venues.
Mist Cannon Working Principle:
The spray gun machine is based on the theory of liquid atomization and air jet. First, the high-pressure pump is used to pressurize the liquid, and then the water is atomized through the micro-atomization nozzle. The water mist is sent to a longer distance so that the water mist can cover a larger area while reaching a longer distance. In this process, the dust particles continue to adsorb other dust particles to make full contact and become moist. The wet dust particles continue to adsorb other dust particles and gradually condense into particle clusters. Then the dust particle clusters settle due to their own gravity, thereby achieving the intended function of dust, and dust reduction can reduce the PM2.5 concentration value in the air and improve the air quality.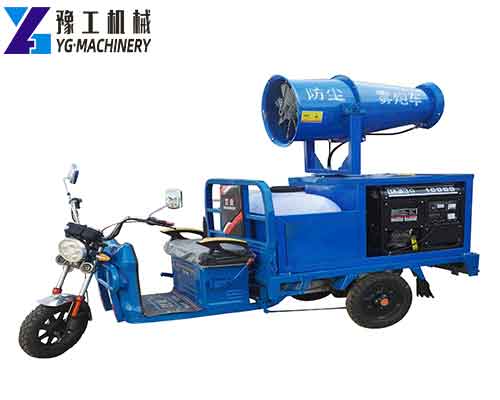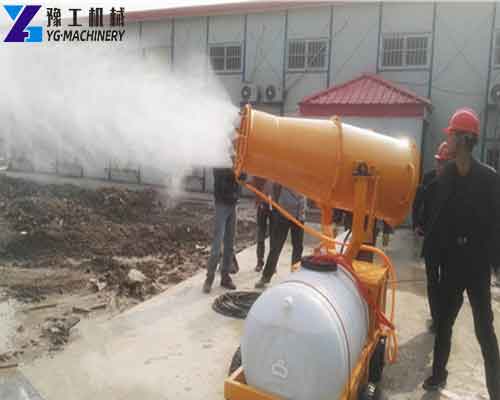 Spray Cannon Features:
Long-range, strong penetrability, wide coverage, small water mist particles, more uniform spraying, fast dust reduction, and higher work efficiency.
The PLC-integrated intelligent control cabinet can realize quantitative, timing, and fixed-point spraying.
The supporting power is flexible and can use 380V mains power, or it can be matched with a generator set to supply power.
It can be installed on a concrete platform a steel frame platform, or on a transport vehicle.
Equipped with multiple operation modes, reliable operation, and precise control within 100 meters of the remote control.
Water-saving and energy-saving, the water consumption can save 70% -80% compared with other dust suppression spraying equipment (spraying spray gun, sprinkler locomotive), and the area covered by water mist is much larger than other spraying equipment.
Hot-sale Spray Cannon for Sale in YG Machinery Manufacturer:
The spray cannon has been designed for large dust suppression jobs, quarries, and wastewater treatment plants … Thanks to its powerful fan, it projects fine particles of water at distances ranging from 30 to 80 meters. Several options can be adapted such as automatic oscillation, remote control, and transfer pump … It is also easy to use. Of course, we have other construction machinery, fog cannon machines, mortar spraying machines, shotcrete machines, sandblasting machines, hydroseeding machines, mini concrete pumps, dust control water trucks, putty spraying machines, mini concrete pumps, micro excavators, GRC machines, gypsum spray plaster machines, etc. Contact us to know more details.【WhatsApp/WeChat/Phone/Skype】+86 136 1385 6800