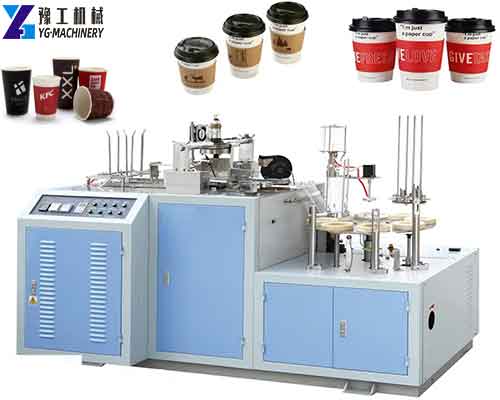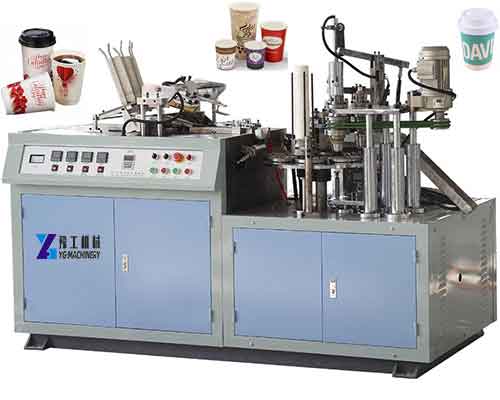 Our double wall paper cup sleeve forming machine is for noodle cups and high-quality coffee cups. It can be used with paper cup making machines. The paper cup sleeve machine is designed for the subsequent processing of double wall paper cups. Its function is to perfectly combine the printed paper blank with paper cups. The out-layer of paper may play a role in thermal insulation and improve the strength and aesthetic properties of the paper cup body. Contact us to know the machine price now!【WhatsApp/WeChat/Phone/Skype】+86 136 1385 6800
Double Wall Paper Cup Machine Technical Parameter:
Model
YG-35
Paper Cup Size
3-16oz
Paper Cup Top Diameter
Min 65mm-max94mm
Paper Cup Bottom Diameter
Min45mm-60mm
Paper Cup Height
Min60mm-135mm
Raw Material
PE-COATED PAPER.RIPPLE PAPER ETC
Speed
80-90pcs/min
Speed of 20 hours of stable running per day
Suitable paper weight
150-350gsm
Voltage supply
220v50hz single phase/ 380v50hz 3-phase

(better to use 380v50hz 3-phase)

*If the user's voltage supply is different, please inform us in advance.

General power
4.7KW
Net weight
1500kgs
Measurement (mm)
2150*950*1650MM
Cup Side Sealing
Ultrasonic
We can customize the machine and mold according to the customer's requirements.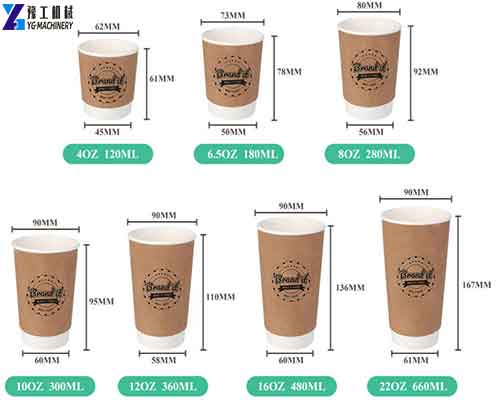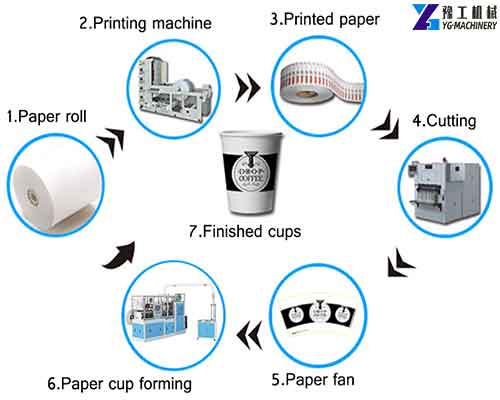 7 Main Features of Double Wall Paper Cup Machine:
Output is improved: our machine can reach 80-90pcs/min.
A stepping motor is used to control the bottom paper feeding so that the gap between the bottom paper is controlled within 0.1mm, which can make the machine more stable and save raw material. With light eyes under the paper roll, the machine will be stopped when out of bottom paper, avoiding waste in the paper.
A gear drive is adopted to avoid the defect of the loose gap of the chain drive.
We use a self-lubrication system in the machine, which reduces the friction between the parts. So the machine can be maintained without manually fueling.
This device adopts a non-contact multi-point light control switch (such as in a paper holder, glass tube, bottom paper, and so on, according to customer demand). It can detect the working situations, then achieve a fault alarm preventing the machine from collision, making the machine more stable and longevous.
The paper tube station uses an independent cam to handle the glass holder. This is advanced instability and will not make noise when it works.
The machine is equipped with a gear motor simplifies the complicated system and makes the machine more stable.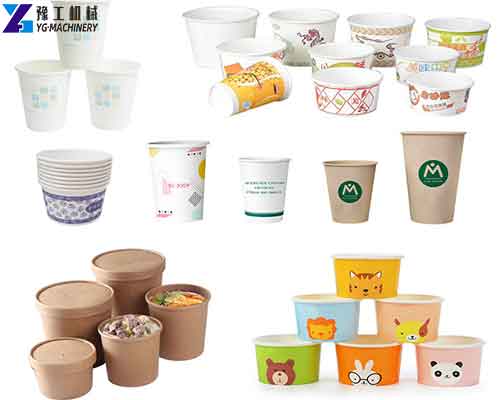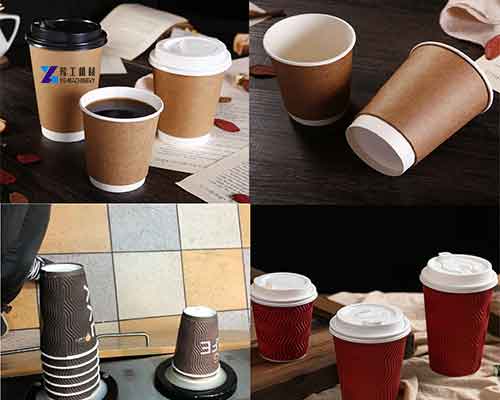 Double Wall Paper Cup Machine Price – YG Machinery Manufacturer
The paper cups project is one of the best small projects that make profits according to the statistics for 2022. You need to determine the most popular cup sizes and choose a good quality machine to produce the estimated number that your market needs. Purchasing the machine is the first and most crucial step in your project. YG Machinery's paper cup machines are very popular and have been sold all over the world, Russia, Saudi Arabia, Libya, Italy, United Arab Emirates, Brazil, Bahrain, Chile, Tunisia, Lebanon, Croatia, South Africa, Mexico, Afghanistan, Dubai, Germany, Kosovo, Philippines, India, Pakistan, the United States, etc., all received good feedback, commenting that the production speed of our paper cup machine is stable and can continue to run at high speed, and the finished paper cups produced are also very beautiful. Expand production output and increase revenue. In addition, we have disposable cup making machines, paper bowl making machines, paper dish making machines, paper straw making machines, paper carton erecting machines, paper cup printing machines, roll die-cutting machines, folder gluer machines, paper bag making machines, A4 paper making machines, A4 paper cutting machines, diaper making machines, sanitary napkin making machines, slitting machines, rewinder machines, etc. Contact us if you want to know more machine details now!【WhatsApp/WeChat/Phone/Skype】+86 136 1385 6800