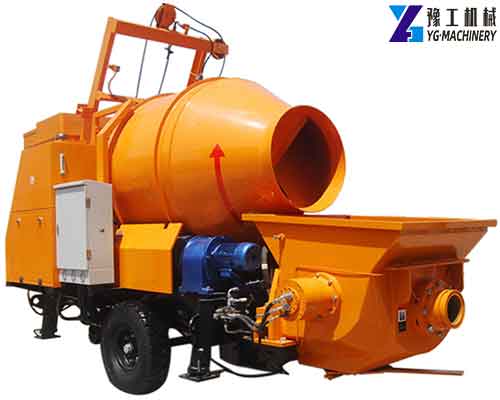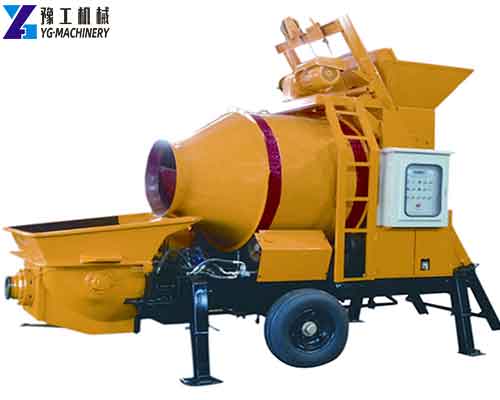 The concrete mixer machine with pump, also known as mixing trailer pump, mixing pump or mixing and conveying pump, mixing and pumping integrated machine, etc., is a mobile concrete mixing station integrating a mixing system and pumping system. It is mobile, flexible, convenient, efficient, and has good concrete quality. In addition, we also have mini concrete pump machines, mortar sprayer machines, fog cannon machines, shotcrete machines, GRC machines, hydroseeding machines, automatic brick making machines, polyurethane foam spray machines, gypsum spray plaster machines, and micro excavators, if you are interested, please contact us. 【WhatsApp/WeChat/Phone/Skype】+86 136 1385 6800

Cement Concrete Mixer Machine Technical Parameters:
Technical parameters

Maximum Theoretical Concrete Mixing
M³/h
15
Maximum Theoretical Concrete Output
M³/h
30 or 40
Theoretical maximum transmission distance
m
Vertical 50/Horizontal 200
Distribution Valve Form
S valve
Hopper Volume*Height
L*mm
600×1080
Pumping Motor Power
KW
30 or 45
Winch Motor Power
KW
5.5
Hydraulic Oil Form
open circuit
Rated Speed
rpm
1480
Fuel Tank Capacity
L
170
Weight
kgs
3500
Concrete Delivery Pressure
Mpa
6
Concrete Cylinder Specification*Stroke
mm
φ180 * 800 or 200 * 800
Spout Diameter
mm
φ180
Mixing Motor Power
KW
8 or 4
Pump Motor Power
W
550
Maximum Aggregate Size
mm
Grait:40MM; Gravel:30MM
Voltage
V
380
Dimensions (L * W * H)
mm
4200x2100x3300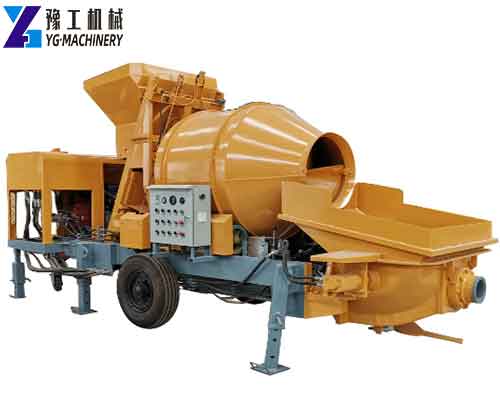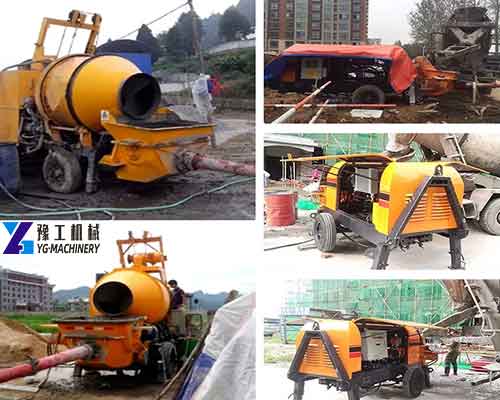 Advantages of YG Concrete Mixer Machine:
Wider scope of application: The concrete mixed with the forced mixing trailer pump is more uniform and of higher quality, and can be used in some projects with higher requirements, such as small commodity buildings, municipal engineering, etc.
Higher work efficiency: The forced mixing drag pump has a faster-mixing speed, larger mixing volume, and faster and more discharge, which can effectively improve construction efficiency.
More stable performance: The forced stirring pump has stable operation, reliable transmission, lower failure rate, and longer service life.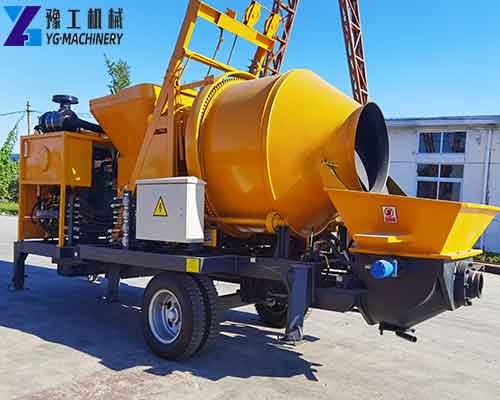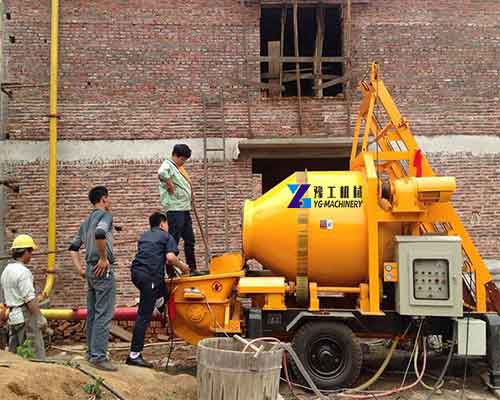 Concrete Mixer Machine with Pump Price – YG Machinery Manufacturer
We believe that good quality can give us survival, thus we only provide you with top products. All the products with high quality meet international standards and are highly estimated by all clients at home and abroad. The machine price of YG Machinery is also very competitive in the industry, we have the latest technology and the most professional team. If you want to invest in new industries, this will be the best choice. In addition, we also have disposable cup making machines, double wall paper cup machines, roll die cutting machines, paper cup printing machines, folder gluer machines, wet tissue machines, glove making machines, tissue making machines, diaper manufacturing machines, etc. Please contact us now. 【WhatsApp/WeChat/Phone/Skype】+86 136 1385 6800