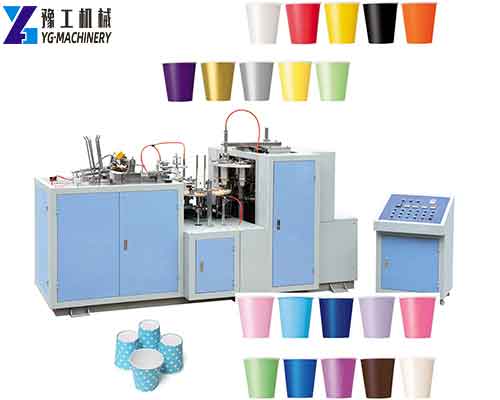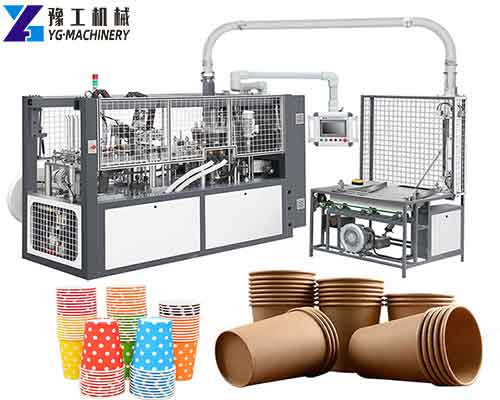 A paper cup forming machine is a kind of paper container made by mechanical processing and bonding raw paper (white cardboard) made of chemical wood pulp. YG paper cup machine is an automatic environmental machine with multi-running positions. This machine runs a whole procedure of paper-feeding, cup-fan-wall sealing, oiling, bottom-punching, heating, rolling, rimming, rounding, and tripping. It is the ideal equipment for producing drinking cups, ice-cream cups, and other food cone-shaping containers. 【WhatsApp/WeChat/Phone/Skype】+86 136 1385 6800
Parameter of Paper Cup Forming Machine:
Mould Driving Method
Cam
Approximate Max. Forming Area
660 x 300 mm
Approx. Running Speed
15-30 Stroke/min approx. during production
Approx. Sheet width required for feeding
500 – 660 mm in rolls.
Mode of the cutting arrangement
In mould automatic
Sheet thickness Range
0.20 – 2.0 mm
Material
PP, PS, PET, PVC, PLA
Max. Draw depth, i.e. cup length
140 mm (Could be a special design)
Oil Pump Motor Power
11KW, 6P
Sheet Feeding Motor
2.2KW
Max. Sheet roll diameter
800 mm
Heating arrangement
Top + bottom

heating with IR Ceramic Heater(120pieces, 650W)

Temperature Controller & Thermocouple
PID  K-Type
Type of Mould
Multi cavity 1 – 3 rows.
Approx. Electrical Consumption
45KW/hr
Approximate Dimension
L3100×W1500×H2500 (mm)
Approximate Weight
4000Kg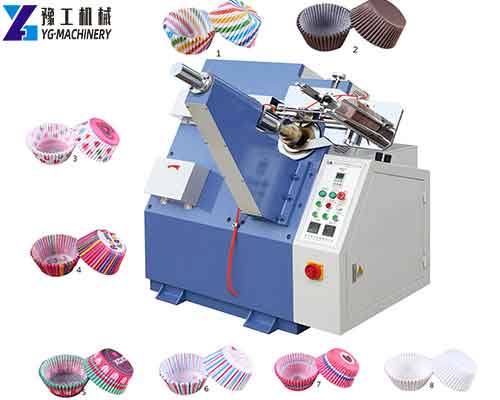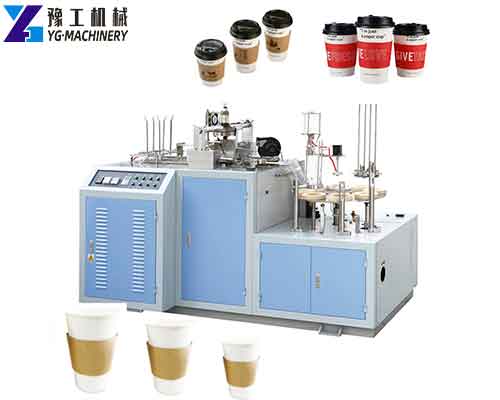 Application of Disposable Paper Cups:
Paper cups used for frozen foods are coated with wax, which can hold ice cream, jam, butter, etc. The paper cups used for hot drinks are coated with plastic, which can withstand temperatures above 90°C and can even bloom with water. The characteristics of paper cups are safety, hygiene, lightness, and convenience. It can be used in public places, restaurants, and restaurants. It is a one-time item.
Middle-Speed Paper Cup Forming Machine Features:
Reliability:
A smart middle-speed paper cup forming machine is provided with the advantages of high performance, high efficiency, and high quality.
The overall steel plate machine body and oil-spraying lubrication system ensure normal and stable long-term operation of the equipment.
High Efficiency and Energy Conservation:
Advanced high-precision cylindrical cam driving unit working with a gear drive system makes sure the precise working of every station.
Bottom paper feeding is controlled by the servo tracking system and raw material paper can be saved effectively.
Foreign Technical and Made in China:
The paper bottom heating system(Switzerland Leister)uses 2 steps of flameless heating.
Every step in production is monitored by Photocell (Japan Omron)and reported.
User-friendly Design:
The function of the machine is controlled by a human-computer interface and a PLC system.
Manual operation can be replaced by automatic paper cup counting and a collection table with the appropriate setting.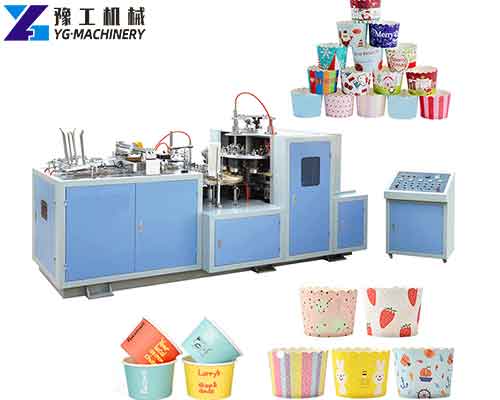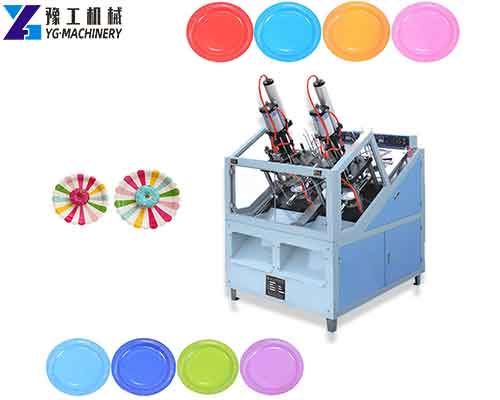 Prospects of Paper Lunch Box Use and Production Investment:
An automatic high-speed paper cup machine mainly produces single and double-sided PE-coated paper cups (from 7 ounces to 36 ounces). This model is suitable for the production of paper cups, advertising paper cups, ice cream paper cups, coffee, cola paper cups, etc.
Investment prospects: The market demand is large, and it is adapted to the needs of social development. Paper containers will definitely ban plastic paper cups. The machine has a small footprint, low power consumption, low labor intensity, simple operation (one person can operate), less capital required for investment, and low risk. It is very suitable for family investment and entrepreneurship.
Function Details and Part of the Forming Process:
Stepless frequency conversion speed regulation (easy adjustment of production speed).
Photoelectric monitoring: automatic fault alarm and counting.
Design and manufacture molds according to customer requirements. By exchanging molds, paper cups of various specifications and sizes can be produced, realizing multiple products in one machine.
Automatically process the printed fan-shaped paper sheet (the unfolded shape of the cup) into a paper cup shape.
Use ultrasonic to glue the wall of the paper cup (more sanitary and environmentally friendly).
The bottom of the paper cup uses roll paper, which is automatically fed and punched.
Adhesion of cup body and bottom: Hot air blowing and bonding.
Knurling: When the bottom of the paper cup is glued, a layer of marks is rolled by mechanical movement.
Crimping: Crimping of the mouth of the paper cup.
Fully Automatic Paper Cup Making Machine Price in YG Machinery Manufacturer
Disposable paper cups have become popular all over the world, not only environmentally friendly but also more convenient to use. The disposable paper cup forming machine produced by our company has been sold to many countries such as the United States, India, Malaysia, the Philippines, etc., suitable for any public places such as restaurants, hotels, etc. Our disposable paper cup machine has two types, automatic and semi-automatic. More and more customers are consulting this equipment for investment. In addition, YG Machinery also produces paper bowl making machines, paper dish making machines, paper straw making machines, paper carton erecting machines, double wall paper cup machines, paper cup printing machines, roll die cutting machines, folder gluer machines, paper bag making machines, aluminum foil container machines, egg tray making machines, A4 paper making machines, diaper making machines, sanitary napkin making machines, napkin making machines, wet wipe machines, glove making machines, toilet paper production lines, lunch box production lines, balloon making machines, condom making machines, shoe cover making machines, surgical cap making machines, disposable slipper machines, and so on. If you also want to know, please feel free to contact us.【WhatsApp/WeChat/Phone/Skype】+86 136 1385 6800