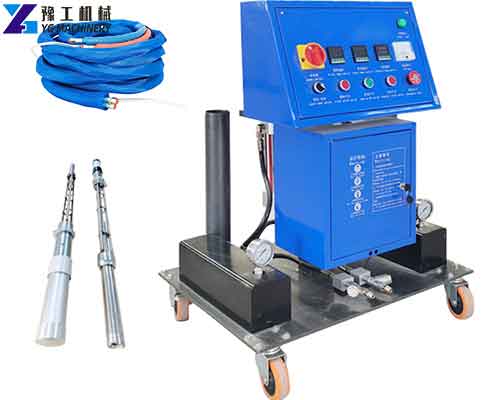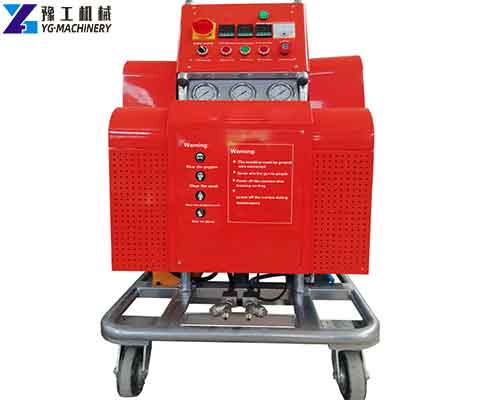 A polyurea spray foaming machine, also known as a polyurea spraying machine, refers to a high-pressure polyurethane spraying machine. Polyurethane spraying machine equipment is equipped with such products. It is necessary to choose a company with a good reputation and high quality. According to different spraying requirements, different plans need to be formulated. Contact YG to know more details and quote.【WhatsApp/WeChat/Skype/Phone】+86 136 1385 6800
Polyurea Spraying Machine Technical Parameters
| | | | | |
| --- | --- | --- | --- | --- |
| Model | YG-25 | YG-30 | YG-28 | YG-36 |
| Power | three-phase 380V 50Hz | three-phase380V 50Hz | three-phase 380V 50Hz | three-phase   380V 50Hz |
| Heating power | 9.5KW | 18KW | 15KW | 22KW |
| Driven mode | pneumatic | pneumatic | pneumatic | hydraulic |
| Air source | 0.5~0.8MPa≥ 0.9m3/minute | 0.5~0.8MPa≥ 1.2m3/minute | 0.5~1 MPa≥ 1m3/minute | 0.5~0.8MPa≥ 0.5m3/minute |
| Material output | 2-10kg/minute | 2-10kg/minute | 2-10kg/minute | 2-12kg/minute |
| Max pressure | 25Mpa | 30Mpa | 28Mpa | 36Mpa |
| AB ratio | 1:1 | 1:1 | 1:1 | 1:1 |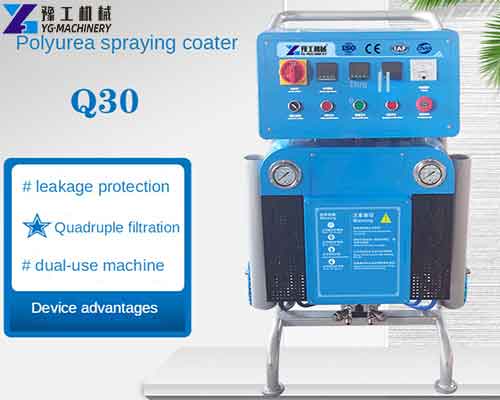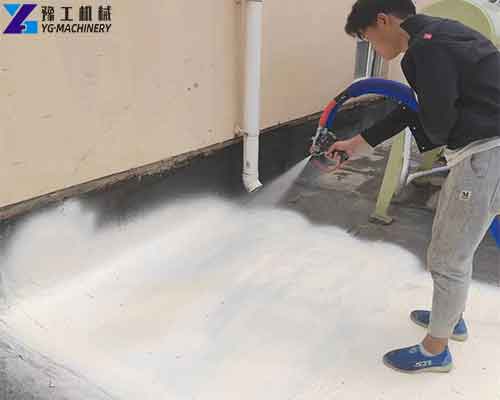 Application of Polyurethane Spraying Equipment:
Polyurea spraying equipment has a wide range of applications. Equipment suitable for a variety of construction environments can spray a variety of double-part materials: Polyurea elastomers, polyurethane elastomers, polyurethane foaming materials, and polyurea waterproof, anti-corrosion materials are widely used in subgrade waterproofing, pipeline anticorrosion, auxiliary cofferdam engineering, water tank anticorrosion, storage tanks, tank anticorrosion, pipe coating, cement layer protection, wastewater treatment, roof waterproofing, basement, industrial maintenance, wear-resistant lining, cold storage, exterior walls and other insulation, insulation, anti-corrosion, waterproof, wear-resistant areas.
10 Advantages of Polyurea Spraying Machine:
The feeding pump uses a large variable ratio mode, winter raw material viscosity is also easy to feed.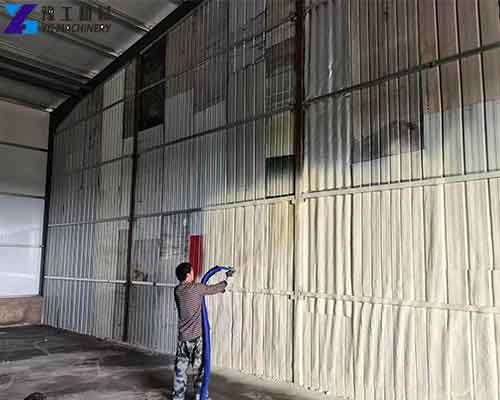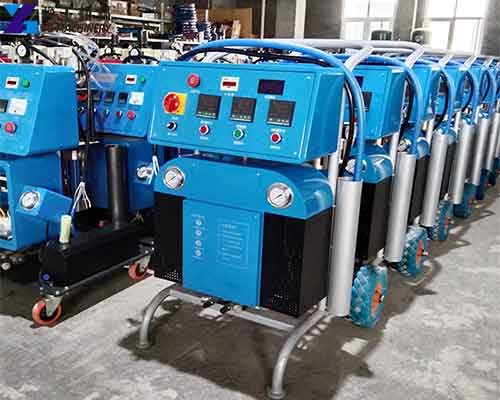 Polyurea Spraying Machine Manufacturer – YG Machinery
The service life of the pipeline is directly affected by the quality of the anti-corrosion layer, and the quality of the anti-corrosion layer is related to its own anti-corrosion properties. Correct selection of the anti-corrosion layer is the key to determining the overall life of the pipeline. Generally, the selection of the anti-corrosion layer is comprehensively considered from the aspects of anti-corrosion, reliability, economy, use environment, operating temperature, surface treatment, construction, matching of repairing wounds, cathodic protection compatibility, and hoisting. Using a polyurea spraying machine is a very good construction method. In addition, we also have polyurethane foam spray machines, gypsum spray plaster machines, GRC machines, fog cannons, mortar spray machines, sandblasting machines, hydroseeding machines, shotcrete machines, mini concrete pumps, mini excavators, hydraulic scissor lift platforms, rubber vulcanizing machines, etc. Contact us know more details!【WhatsApp/WeChat/Skype/Phone】+86 136 1385 6800