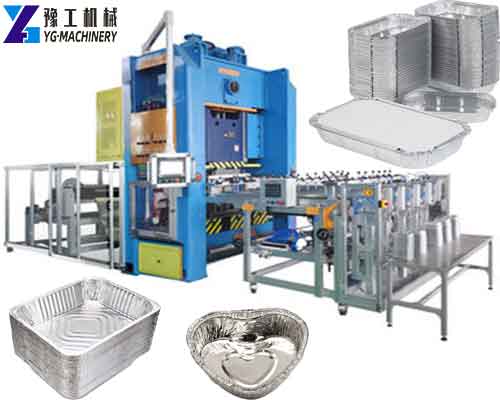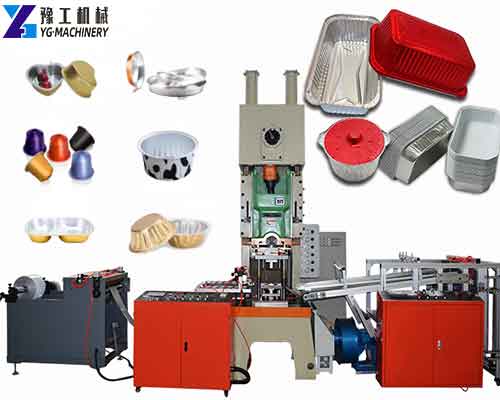 As we all know, the aluminum foil lunch box is widely used tableware. The thickness of the aluminum foil lunch box is generally between 0.03mm and 0.20mm, which can be divided into two types: wrinkled and wrinkle-free. It can also be divided into one-time and repeated use. In China, it is often called a tin foil lunch box. Due to environmental protection issues in the world, aluminum foil/tinfoil lunch boxes are gradually replacing plastic lunch boxes. So the demand has been increasing. In other words, investing in the aluminum foil container machine is a very good choice. Contact us now!【Whatsapp/WeChat/Skype/Phone】+8613613856800
Aluminum Foil Container Machine Parameter:
| | | |
| --- | --- | --- |
| Model | YG 21-45 | YG 21-60 |
| Nominal Pressure (KN) | 450 | 600 |
| Slide Block Stroke (mm) | 220mm | 240mm |
| Slide stroke per minute (time/minute) | 70-50 | 70-40 |
| Maximum Die Set Height (mm) | 450 | 450 |
| Die set height adjustment (mm) | 70mm | 70mm |
| Slide Bottom Size (mm) | 480*340mm | 480*400mm |
| Stemhole size (mm) | 60*65mm | 60*65mm |
| Bolster surface size (mm) | 800*900mm | 1200*1100mm |
| Total power (KW) | 7.5 | 11 |
| Weight (kg) | 5000 | 9000 |
| Mould lifter | Yes | Yes |
| Dimension (mm) | 1800*1300*3000mm | 2400*1300*3500mm |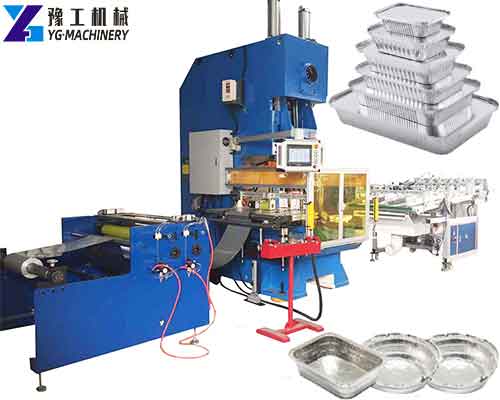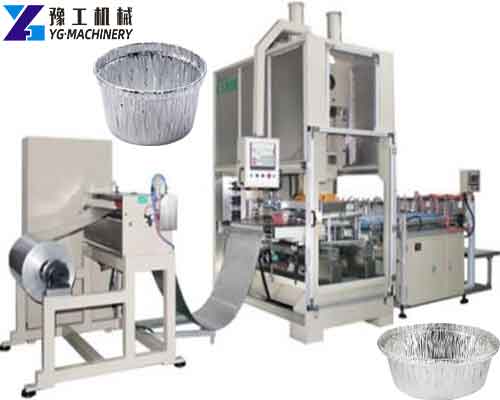 4 Features of YG Aluminium Container Making Machine:
The production line can work automatically, so it is easy to operate. Workers control and adjust the production line through electronic control panels.
Application of Aluminum Foil Lunch Boxes:
At present, aluminum foil products are widely used in packaging, engineering construction, road traffic, power engineering, IT electronic equipment, decorative design, and other very wide range of industries. With the improvement in people's level of clothing, food, housing, and transportation, the market demand for aluminum foil containers is increasing, and the quality requirements are also getting higher and higher.
Aluminum foil lunch boxes are currently mainly used in airlines, hotels, etc., but they are also used more and more in daily life in fast food restaurants. Although plastic lunch boxes are more widely used at present, pollution and the generation of harmful substances during heating are their fatal drawbacks. In conclusion, with various advantages, aluminum foil lunch boxes have replaced plastic lunch boxes not long ago.
Airline lunch boxes are disposable lunch boxes used to provide customers with fast food on the plane, most of which are aluminum foil lunch boxes. In short, the airline lunch box is a relatively high-end disposable tableware. Because the airline itself is a high-end service industry, there should be a product that meets the standard in terms of appearance, comfort, harmlessness, and environmental protection. So aluminum foil airline lunch boxes are the best choice.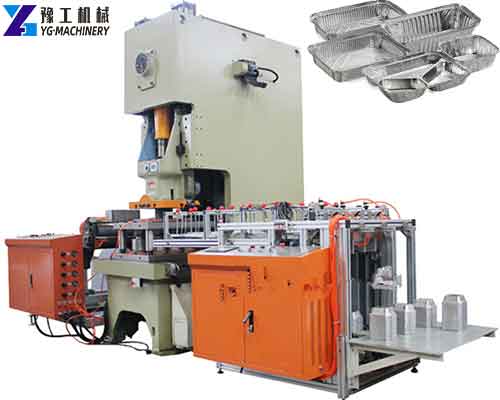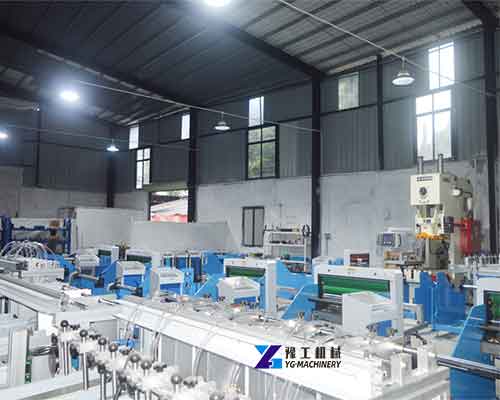 Aluminum Foil Container Machine Price – YG Machinery Manufacturer
With our rich industry experience, we manufacture, export, and supply an extensive range of aluminium foil container making machines. Furthermore, this machine is available in varied designs and sizes as per the needs of our clients. Of course, we have received a lot of good feedback from our customers. In addition, we also have lunch boxes making machines, disposable cup making machines, wet wipe machines, tissue making machines, paper bag making machines, garbage bag making machines, corrugated paper machines, woven bag production lines, diaper making machines, balloon making machines, condom making machines, glove making machines, etc. Want to make more money? Contact us now!【Whatsapp/WeChat/Skype/Phone】+8613613856800