A diamond wire saw machine is a kind of cutting machine that is mainly aimed at cutting thick concrete and irregular concrete, such as the cutting of reinforced concrete beams, and columns. In addition, the construction of foundation concrete structures like bridges, floors, and stone processing is partially dismantled by the diamond wire saw machine. It can also be called a concrete wire saw machine, a diamond wire saw for concrete depending on its cutting material. According to the power, it can mainly be divided into electric wire saw and hydraulic concrete wire saw and also divided into concrete cutting rope saw and mining rope saw in accordance with the different cutting purposes and requirements. All the types of diamond wire saw machines for sale in YG Machinery with good quality and competitive prices will be your best choice. Contact us for a quotation now. We also have concrete wall saws, hydraulic rock splitters, pile breakers, high-frequency wall saws, hydraulic wall saws, electric wall saws, excavator hydraulic shears, mini spider cranes, firewood splitter machines, hydraulic breaker machines, excavator drum cutters, horizontal band saw machines, excavator crusher buckets, etc. Contact us now!【WhatsApp/WeChat/Phone/Skype】+86 136 1385 6800








Hydraulic Diamond Wire Saw Machine
The hydraulic diamond wire saw machine is a new generation of automatic reinforced concrete cutting equipment for concrete by our company based on years of concrete experience and machine modeling design. It uses Australian motors and Italian hydraulic components and has the lightest weight in the same volume of machines. The equipment is mainly composed of a hydraulic rope saw set and hydraulic power station set, cooperation with a directional wheel, universal wheel, and wire rope at the same time to do the cutting operation. The hydraulic diamond wire saw machine for sale in our company has strong power that can make sure the cut is straight, neat, and have no need to trim. Meanwhile, it can also be used in the cutting of reinforced concrete, ceramics, and glass without vibration and the noise is low. If you want to cut the complex section, it's also very suitable.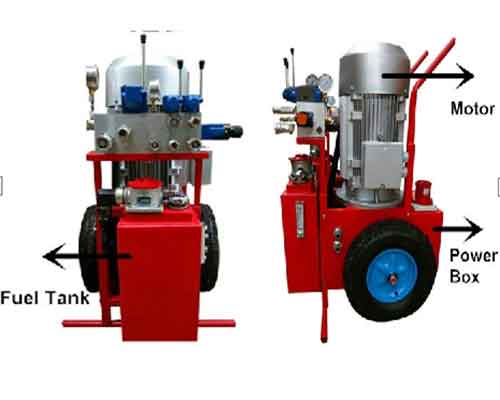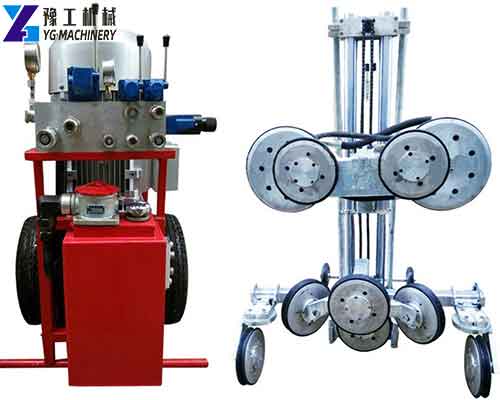 The Major Parameter of Hydraulic Wire Saw Machine:
| | | | |
| --- | --- | --- | --- |
| Wire Saw Wheel Parameters | | Hydraulic Pump Parameters | |
| Wire Drive Mode | hydraulic | Motor Power | 22/25kw |
| Motor Type | HM-80, 2 Cylinders | Voltage | 220V/380V, 50Hz |
| Minimum Input Power | 25HP/33HP | Hydraulic Pump Type | Gear Pump |
| Output Shaft Speed | 350/940/1300r/min | Main Drive Motor | 40-100L/min |
| Maximum Wire Length | 20m | Working Pressure | 15-20Mpa |
| Feeding Method | Fully hydraulic | Oil Tank Capacity | 17L |
| Wire Saw Wheel Weight | 64kg | Weight | 160kg |
| Motor Weight | 14kg | Size | 700*700*1200mm |
| Size | 1700*700*800mm |   | |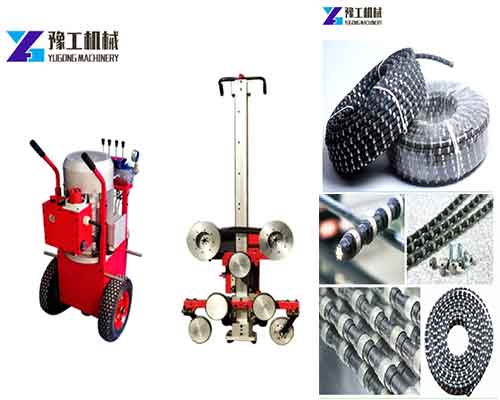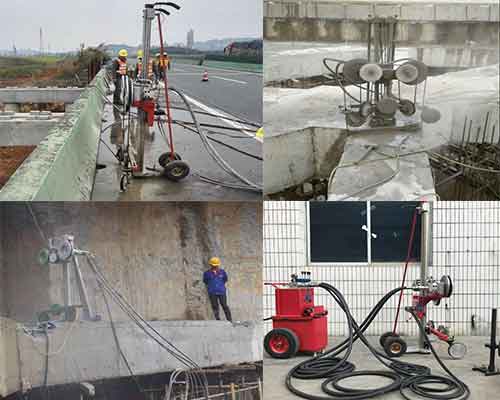 Electric Wire Saw for Sale
The electric wire saw machine is also a commonly used concrete cutting machine. Users can make appropriate choices conforming to their requirements. The saw head is relatively heavy. In some cases, it can be fixed by pressing the bottom angle directly without using expansion screws, which can greatly reduce the damage to concrete cutting. The hydraulic pump station of the hydraulic wire saw machines need to use cooling water to reduce the oil temperature. However, the electric equipment can work for a long time by adding a small amount of cooling water at the end of the rope. It can be operated with household electricity directly, eliminating the need for a hydraulic system, so it usually costs less. However, compared with the hydraulic wire saw, it also has some advantages. One is that it isn't as flexible as hydraulic equipment when construction, especially on the construction surface of small places. The other is that it has less power than the hydraulic machine and the efficiency is a little slower. Then if you still don't know which one is more suitable for you after reading the features of these two types, please kindly tell us your main application, and we will give you the right advice.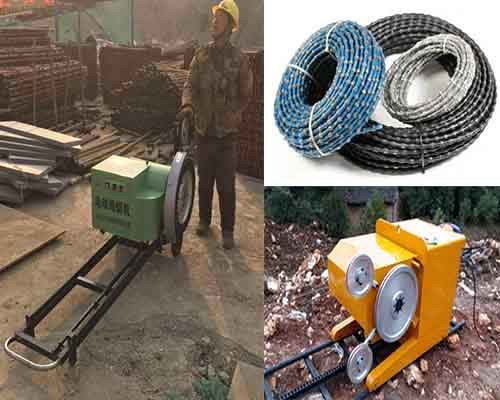 Major Parameter:
Wire Drive Mode: Electric
Voltage: 380V, 5Hz
Output Shaft Speed: 980r/min
Maximum Linear Velocity of Rope: 28m/s
Weight: 350kg
Maximum Wheel Size: 500mm
Stone Wire Saw for Sale
The machine can also be called a mining stone wire saw-cutting machine. This kind of equipment produced by our factory is mainly divided into four series. Among them, Series B is a standard machine, with eight specifications. Series C is a kind of two-speed model, including five standards. Series E is called an economical model which contains four specifications and Series X is a small kind of machine that contains four models. Then I will give the major parameters of all the models and you can choose the one you need to refer to the parameters.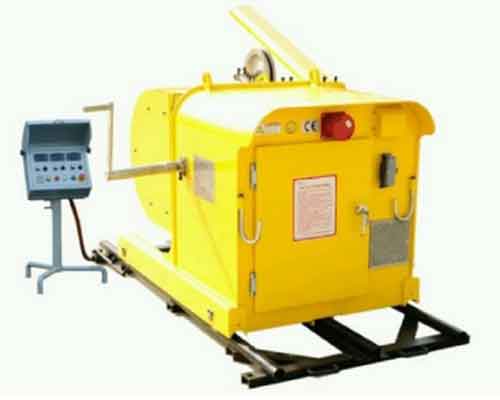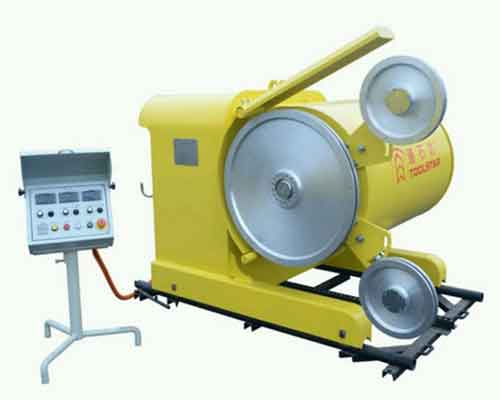 Model
YG37B
YG45B
YG55B
YG75B
YG55C
YG75C
YG110C
YG15E
YG22E
YG30E
YG37E
YG11X
Main Motor
37KW
45KW
55KW
75KW
55KW
75KW
110KW
15KW
22KW
30KW
37KW
11KW
Flywheel's Diameter
0.75KW
0.75KW+0.37KW
0.37KW
0.75KW
0.75KW
/
Guide Pulley's Diameter
Marble Φ800

Granite Φ600

Marble Φ900

Granite Φ800

Φ600
Marble Φ800

Granite Φ600

Φ5800
Wire Speed
2XΦ380
2XΦ300
2XΦ380
Φ300
Walking Speed
0-160m/h
0-30m/h
Rotation Angle
360 Electric
360 Hand Control
Max Wire Length(m)
60
80
100
120
80
100
120
20
30
50
60
10
Net Weight(kg)
1950
2030
2780
2980
2980
3120
3785
1050
1090
1440
1650
345
The 6 Features of Mining Stone Wire Saw for Sale in YG Machinery:
A variety of machine specifications can meet the needs of different users.
With truly reliable automatic functions, so one person can operate multiple machines.
Adopt the constant tension control principle to ensure the best cutting condition.
Use multiple dustproof and waterproof devices which makes the sealing performance good.
Adopt the unique side door structure. It's very convenient to maintain.
The machines of Series C use the two-speed feed to double-track drive technology which can save the time of no-load walking and make the work feed more smoothly.
How to Choose the Suitable Diamond Wire Saw for Sale?
Consider the material you want to cut, as well as the cutting environment. The electric wire saw and hydraulic rope saw machine will be suitable for the cutting of concrete and the stone wire saw machine for mining is usually used in the mining, cutting, and shaping of marble and granite.
Choose according to the thickness of the concrete, the size of the steel bar, and the number of roots.
Choose depending on your desired efficiency and the consumables.
When you search on the Internet, you should find real manufacturers, such as YG Machinery Co., Ltd which can ensure quality and save your cost at the same time.
The Outstanding Advantages of Diamond Wire Saw Machine:
Safe and Easy to Operate. The use of machines can reduce labor intensity, and improve cutting ability, and labor efficiency.
The linear cutting makes the construction section more orderly.
The improvement of working speed can shorten the construction period, further reduce labor costs, improve competitive advantages, and expand the scale of acceptable construction projects.
The safety, reliability, and stability of hydraulic wire saw greatly reduce the loss cost of construction equipment.