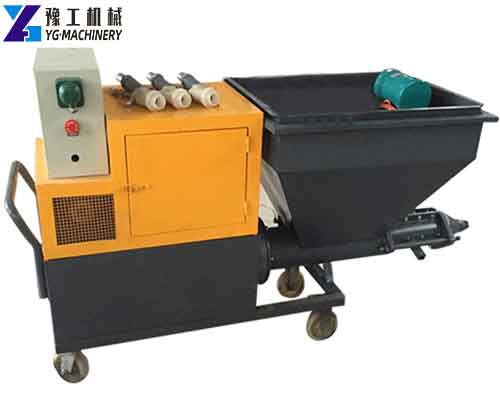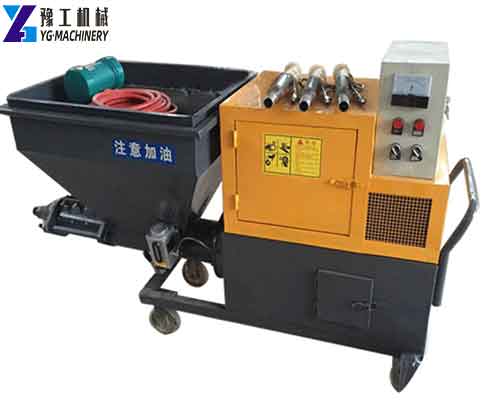 A mortar sprayer, a mortar spraying machine, can be called a stucco spraying machine, mortar spraying equipment, cement concrete sprayer machine, mortar machine, etc., has a wide range of uses. The cement mortar spraying machine for sale in Nepal is a high-pressure screw pump mortar spraying machine, which can output uniform flow, and overcomes the shortage of uneven flow of the piston pump and the plunger pump. Cement mortar spraying machines are widely used in the construction industry. Suitable for indoor and outdoor wall spraying, cement mortar grouting, bridge grouting, waterproof surface spraying, fire spraying, ceiling spraying, wall spraying, paint spraying, garden spraying, embossing effect coating spraying, sound-absorbing material spraying, waterproof plugging, waterproof trapping, it is light and convenient for construction in bridges, dams, hillsides, basements, tunnels, and housing factories.【WhatsApp/WeChat/Phone/Skype】+86 136 1385 6800
Mortar Spraying Machine Parameter:
Model
Mortar Spraying machine
Output
3m³/h
Power
380v/5.5kw
Pressure
2-5Mpa
Conveying Tube ID
Φ32mm
Max. Aggregate Size
≤4mm
Hopper Volume
50L
Screw Length
400m
Particle Diameter
≤5mm
Weight
320kg
Machine Size
1650*750*1190mm
Applicable Material Proportion
1:1:3(Water: Lime: Sand)
Conveying

Distance

Horizontal
Vertical
Cement
50m
30m
Mortar
60m
40m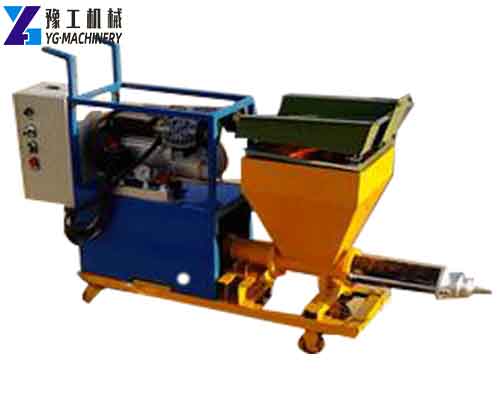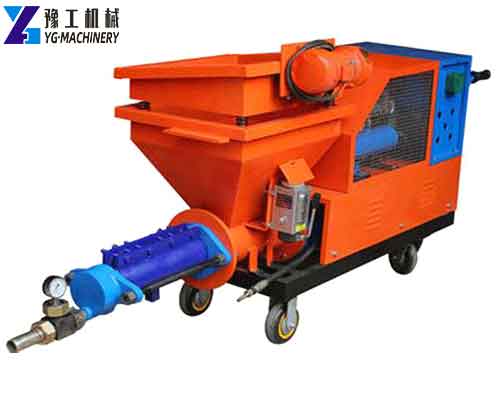 Cement Plaster Spray Machine for Sale:
Last month our sales manager Adele Xu had a customer from Nepal who bought a mortar spraying machine. The conversation was very enjoyable. Our Nepalese customers are very convinced that our company Henan YG Machinery and our sales manager are more confident in our profession. The two sides of the cooperation were quickly reached. At present, customers in Nepal have received our mortar spraying machine and said that this machine has improved efficiency for their project and is easy to operate. If someone needs it, he will recommend our machine without hesitation.
Mortar Spraying Machine Features:
Adjust the flow rate and adjust the spray effect.
In addition to the switch on the electric control box, it is also equipped with a remote control switch.
The connection between the gun and the feed tube can be rotated for easy operation.
High construction efficiency and good quality.
Small size, easy to carry on site, low cost, and easy maintenance.
Easy to use, fast, save materials, save labor, and save money.
Plaster Spray Machine Price – YG Machinery
Using YG Machinery's mortar spraying machine can reduce costs by more than 20%. With fast speed, high efficiency, low labor intensity, small investment, and large returns, more and more customers are now doing their own engineering projects. Purchasing a mortar spraying machine can also be described as a task, but choosing a mortar spraying machine from YG Machinery can save worry and effort. Not only that, but we also have other types of construction equipment that can be used together, such as shotcrete machines, fog cannons, hydroseeding machines, sandblasting machines, car wheel washers, putty sprayers, concrete pumps, concrete mixer machine with pumps, micro excavators, auto bricking machines, gypsum plaster sprayer machines, GRC machines, auto sandblasting machines, hydraulic scissor lift platforms, and other equipment. If you want to know more machine details, please contact us.【WhatsApp/WeChat/Phone/Skype】+86 136 1385 6800