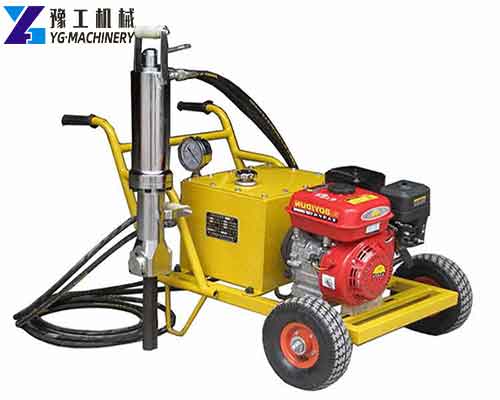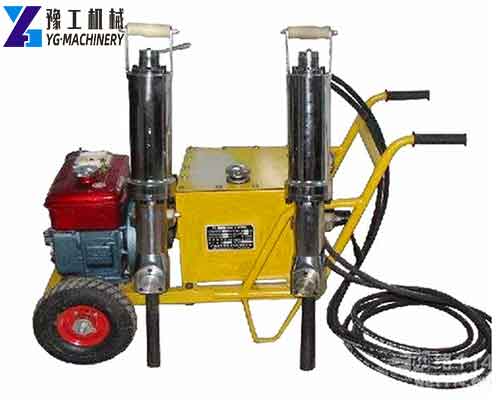 The hydraulic rock splitter, a rock splitting machine, also known as a rock splitter machine, is a machine for splitter rocks. It is used in construction, decoration, engineering construction, ore mining operations, and secondary disintegration of large ore, and concrete members. Partial and complete demolition work. In addition, we also have some other cutting machinery, such as excavator hydraulic rock splitters, hydraulic wall saws, stone wire saws, high-frequency wall saw machines, etc. Contact us now to know more about YG Machinery. 【WhatsApp/WeChat/Phone/Skype】+86 136 1385 6800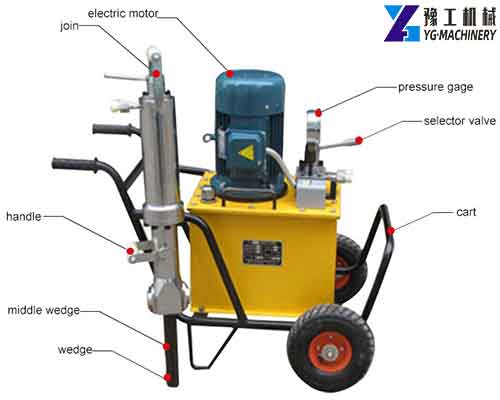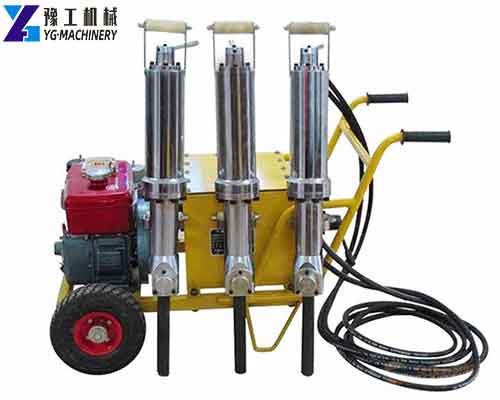 Product Parameter:
Model
YG-250
YG-350
YG-450
Power

Diesel Power Pack

Diesel Power Pack

Changchai 6hp or 8hp

Hydraulic Power Unit

Pressure Adjustable 10-60Mpa

Splitter Length (mm)
1000
1100
1200
Wedge Length (mm)
250
350
450
Wedge Weight (kg)
30
36
43
Piston Stroke (mm)
90/220
90/220
90/220
Drilling Depth (mm)
>500
>700
>900
Drilling Diameter (mm)
42
50
55
Crack Width (mm)
10-20
10-20
10-20
Splitting Time (s)
10-15
10-15
10-15
Splitting Force (T)
800
900
1000
Rock Splitter Machine Working Principle:
During operation, the pump station outputs high-pressure oil to drive the cylinder, which generates a considerable thrust. When the high-pressure oil outputted by the hydraulic station pushes the middle wedge of the splitting gun forward, the side wedges are spread to both sides, and the object is to be split in a predetermined direction in a short time.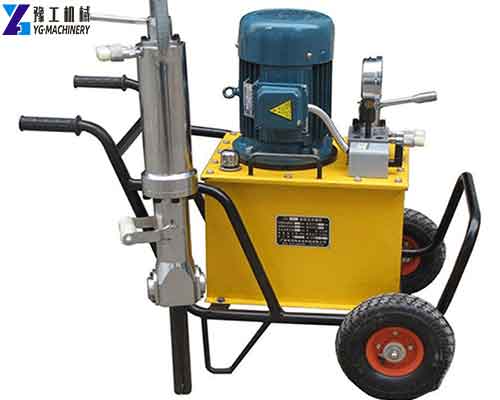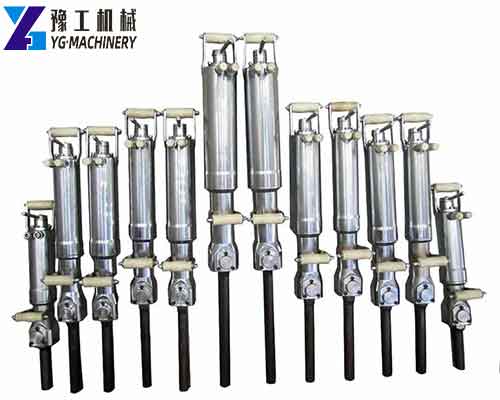 Check the Concrete Splitter Machine Features:
The hydraulic separator is working under a static hydraulic environment, with quick flow and adjustable hydraulic pressure.
The hydraulic rock splitter machine can complete the splitting process in a few seconds, and it can work continuously, without interruption, and with high efficiency.
Low operating and maintenance costs, no isolation, and long service life.
Application of Hydraulic Rock Splitter:
Hydraulic rock splitter machine has been widely used in China's quarrying and mining industry, construction engineering, demolition engineering, chemical industry, smelting production and overhaul engineering, and various rescue and rescue fields. It is widely used and leading technology, to be faster, stronger, and more the strength of the province serves the customers.
Quarrying and mining industry: Exploitation of large blocks of material, division of large blocks of material, removal of large waste rock, etc.
Construction projects: Tunnel excavation, subway ramp excavation, artificial river excavation, artificial rivers, excavation of rock ditches, etc.
Demolition works demolition of concrete and reinforced concrete, demolition of old buildings, demolition of old piers, etc.
Chemical, smelting production, and overhaul projects: An overhaul of smelting furnaces, demolition, and construction of refractory bricks of the various kiln, etc.
Various rescue and disaster relief: Earthquake, mine disasters, etc., rescue work for traffic accidents.
Big Excavator Hydraulic Rock Splitter for Sale
With the big excavator hydraulic rock splitter on the market, we can meet any productivity requirement when dealing with the most difficult rocks. Our rock splitter is suggested and reliable, made of high-quality materials, and requires very few moving parts. Our wedges are made of forged and heat-treated steel for high wear resistance and flexibility. In addition, we have developed special greases that allow the wedge to withstand extremely high splitting forces.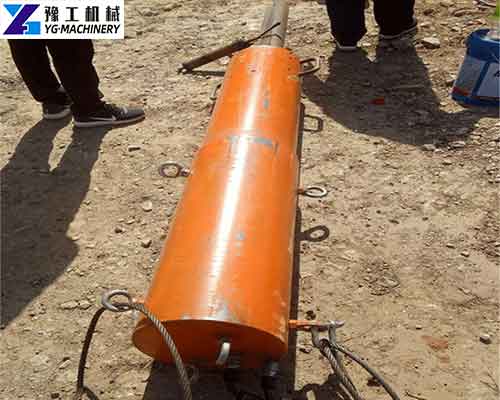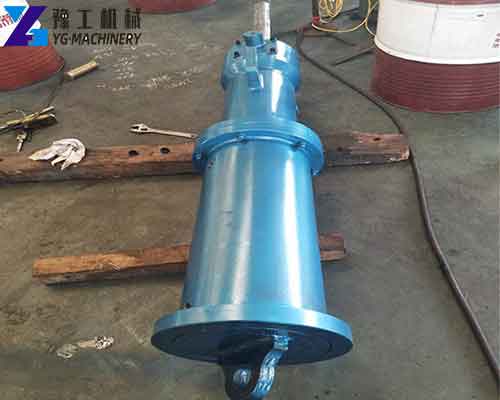 Big Excavator Hydraulic Rock Splitter Parameter:
| | | |
| --- | --- | --- |
| Model | YG-Ⅰ | YG-Ⅱ |
| Length | 3100mm | 3200mm |
| Drilling Depth | >1500mm | >1700mm |
| Drilling Dia. | 110-115mm | 130mm |
| Wedge length | 700mm | 1200mm |
| Crack Width | 20mm | 25mm |
| Wedge diameter | 105mm | 125mm |
| Weight | 980kg | 1100kg |
Big Excavator Hydraulic Rock Splitter Characteristics:
Economy. Blasting usually requires downtime and the installation of protective walls and other safety equipment. It took time and money. With YGM's high-performance rock and concrete separators, blasting is no longer required. As a result, there is no potential danger to the workforce or passers-by, and other work in the surrounding environment can continue to be unaffected.
Safety. The hydraulic splitter is a controlled disassembly. The entire force of development is always under full control. There is no danger of flying debris, vibration, or even explosion.
Environmentally friendly. When using YGM hydraulic separation technology can cause unpleasant side effects such as vibration and dust. Even the noise is very low, which means that, in general, this demolition technology is particularly environmentally friendly. This is why YGM separators are essential in densely populated areas or inside buildings.
Durable. Thanks to its extremely rugged design, YGM rock, and concrete separators can withstand the toughest conditions. Its durability is excellent. Therefore, no maintenance is required next to it—another cost-saving factor.
Autonomous. YGM separators and pump units are easy to transport. Operators no longer rely on heavy machinery, such as excavators, for transportation to the demolition site. Therefore, even the smallest workplace is no longer a problem.
Easy to use. The separator is very easy to operate. The lightweight design allows the operator to perform the split work separately. Even non-skilled workers can learn to use the YGM splitter in a short amount of time.
Hydraulic Rock Splitter Manufacturer – YG Machinery:
As a reliable hydraulic rock splitter machine manufacturer with more than twenty years of production experience, Henan YG Machinery can guarantee to offer machines of high quality and reasonable price to every customer. Choose the machine you want to purchase and contact us for more details. Our professional sales manager will try their best to help you select the most cost-effective machine for you. Except for a hydraulic rock splitter machine for sale in our company, you can also find some other machinery for your construction projects, such as concrete pile breakers, plasma cutting machines, firewood splitter machines, wire saw machines, road marking machines, core drilling rigs, road rollers, curb and gutter machines, hydraulic wall saws, concrete pile breakers, floor shot blasters, hydroseeding machines, sandblasting machines, excavator hydraulic shears, hydraulic breaker machines, mini spider cranes, excavator drum cutters, excavator crusher buckets, horizontal band saws, etc…【WhatsApp/WeChat/Phone/Skype】+86 136 1385 6800