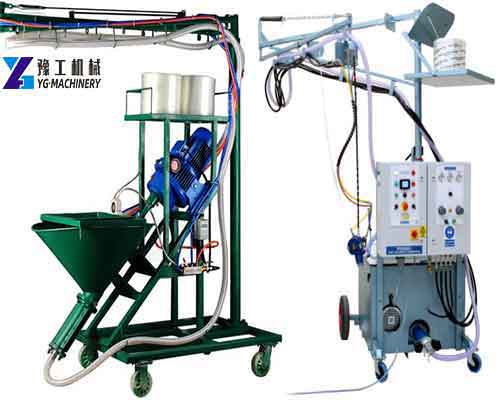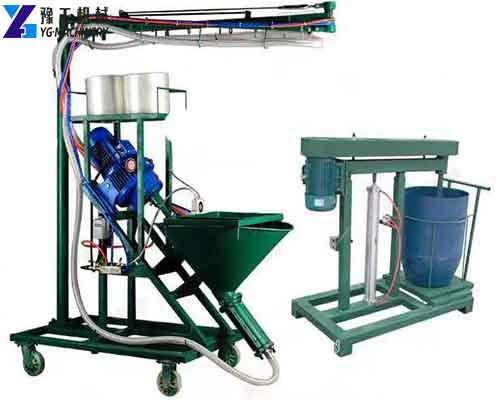 GRC spray machines also called GRC machines, GRC shotcrete machines, and GRC equipment. Mainly used for GRC European components (cement mortar mixed glass fiber cutting wire combined spraying), indoor and external wall decoration spraying, fireproof and waterproof material spraying, insulation material spraying, relief craft coating spraying, as well as small villa, club, bridge, rockery, dam, river guardrail spray spraying, a wide range of use, flexible and portable, after long-term customer verification, The equipment is durable, the production cycle of GRC and GRG products is short, the quality is good, the cost is low, has achieved good economic benefits, is the production of GRC/GRG products choice. Want to know more details? Contact us now!【WhatsApp/WeChat/Phone/Skype】+86 136 1385 6800
| | |
| --- | --- |
| Product name | Glass Fiber Reinforced Concrete GRC Spray Machine |
| Power | 2.2-4.0kw |
| Voltage | 380v  50hz |
| Speed | 20-200r/min |
| Workspace | 4.5m |
| Delivery capacity | 300-1600kg/h |
| Production efficiency | 200-400m2/h |
| Volume | 60L |
| Dimension for the sprayer | 2000*1050*1600mm |
| Dimension for the mixer | 1550*1000*2100mm |
| Total weight | 800kgs |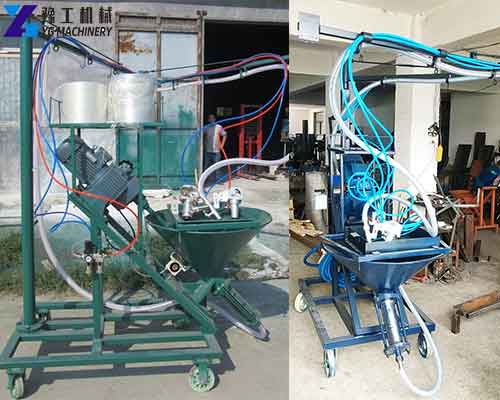 Compression, bending, shearing, impact resistance, and other strength indicators are much better than those of ordinary cement GRC products, reflecting the characteristics of high strength and lightweight, reducing building materials, easy construction, and luxurious and beautiful appearance.
As a new type of material, GRC components should be adapted to local conditions and continue to develop. First of all, because GRC exterior wall panels have the characteristics of high strength, strong hardness, and good impact resistance, they are the choice for steel structures, frame structures, and exterior walls of high-rise buildings. GRC components also have the characteristics of noise prevention and environmental protection, so they can also It is widely used in the production of sound insulation boards for highways and rail transit. It can also be widely used for various pipes, sinks, and decorations. At the same time, it can be widely used in buildings such as rockery, bonsai, etc.
Compared with concrete products, GRC products have a thin body, lightweight, high strength, high toughness, good impact resistance, uniform fiber distribution, good cracking performance, easy production, rich shapes, and a wide range of uses. It makes up for the shortcomings of cement or concrete products such as heavy weight, low tensile strength, and poor durability and impact performance. Because of its characteristics that concrete or cement mortar does not have, GRC is favored by the construction industry in various countries. The reason why GRC can have so many excellent properties is that it has high strength and is reinforced by glass fibers uniformly distributed in the cement mortar matrix.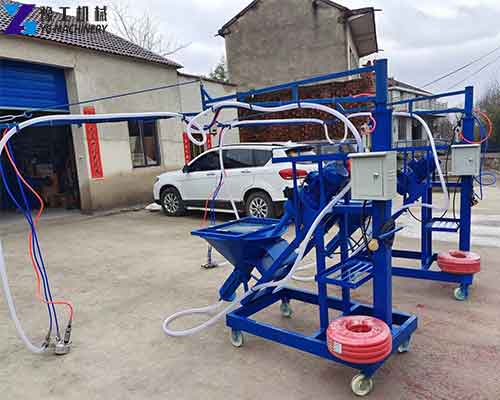 GRC Spray Machine Price – YG Machinery
GRC is a new type of equipment that can complete your work efficiently and is easy to operate and reduce labor. This equipment of ours is hot selling and well received by customers. Because we are a manufacturer and have a lot of industry experience, our equipment is affordable and in line with customer usage habits. It has been exported to India, the United Arab Emirates, the United States, the Philippines, Saudi Arabia, Qatar, Thailand, Malaysia, Australia, Brunei, Guatemala, and many other countries. In addition, we also have shotcrete machines, mortar sprayers, gypsum spray plaster machines, polyurethane foaming machines, fog cannon machines, mini concrete pumps, sandblasting machines, hydroseeding machines, micro excavators, small backhoe loaders, electric forklifts, chain hoist trolleys, etc. Want more machines? Contact us now!【WhatsApp/WeChat/Phone/Skype】+86 136 1385 6800