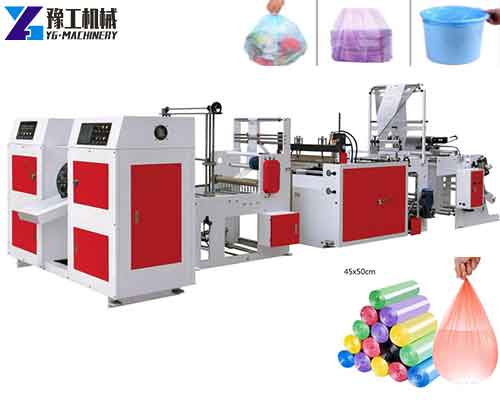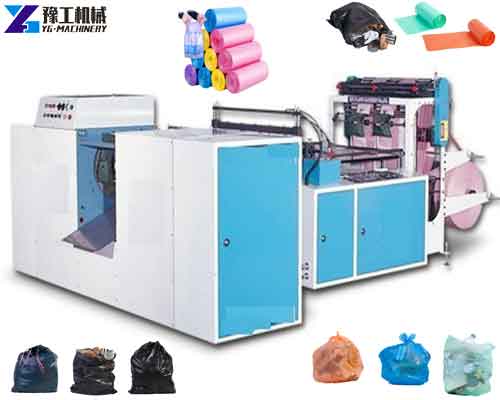 Garbage bags are disposable bags used to hold garbage. The bag can be placed inside the trash can so that the trash bag can be directly taken away when the trash is taken out, and the trash can be kept clean. Most today are made of plastic and are usually black, white, or green in color. Garbage bags can be incinerated along with the garbage in a garbage incinerator or landfill, where the garbage bags degrade automatically. In this day and age, it is a good idea to invest in garbage bag making machines. Contact us if you are interested.【WhatsApp/WeChat/Phone/Skype】+86 136 1385 6800
Technical Parameter of YG Garbage Bag Making Machine:
Model
YG-700
YG-900
YG-1200
Production Line
1 Line
1 Line
1 Line
Unwinder Film Width
600mm
850mm
1100mm
Max. Rewinder bag Width
400mm
450mm
550mm
Bag Length
300-1500 mm
300-1500 mm
300-1500 mm
Film thickness
7-35 microns per layer
7-35 microns per layer
7-35 microns per layer
Production Speed
200pcs/min X 1line
160pcs/min X 1line
120pcs/min X 1line
Production Speed
80-100 m/min
70-90 m/min
50-70m/min
Rewinder Diameter
120mm
120mm
120mm
Total Power
14KW
16KW
18KW
Air consumption
4HP
5HP
5HP
Machine Weight
2800KG
3200KG
3800KG
Machine Dimension
L6500

W2400

H1900mm

L7000

W2400

H1900mm

L7500

W2500

H2200mm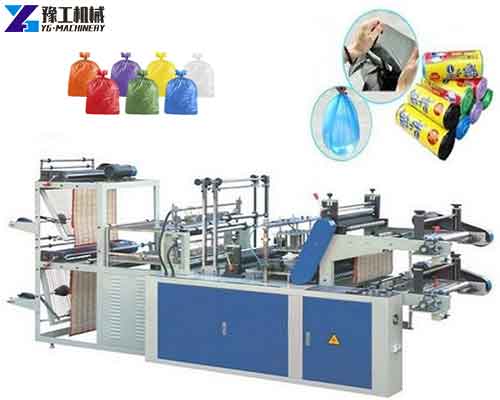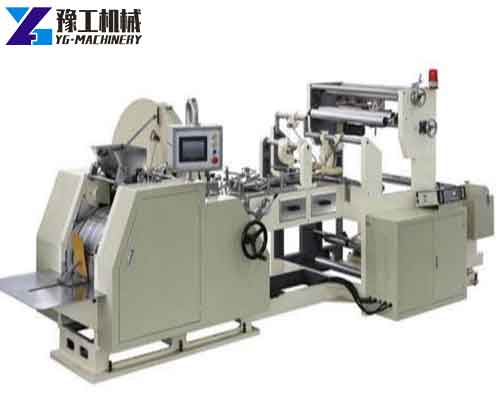 Automatic Garbage Bag Making Machine Performance and Features:
The machine is designed and produced by our company basis on the latest technology in the world.
The machine introduces a computer control system and stepping motor structure.
With functions such as photocell automatic tracking, blank/color bag-making shift, microcomputer length setting, automatic counting, automatic alarm when reaching the set figure, and automatic temperature control.
Equipped with mechanical device for functions such as auto cutting, punch hole, half-round hole, strip-go-through, strip moving, side sealing, bottom sealing, point-cutting, folding, continuous rolled and roll separate, etc.
The machine introduces a tensionless sealing device, sealing and point-cutting synchronization, and bottom sealing strong and neat.
This machine can produce continuous-rolled strip-through type garbage bags, continuous-roll straight bags, and ordinary straight bags.
The whole machine adopts a continuous process and high automation.
Garbage Bag Making Machine Price – YG Machinery Manufacturer
This equipment has been improved, designed, and manufactured by our company according to foreign technology. It is specially used for making ribbon-through type garbage bags or BOPP, PP flat bags of LDPE, HDPE plastic film, and other materials. In addition, we also have shoe cover making machines, balloon making machines, glove making machines, paper bag making machines, disposable cup making machines, wet wipes machines, plastic bag making machines, paper cup making machines, paper bowl making machines, paper dish making machines, paper straw making machines, paper carton erecting machines, tea cup printing machines, roll die cutting machines, aluminum foil container machines, egg tray making machines, lighter making machines, etc. Contact us now!【WhatsApp/WeChat/Phone/Skype】+86 136 1385 6800