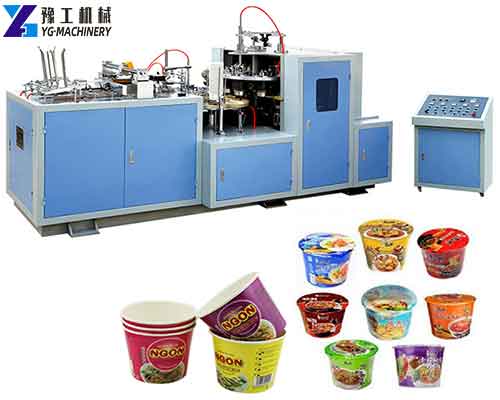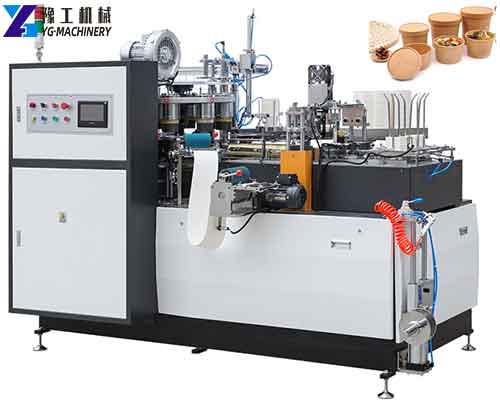 A paper container made by mechanically processing and bonding base paper (white cardboard) made of chemical wood pulp. It has a bowl-shaped appearance. Wax-coated paper cups for frozen foods can be used to hold ice cream, jam, butter, etc. Paper bowls are safe, hygienic, lightweight, and convenient. It can be used in public places, hotels, and restaurants. Since the advent of paper bowls, they have quickly become the most viable green tableware in the 21st century. Internationally renowned fast food chains such as McDonald's, KFC, Coca-Cola, Pepsi-Cola, and various instant noodle products have all used disposable paper bowls. So now if you want to invest in the business or expand production, our paper bowl machines are a good choice.【WhatsApp/WeChat/Skype/Phone】+86 136 1385 6800
Paper Bowl Machine Parameter:
Production scope
35oz: The 35oz can be replaced according to the user's actual size needs.
Raw material
Single/double PE shower membrane paper
The paper is heavy
PE shower membrane paper at 140-350g/m2
Speed
60-80 PCS/min
Voltage
380V 50Hz
Total power
15KW
Weight
1980KG
Size
2350 x1250 x1900mm
Long * wide * high
Air pressure requirements
0.6 m3/minute

We can customize the machine and mold according to the customer's requirements!!!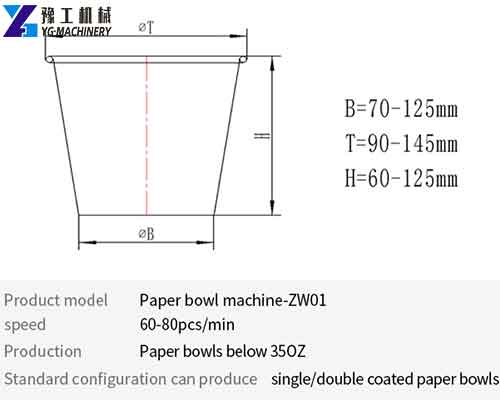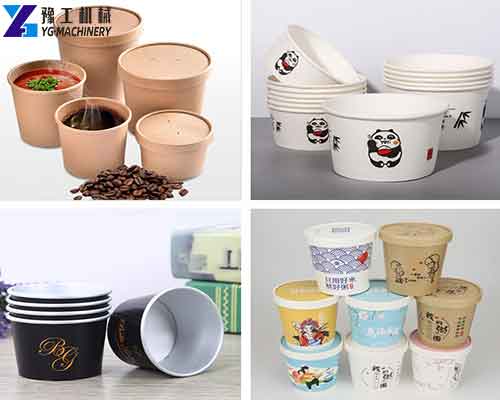 8 Features of YG Paper Bowl Making Machine:
The machine adopts an open cam-type structure, high precision, large output, and long life.
Longitudinal gear drive. This makes up the chain drive jitter and instability's weakness.
The whole machine is a type structure design, filling oil with a spray lubrication system So that it can run fast and stably.
A photoelectric failure-detecting system is available. PLC control system for the whole cup-forming process.
Servo control to send bottom paper of bowl, deliver bottom when cup tube comes, otherwise no bottom delivery.
Stretch knife used for bottom cutting. Easy change and more stable.
The heating device is equipped for cup body and bottom sealing, The bottom is heated at first before they are feeding, thus improving the heating effect and helping guarantee knurling.
The knurling device adopts a hardening treatment, making the cup knurling more beautiful and increasing its use life.
Promotional function of disposable paper bowls:
Customized disposable paper bowls are available in a variety of specifications for corporate customers to choose from. Logos, patterns, text, and multi-color printing are printed according to customer requirements. The colors are gorgeous and fully display the corporate brand promotion elements. Environmentally friendly, hygienic, healthy, and suitable for hot and cold applications, it is widely used in various food and catering retail enterprises chains, such as Chinese and Western catering chains, coffee chains, ice cream desserts, milk tea drink chains, sugar water, and fresh fruit chains, etc…This is not only very practical but can also serve as a publicity function. More and more large catering companies or small restaurants are using them as packaging boxes. Paper bowls can not only quickly explain and reduce environmental pollution, but also reduce the work pressure of sanitation workers and improve the civilization of the city.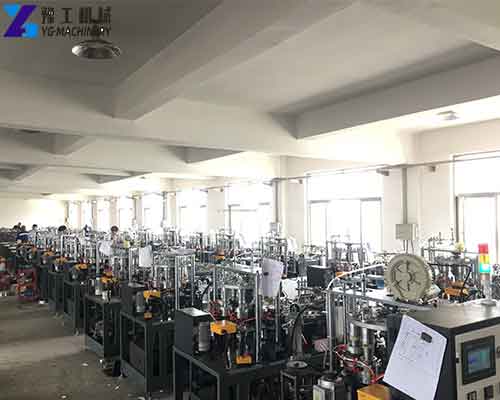 Paper Bowl Machine Manufacturer – YG Machinery
As an efficient, energy-saving, and environmentally friendly machine for making paper bowls, the paper bowl machine plays an increasingly important role in catering, fast food, and other fields. When purchasing and using a paper bowl machine, you need to pay attention to the performance and maintenance of the machine to ensure that the machine can operate stably for a long time and improve production efficiency. We have been in this field for more than 17 years and we sell more than 500 pieces every month. Machine design, quality, and cost have been optimally controlled. So the price and quality of our equipment are very good, closely following the needs of our customers. In addition, we have related products such as paper cup-making machines, paper dish-making machines, paper straw-making machines, roll die-cutting machines, paper cup-printing machines, double wall paper cup-machines, folder gluer machines, paper bag-making machines, egg tray-making machines, A4 paper making machines, A4 paper cutting machines, toilet paper making machines, napkin making machines, wet wipe machines, etc. Contact us to learn more about details!【WhatsApp/WeChat/Skype/Phone】+86 136 1385 6800