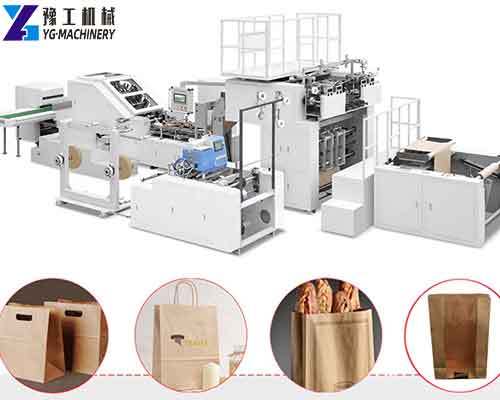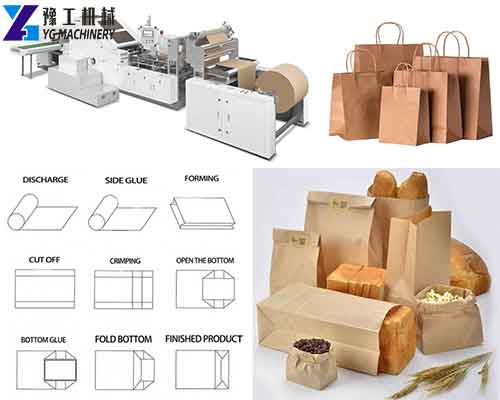 Roll Feeding square bottom paper bag-making machine forms the paper bag in one process from printed or unprinted roll paper, side gluing, roll folding, roll paper cutting, bottom folding, bottom gluing, bottom forming, and bag formation at a stroke. This machine is controlled by a PC programmable servo motor through the human-machine touchscreen interface. This machine has the advantages of high speed, quickly replacing the paper bag specifications, wider range adjusting, etc. It is an ideal machine for producing food bags and shopping handle bags and can produce paper bags of various sizes, creating greater value for customers. Contact us to learn more low cost paper bag making machine now!【WhatsApp/WeChat/Skype/Phone】+86 136 1385 6800
Square Bottom Paper Bag Making Machine Parameter:
Model
YG-330
YG-450A
YG- 450B
Cutting length
270-530mm
270-530mm
380-760mm
270-430mm (with handle)
270-430mm (with handle)
380-660mm (with handle)
Bag width
120-330mm
200-450mm
220-450mm
200-330mm(with handle)
240-450mm(with handle)
240-450mm(with handle)
Bottom width
60-180mm
80-180mm
80-200mm
Paper Thickness
60-150g/M2
80-150g/M2
80-150g/M2
80-150g/M2(with handle)
80-150g/M2(with handle)
80-150g/M2(with handle)
Paper roll width
380-1050mm
590-1300mn
630-1350mm
620-1050mm(with handle)
710-1300mm(with handle)
710-1350mm(with handle)
Roll paper diameter
1300mm
1300mm
1300mm
Paper core
76mm
76mm
76mm
Patch length
152mm
152/190mm
152/190mm
patch width
45-50mm
45-50mm
45-50mm
Handle distance
75mm
75/95mm
75/95mm
Rope diameter
4-5mm
4-5mm
4-5mm
Patch paper roll width
90-100mm
90-100mm
90-100mm
Patch paper roll diameter
1200mm
1200mm
1200mm
Patch paper thickness
100-135g/M2
100-135g/M2
100-135g/M2
Production speed for bags without handles
30-180bags/min
30-150bags/min
30-130bags/min
Production speed for bags with handles
30-130bags/min
30-120bags/min
30-120bags/min
Machine size
15000x6000x2700mm
15000x6000x2700mm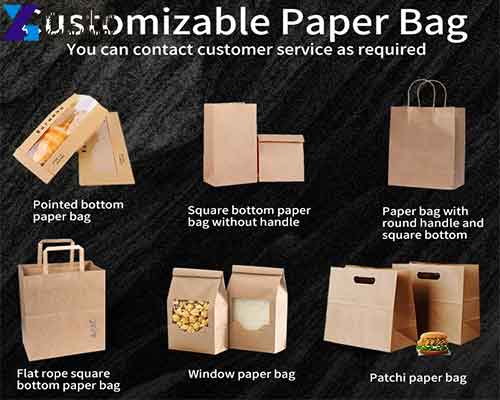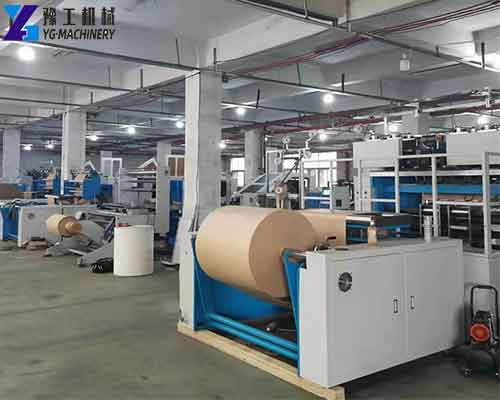 9 Features Paper Bag Machine :
Touch screen man-machine interface, real-time display of working conditions.
Ultra-precision servo control system ensures stable and efficient operation of the machine.
Material loading and unloading adopts a pneumatic lifting structure.
Fully automatic constant tension control system, the tension is the same from beginning to end.
Double photoelectric sensors limit automatic correction control systems, stable correction, energy saving, and long life.
Flat bottom cutting device, various types of bag making.
The anti-air coating control of the glue roller prevents the glue from directly coating the surface of the wheel hub and reduces unnecessary troubles.
Accurate color mark tracking system, automatic shutdown of color mark errors.
Ink circulation type closed squeegee scraping ink.
Low Cost Paper Bag Machine for Sale in YG Machinery:
Each one of these machines can produce different types and sizes of paper bags. This gives businesses a great deal of flexibility when choosing the right type of bag for their needs. It is a fully automatic machine and budget-friendly. You can stand high in the market with the help of this machine. In addition, we also have paper cup machines, paper bowl machines, paper straw machines, paper dish machines, double wall paper cup machines, roll die cutting machines, paper cup printing machines, paper lid making machines, egg tray making machines, A4 paper making machines, A4 paper cutting machines, toilet paper making machines, napkin paper machines, kraft paper bag making machines, etc. Contact us to know more!【WhatsApp/WeChat/Skype/Phone】+86 136 1385 6800