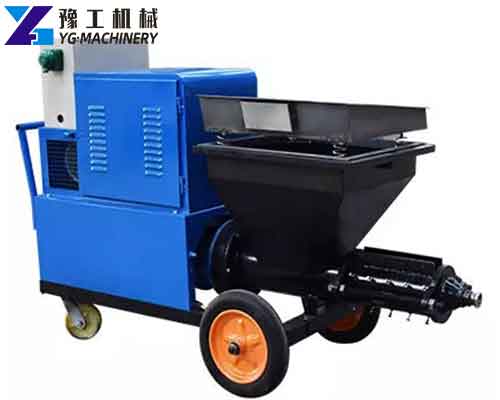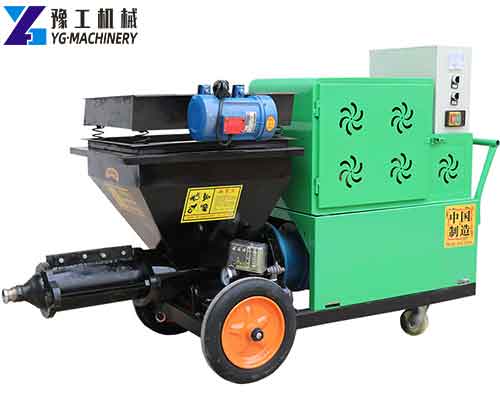 The stucco machine is suitable for indoor and outdoor wall spraying, cement mortar grouting, bridge grouting, waterproof surface spraying, fireproof spraying, ceiling spraying, wall spraying, paint spraying, garden spraying, relief effect coating spraying, sound-absorbing material spraying, waterproof plugging, waterproof patching lightweight and convenient for construction on bridges, dams, hillsides, basements, tunnels, and factory buildings. In addition, we also have mortar sprayers, shotcrete sprayers, fog cannons, dust control water trucks, sandblasting machines, hydroseeding machines, GRC machines, gypsum spray plaster machines, and cement foaming machines. Contact us now!【WhatsApp/WeChat/Phone/Skype】+86 136 1385 6800
Stucco Sprayer Machine Parameter:
| | | | | |
| --- | --- | --- | --- | --- |
| Model | YG-311 | YG-511 | YG-711 | YG-Diesel version |
| Voltage | 380V | 380V | 380V | / |
| Power | 4kw | 7.5kw | 3kw | 12 horsepower |
| Particles pass diameter | ≤4mm | 3-4mm | / | ≤10mm |
| Pressure | 3MPa | 6MPa | 7.5MPa | 6MPa |
| Horizontal transport distance | 30m | 50m | 60m | 60m |
| Vertic transport height | 20m | 30m | 30m | 30m |
| Conveying flow | 60-80 square/hour | 80-100square/hour | 80-100square/hour | 100square/hour |
| Machine size | 1750*450*800mm | / | 1600*500*700mm | 1800*580*950mm |
| Machine weight | 160kg | 350kg | 180kg | 280kg |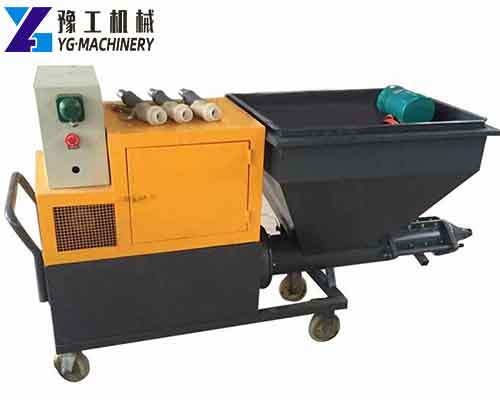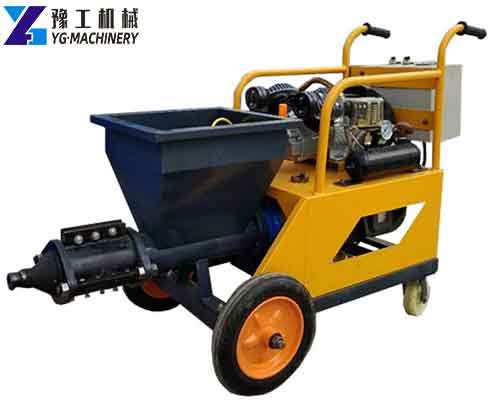 Stucco Machine Adapts to Spraying Materials:
Putty powder, paint, latex paint, real stone paint, cement mortar, dry powder mortar, insulation mortar, waterproof material, fireproof material, heat insulation material, and sound-absorbing material.
7 Features of Hot-sale Mortar Sprayer:
Adjust the flow to get the best spray effect.
In addition to the switch on the electric control box, it is also equipped with remote control switch spraying.
The connection between the spray gun and the feeding tube can be rotated for easy operation.
High construction efficiency and good quality.
Small size, convenient for on-site transportation, low accessories cost, and easy maintenance.
Easy to use, fast, material saving, labor saving, more money-saving, one machine is only equipped with three people, 150 square/hours (2cm thickness).
Material ratio(cement) 0.7:3 mortar.
Advantages of Mortar Spraying Machine:
The rapid mortar spraying machine is designed reasonably, the pump and compressor are integrated, and the movement is convenient.
The screw mortar spraying machine feeds continuously without a pulse.
The mortar spraying machine has wide practicality and can spray dry powder, mortar, and ordinary mortar.
The mortar sprayer sprays evenly and has strong adhesion.
The mortar spraying machine is fully functional and can spray or spray.
The direction of the spray gun and nozzle connection can be selected for easy operation.
Note for Operators of Stucco Machines:
Hydropower should be available at the construction site to make it convenient to work.
The construction site should try to select safe and level grounds.
At the construction site, we should bring gloves, masks, goggles, and hard hats to prevent accidents.
When the mortar spraying machine works, the staff's hands should not be put into the bucket.
Mechanical and electrical circuits must be avoided from stacking in supermarkets and open spaces.
Maintenance and Repair:
After the sprayer equipment is finished, it should be cleaned in time, and the maintenance, maintenance, and repair work should be done to keep the equipment in good condition.
Daily maintenance of the equipment should add lubricating oil according to its use requirements, keep the piston pump oil pipe open, and check the leak tightness of the overload safety valve and disassembly and assembly.
After one week or 50 hours of operation, check the seal of the pump body, cylinder, and bowl of the mortar unit, the tightness of the belt at the transmission site, the tightness, and tightness of the pipe joints, clean the exterior of the pump, and supply thin oil to prevent dirt sticks.
The main components such as clutches, return unloading valves, reducers, and air compressors should be regularly checked according to their use requirements. If it is worn or damaged, it should be adjusted and replaced in time.
Before grouting in the mortar mixer and mortar combination machine, clean the dirt from the oil injection and oil holes.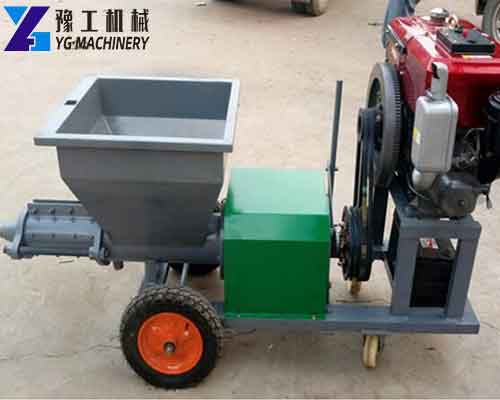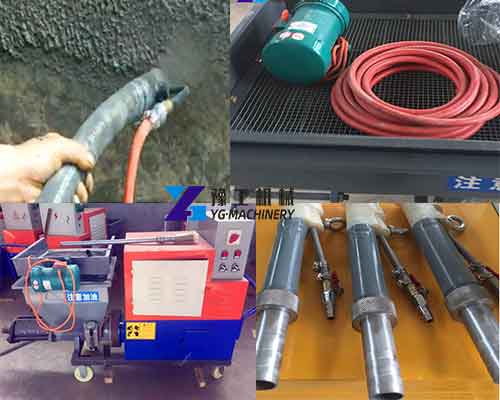 Stucco Machine Manufacturers – YG Machinery
The stucco machine is suitable for spraying walls of houses, spraying in basements and floors, spraying in basements and floors, spraying waterproofing materials for tunnels and heat insulation materials, and can spray pastes including paste slurry, wall mud, gypsum slurry, crushed stone, cement slurry, various types of additives, mortars, granules, and mortar products such as lime-cement mixes are fast and economical to use, especially for external wall insulation plasters, which are widely used today. The advantages of using this machine are more obvious. We also have shotcrete sprayer machines, hydroseeding machines, fog cannon machines, sandblasting machines, mortar sprayer machines, brick making machines, mini concrete pumps, concrete mixer machine with pump, micro excavators, putty spraying machines, firewood splitter machines, pile breakers, excavator drum cutters, mini spider cranes, etc. can be suitable for some small projects, contact us to know more details.【WhatsApp/WeChat/Phone/Skype】+86 136 1385 6800