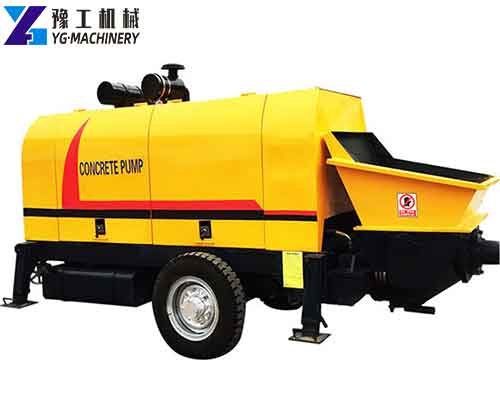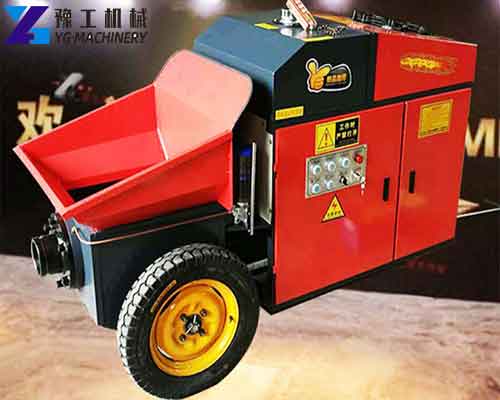 A mini concrete pump, also known as a concrete pump, or secondary construction column pump, is a machine that uses pressure to continuously convey concrete along a pipeline. YG mini concrete pump for sale in Malaysia, Brunei, Maldives, Philippines, and other countries. It consists of a pump body and a conveying pipe. It is mainly used in the construction of houses, bridges, and tunnels. The new type of secondary construction column pouring pump is suitable for super high-rise fine stone concrete transportation, and the building floor group construction column pouring is the smallest concrete pump in China. It is mainly used for some special construction conditions or narrow space construction conditions depending on the size of the equipment. Due to the limitations of the construction, the construction is inconvenient or difficult to complete the construction schedule, and the high-tech products are carefully designed. Also, we have a concrete mixer machine with pump. Contact us now!【WhatsApp/WeChat/Phone/Skype】+86 136 1385 6800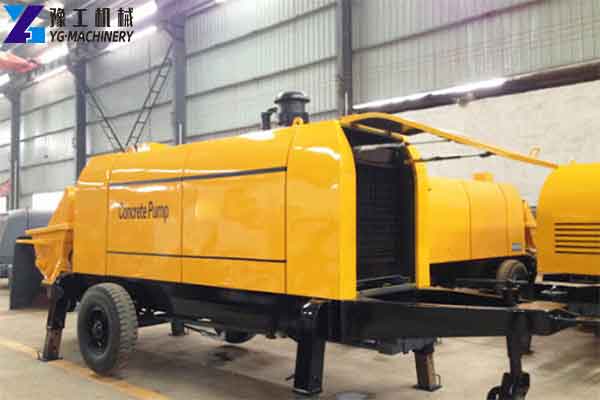 Parameter of Truck Mounted Concrete Pump:
| | | | | |
| --- | --- | --- | --- | --- |
| Model | YG-20 | YG-30 | YG-40 | YG-50 |
| Motor power | 22KW | 37KW | 45KW | 55kw |
| Maximum outlet pressure | | 26mpa | 28mpa | 28mpa |
| Maximum theoretical throughput | | 16-18m³/h | 20-22m³/h | 35m³/h |
| The maximum particle size of aggregate | | ≤20mm | ≤30mm | ≤40mm |
| Vertical conveying distance | 40m | 80m | 120m | 150m |
| Horizontal conveying distance | 80m | 140m | 2600m | 300m |
| Diameter of conveying pipe | 80mm | φ80 (100) mm | φ100 (80) mm | Φ125/100mm |
| Whole machine weight | 1600kg | 2200kg | 2400kg | 2500kg |
| Dimensions | 3400x1200x1600mm | 3600x1500x1600mm | 4000x1500x1550mm | 4200*1700*1750mm |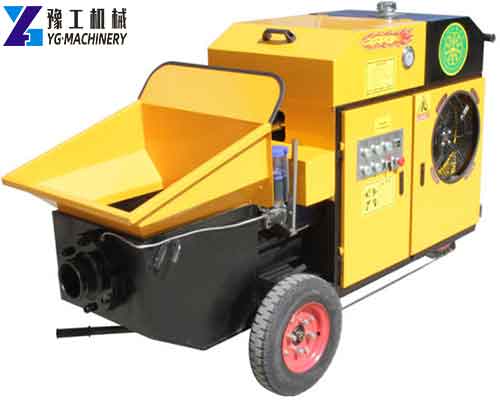 | | |
| --- | --- |
| Model | YG-10 |
| Motor power | 15kw |
| Work efficiency | 6m³/h |
| Maximum pressure | 15mpa |
| Working pressure | 10mpa |
| Aggregate size | 0.5-1.5cm |
| Vertical conveying distance | 20m |
| Horizontal conveying distance | 50 meters |
| Diameter of conveying pipe | 80mm |
| Whole machine weight | 600kg |
| Dimensions | 1800*700*1100mm |
Application of YG Portable Concrete Pump:
This machine is widely used for the transportation of floor heating, heat insulation lightweight foamed cement, mortar, small orthopedic concrete, refractory and thermal insulation materials, concrete scale transportation of various engineering constructions, and high-rise building ash mortar and fine stone concrete transportation, secondary structural column filling, various pressure grouting in reservoirs, hydropower stations, ports, and wharves, foundation treatment, weak foundation, reinforcement grouting, backfill grouting and anchor support in the tunnel, subway, and mine construction, fine stone concrete in-floor heating projects Large area and high-efficiency construction of filling layer or mortar filling layer.
9 Performance Characteristics of Concrete Pump:
Using the triple pump Topwo system, the hydraulic circuit does not interfere with each other, and the system runs.
With the anti-pump function, it is helpful to eliminate pipe blockage in time and can be shut down for a short time.
The advanced S-pipe distribution valve is adopted, which can automatically compensate for the wear gap and has good sealing performance.
Using wear-resistant alloy glasses plate and floating cutting ring, long service life.
The long-stroke material cylinder extends the service life of the material cylinder and piston.
The optimized design of the hopper is easy to clean and has better suction performance.
Automatic centralized lubrication system to ensure effective lubrication during machine operation.
With remote control functions, the operation is safer and more convenient.
All parts and components adopt national standards, and the interchangeability is good.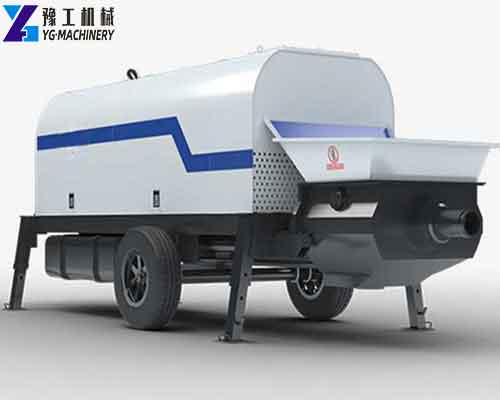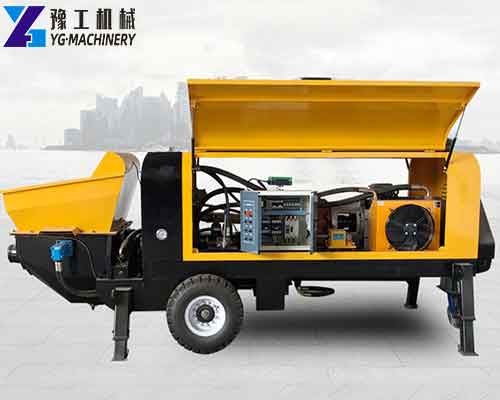 Truck Mounted Concrete Pump for Sale in YG Machinery Manufacturer:
YG's concrete pumps are called high-quality and cost-effective products by customers. It has been sold to Malaysia, Brunei, Maldives, the Philippines, and many other countries. Received high praise from customers. In addition, we also have construction machinery such as a mortar spraying machine, shotcrete machine, hydroseeding machine, fog cannon machine, putty spraying machine, sandblasting machine, concrete mixer machine with pump, auto brick making machine, micro excavator, GRC machines, gypsum spray plaster machines, polyurethane foam spray machines, dry ice blasting machines, rubber vulcanizing machines, and so on. It can be used for building houses, tunnels, and many other projects. Contact us.【WhatsApp/WeChat/Phone/Skype】+86 136 1385 6800