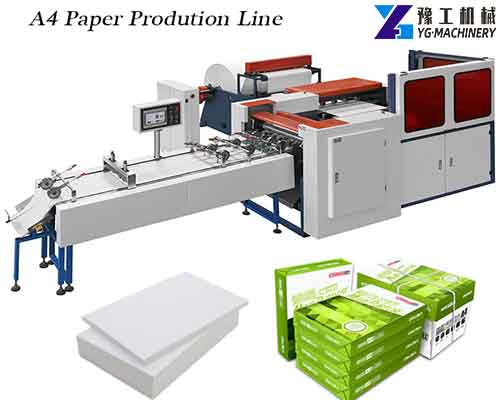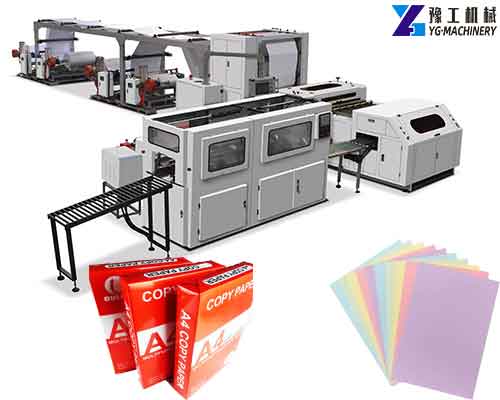 A4 paper making machine is new technology equipment for converting jumbo paper roll into A4 or A3 size paper sheet for office use. YG A4 paper cutting & packaging machines have fully automatic A4 paper production lines, also have semi-automatic independent paper cutting lines, and A4 paper packing machines, are also available with various kinds of auxiliary machines for A4 copy paper converting. For more details please send an inquiry now.【WhatsApp/WeChat/Phone/Skype】+86 136 1385 6800

A4 Paper Making Machine Parameter:
| | | |
| --- | --- | --- |
| Model | YG-A4-1100 | YG-A4-1400 |
| Max.Width of Unwinding | 1100mm | 1400mm |
| Max.Diameter of Unwinding | Ø1400mm | Ø1400mm |
| Cutting Size | A4 Paper Size | A4 Paper Size |
| Cutting Speed | 6Reams/mins | 6Reams/mins |
| Machine Weight | 8000KG | 9000KG |
| Total Power | 16KW | 16KW |
| Machine Size | 19600*2000*2000mm | 19600*2200*2000mm |

5 Characteristics of High-quality A4 Culture Paper Machine:
This Machine adopts Servo Motor (INVT, China/Yaskawa, Japan), PLC(Panasonic, Japan) touch screen (Weinview, Taiwan China)control system, auto counting quantity, and auto stop when alarm, auto tension control, and auto high precision stacking, etc function.
Machine Unwinding device adopts auto air-shaft loading system(Standard is normal 3-inch air shaft, option: 3/6 inch auto shaftless loading system )
Machine Stacking devices adopt high precision and the newest technology stacking device to guarantee finished product precision and effect.
The slitting device uses a round slitting blade for lengthways cut A4 paper size width—error ±0.2mm.
Cross-cutting devices adopt high precision and quality export cutters to guarantee durability and cutting precision. error±0.2mm.
This machine is suitable for paper rolls to make A4 paper size sheets etc.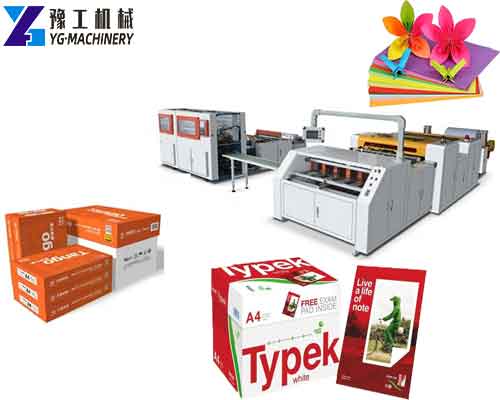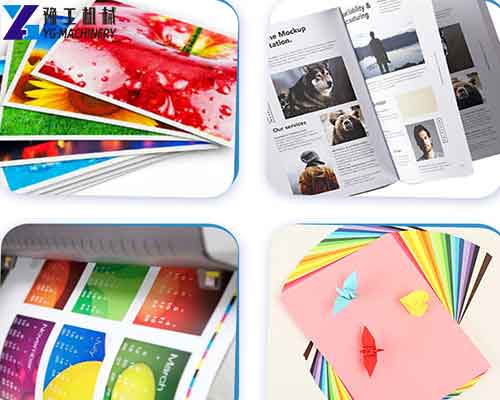 Application of Office Paper Making Machine:
A4 paper making machine is used to make A4 paper. The specification of the A4 paper is defined by ISO2169 (International Standard Organization). And the specification of A4 paper is 210mm×297mm. Most countries all over the world adopt the international standard specification. We use A4 paper widely in life, such as writing the thesis, writing messages, drawing a picture, folding paper, etc.
A4 Paper Making Machine Price – YG Machinery Manufacturer
The office paper making machine is our main product. Also, many customers would like to buy tissue paper-making machines, A4 paper cutting machines, napkin paper machines, wet wipes machines, slitting machines, sanitary napkin making machines, diaper making machines, disposable cup making machines, lunch box making machines, aluminium foil container machines, paper bag making machines, garbage bag making machines, cast film machines, balloon making machines, shoe cover making machines, disposable slipper machines, egg tray making machines, paper bowl making machines, paper dish making machines, paper straw making machines, etc. Whatever you buy from our factory, quality, and price can be guaranteed. If you want to know more about the machine, we will send you relevant videos, pictures, specifications, prices, etc. We will be your first choice.【WhatsApp/WeChat/Phone/Skype】+86 136 1385 6800