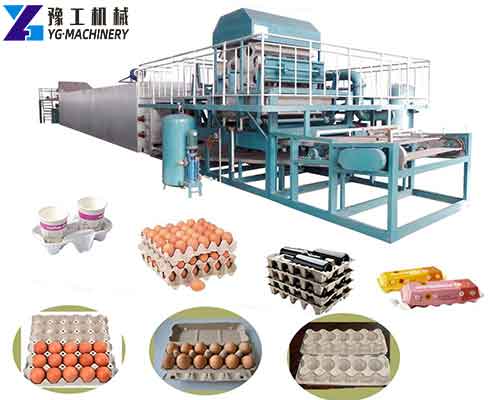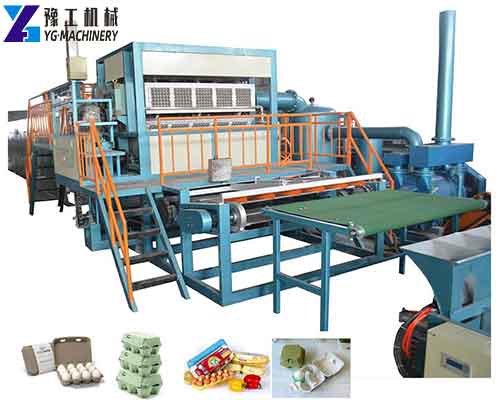 The egg tray making machine is a pulp molding equipment for producing egg paper trays. This equipment can produce egg boxes, coffee trays, fruit trays, bottle trays, electronic bag linings and Environmentally friendly pulp products such as industrial packaging can replace packaging products such as plastic and foam. Pulp molding products have broad market prospects due to their low cost of raw materials, high plasticity, degradability, and recyclability. Want to invest good egg tray making machine? Contact us now!【WhatsApp/WeChat/Phone/Skype】+86 136 1385 6800
Parameter of YG Egg Tray Making Machine:
| | | | | | | | |
| --- | --- | --- | --- | --- | --- | --- | --- |
| Model | YG-1*3 | YG-1*4 | YG-3*4 | YG-4*4 | YG-4*8 | YG-5*8 | YG-6*8 |
| Capacity (pcs/h) | 1000 | 1500 | 2500 | 3500 | 4500 | 5500 | 7000 |
| Forming Mould Quantity | 3 | 4 | 12 | 16 | 32 | 40 | 48 |
| Total Power (kW) | 40 | 40 | 50 | 60 | 130 | 140 | 186 |
| Electricity Consumption (kw/h) | 28 | 29 | 35 | 42 | 91 | 98 | 130 |
| Worker | 3-5 | 4-6 | 4-6 | 4-6 | 4-6 | 5-7 | 6-8 |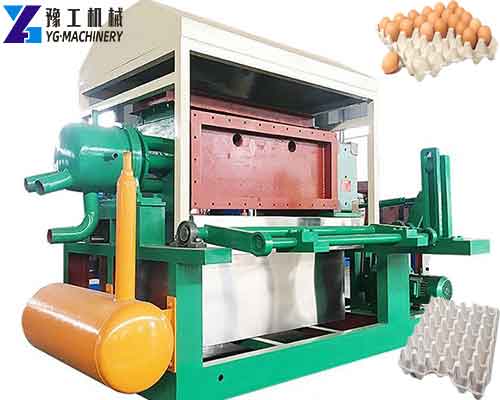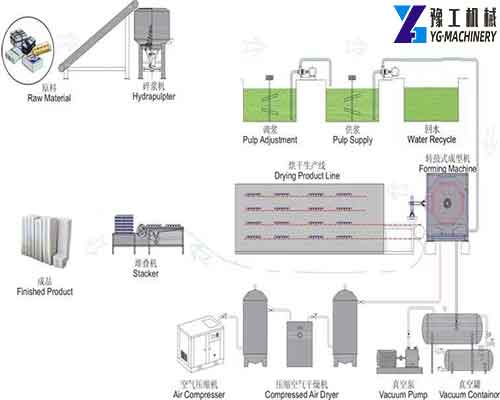 The Working Principle of Egg Tray Machine:
The automatic egg tray production line is composed of pulping system, forming system, drying system, stacking system, vacuum system, high-pressure water system, and air pressure system. Using waste newspapers, waste paper box paper, office paper, scraps, and other waste paper as raw materials, a certain concentration of slurry is prepared through hydraulic disintegration, filtration, water injection, and other processes. A wet blank is formed by vacuum adsorption on a special metal mold through a molding system. , then dried on a drying line, and then stacked after being hot-pressed online.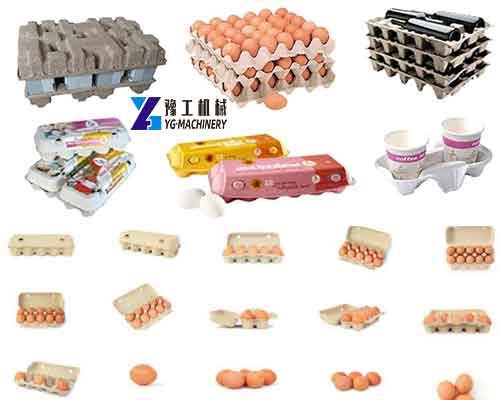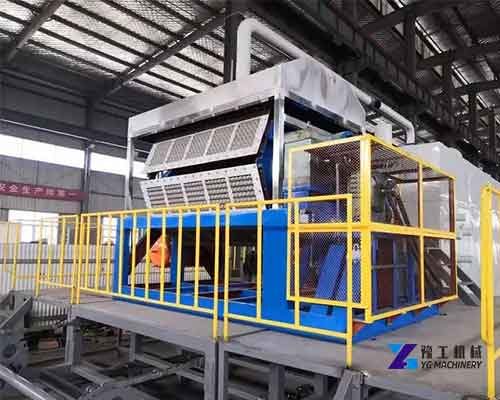 Some Additional Knowledge About the Egg Tray Production Line:
How to sort the waste paper in the raw material of egg tray produced by egg tray equipment:
The waste paper recovered by the waste paper recycling system is often not a single type, but a mixture of various waste papers. In order to meet the principle of making the best use of materials, the waste paper must be classified, stored, and treated separately according to the type, nature, and use of waste paper before professional treatment. This is the sorting of waste paper. While sorting waste paper, it is also necessary to select metals, wood chips, sand and gravel, ropes, stickies, plastic sheets, hot-melt resin, polyethylene, polystyrene, and other sundries in the waste paper, so that the waste paper reaches a certain purity.
Other Uses for Egg Trays:
Laptop cooler. Clean the new egg tray to clean the surface dust, and then put it under the laptop. It is a very practical computer radiator. The sound of the heat dissipation effect frightens the money to buy a radiator.
Plant flowers and vegetables. Glue some small holes at the bottom of the egg tray, then fill it with soil, put the vegetables and flowers you want to grow, and it is easy to move and use, and it also saves us money on buying flower pots.
Mobile phone holder. Resting at home, watching TV with the mobile phone, or placing the mobile phone directly on top of the cut egg tray, horizontally and vertically, you can look at it any way you want. It helps us free our hands, and we don't need to spend money on a mobile phone holder.
Egg Tray Making Machine Price – YG Machinery Manufacturer
Our factory supplies various types of egg tray machines, egg tray equipment, and pulp molding (egg tray) machinery. It integrates machine manufacturing, sales, production line assembly, and technical services. Our egg tray machine is energy-saving, reliable in quality, high in automation, simple in operation, low in labor, and high in output. Of course, we also have the most advanced technology and a professional production and R&D team, so no additional costs are required, and the price is very reasonable. In addition, we have other types of machines, tissue paper making machines, A4 paper making machines, kraft paper making machines, disposable cup making machines, lunch box making machines, paper bowl making machines, paper straw making machines, plastic thermoforming machines, kraft paper bag making machines, sanitary napkin making machines, diaper making machines, wet wipe machines, non-woven bag making machines, shoe cover making machines, balloon making machines, condom making machines, disposable slipper machines, glove making machines, etc. Contact us to know more!【WhatsApp/WeChat/Phone/Skype】+86 136 1385 6800