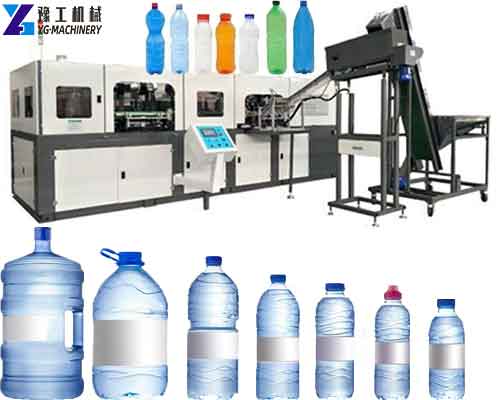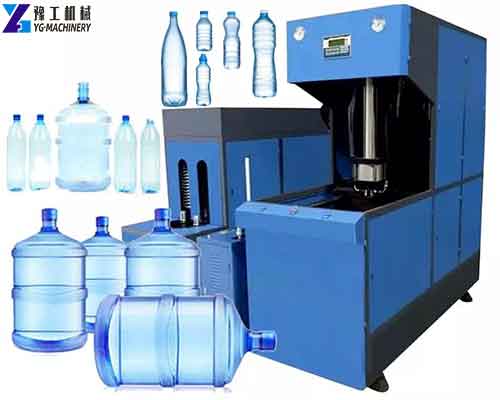 The plastic bottle blowing machine refers to a device that blows bottles. The simplest explanation is a machine that can blow plastic particles (softened into liquid) or finished preforms into bottles through certain technological means. The bottle blowing machine is convenient and fast and has a large amount of molding. After its appearance, it replaced most manual-blowing machines and was adopted by most beverage companies. Our water bottle blowing machine has been sold to Pakistan, India, South Africa, Australia, Malaysia, the United States, the Philippines, Thailand, etc., and received many good voices. If you are interested, please contact us now!【WhatsApp/WeChat/Phone/Skype】+86 136 1385 6800

Plastic Bottle Blowing Machine Specifications:
| | | |
| --- | --- | --- |
| Container | Product material | PET/PP/PC |
| | Volume | 0.1L-5L |
| | Theoretical output | 1200-8000PCS/H |
| | Perform length | 15mm-350mm |
| | Preform inner diameter | φ5mm-38mm |
| Molding | Max. mold plate Dimension(L x W) | 350x380mm |
| | Max. mold thickness | 180mm |
| | Clamping force | 45KN |
| | Mold opening stroke | 160mm |
| Machine size and weight | Main machine (L x W x H) | 160x60x161KM |
| | Main machine weight | 500Kg |
| | Heater (L x W x H) | 187x63x145KM |
| | Heater weight | 250Kg |
| | Power | 17.5kw |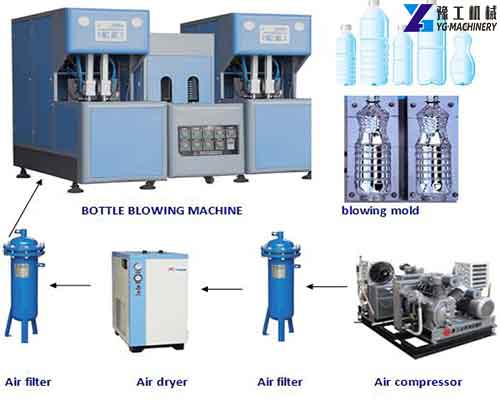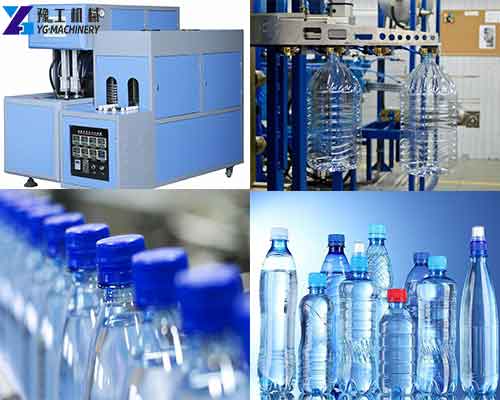 Pet blowing machine has a high configuration, high-cost performance, and high output, this series of PET bottle-blowing machines are loved by major mineral water manufacturers, beverage factories, hand sanitizer, and cosmetic bottle factories at home and abroad. This linear bottle-blowing machine has high output and can produce 2.5L PET bottles at most. It is widely used in mineral water bottles, soda bottles, fruit juice bottles, aerated beverage bottles, wine bottles, soy sauce, vinegar and other seasoning bottles, cosmetics bottles, disinfectant bottles, hand sanitizer bottles, etc. The automatic bottle-blowing machine operates stably and safely, and the quality can meet the CE standard. Siemens Servo System is used for drawing, mold closing, embryo feeding, and bottle discharging.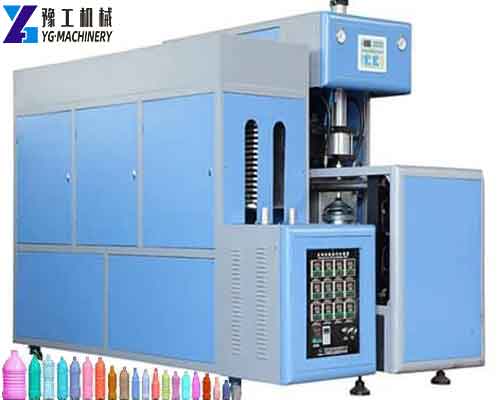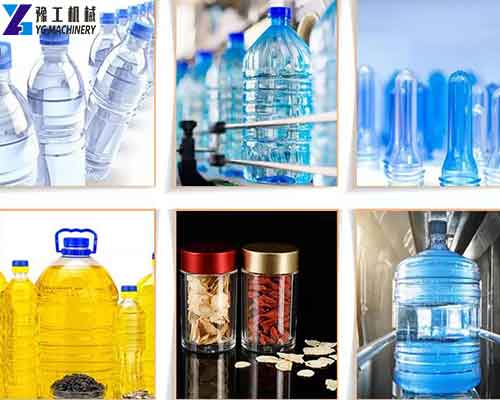 Plastic Bottle Blowing Machine Price – YG Machinery Manufacturer
Our plastic bottle blowing machine is independently developed by our own technology team. It has the characteristics of simple and convenient operation, stability, high efficiency, and high yield. It adopts foreign advanced high-pressure gas recovery technology, which can ensure the quality of bottle blowing, save gas consumption by 15%, and reduce the investment cost and operation cost of low-pressure air compressors. In addition, we also have other machinery, water bottle filling machines, plastic thermoforming machines, egg tray making machines, plastic bag machines, woven bag making machines, nonwoven bag making machines, cast film machines, football making machines, lighter making machines, disposable cup making machines, paper bowl making machines, paper straw making machines, paper bag making machines, paper making machines, sanitary napkin making machines, diaper making machines, wet wipe machines, balloon making machines, condom making machines, shoe cover making machines, disposable slipper machines, etc. Contact us if you are interested in these machines!【WhatsApp/WeChat/Phone/Skype】+86 136 1385 6800