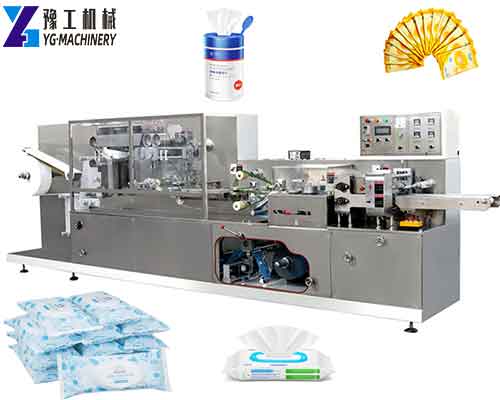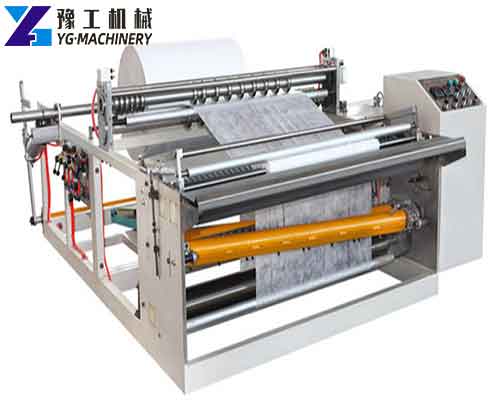 As the flu season strikes, coupled with the spread of the new coronavirus, it is more important to clean your home. There are also many household cleaning products on the market that can help you do a good job of cleaning and effectively eliminate bacteria and viruses. Wet tissue is made of pure water, spun lace non-woven fabrics, and propylene glycol, which is used to wipe the face and hands or skin. At present, due to the new coronavirus, wet wipes have obviously become a must-have household item. The dosage is increasing, and YG Machinery's wet tissue machine can help you solve this problem. YG Machinery has a series of production lines with different specifications, which can certainly meet your requirements. We have two types of wet wipe production lines, fully automatic and semi-automatic. According to the differentiation of each pack of wet wipes, we have the single-piece wet wipes machine, 5~30 piece wet wipes machine, 30~120 piece wet tissue machine, as well as tube and bag packaging line. If you are interested, please contact us for more information.【WhatsApp/WeChat/Phone/Skype】+86 136 1385 6800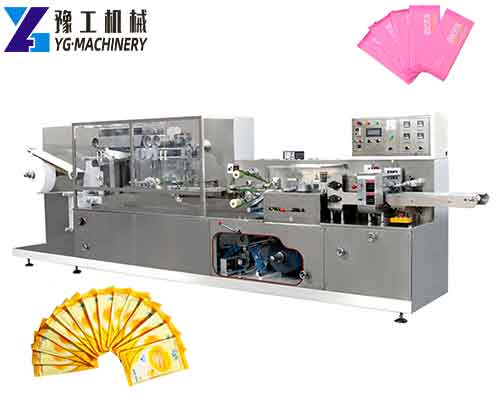 | | |
| --- | --- |
| Product Type | disinfection wipes, makeup wipes, and cleaning wipes |
| Production speed | 150-200 pieces/min |
| Pieces per pack | 1 piece/pack |
| Applicable materials | spunlace cloth, dust-free paper |
| Material weight | 40 -80 g/m2 |
| Voltage | 380V 50HZ |
| Power | 6KW |
| Raw material roll width | 150-200mm |
| Folding method |  "Z", "W" |
| Machine weight | 1500kg |
| Installation space (mm) | 5800×900×1650 (L×W×H) |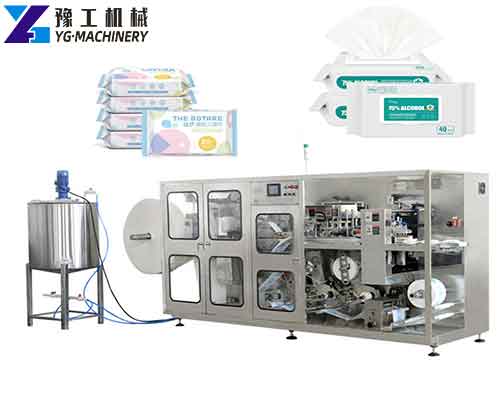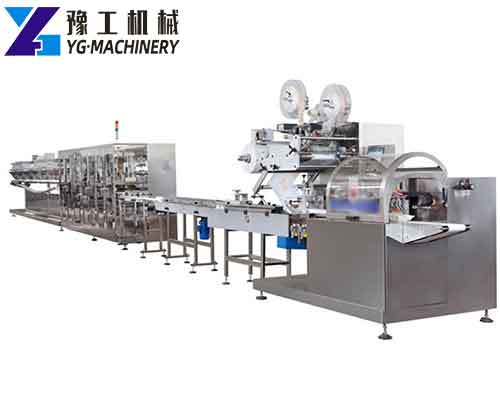 Applicable materials
Spunlace nonwoven, their bond, degradable non-woven fabrics,

wet-strength paper etc

Specification of nonwovens
Max W260mm, Φ1200mm
Applicable packing materials
PET/PE BOPP CPP PET/AL and other hot sealable materials
Film rolling specification
Max W230mm, Φ360mm
Size of wet wipes
L:55-110mm W:30-60mm
Unfolded size
L:110-220mm W:140-260mm
Packing size
L:80-200mm W:40-70mm
Product capacity
80-200 bags/min
Source of air required
0.6-0.8Mpa,100L/min
Power
AC220V 50/60Hz,8KW
Size of the whole machine
L:4000mm,W:3000mm,H:2000mm
Machine net weight
About 2200kg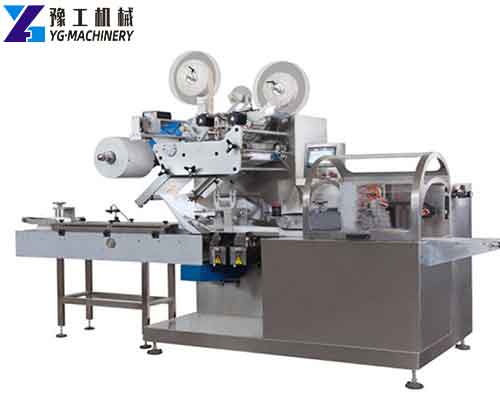 YG Wet Tissue Machine Composition:
YG Machinery's new wet tissue production line, the frame is sequentially installed with feeding and unwinding devices, traction and folding mechanism, liquid filling mechanism, cutting and stacking mechanism, covering mechanism, conveying table and packaging mechanism; feeding and unwinding device There are two unwinding units, and the two unwinding units are arranged side by side; the unwinding unit includes an unwinding rack on which a hydraulic lifting device is installed; the front end of the hydraulic lifting device is equipped with an automatic feeding device and an unwinding rack Our new wet wipes production line adopts an integrated setting, which avoids the unitary production of the previous wet wipes production equipment and ensures production efficiency and production quality.
Technical Field:
The new type of wet tissue production equipment is specifically a wet tissue production line that realizes the integration of the unwinding device, the traction, and folding mechanism, the liquid-adding mechanism, the cutting, and stacking mechanism, the covering mechanism, the conveying table, and the packaging mechanism of the utility model.
Production requirements: suitable for wet wipes processing of spun lace non-woven fabrics, hot-tie cloth, hot-melt cloth, and hot-air cloth.
The Progress of the Machine:
Synchronous conveying-automatic folding-humidification-simultaneous pressing and drying-automatic rewinding-round knife cutting-transfer fixed-length cutting-completion.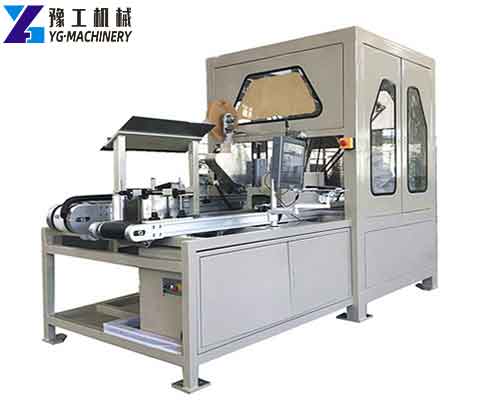 Wet Wipes Machine Feature:
Control driving system: PLC, GOT operation interface, precision transmission by servo motor.
Unwinding mechanism: Independent drive of the unwinding device, automatic control of tension.
Folding and traction mechanism: Various adjustable folding ways, synchronous transmission by servo traction.
Quantitative humidifying system: Two sets of shower pipes, uniform humidifying in 2.5-4.0 times scope.
Rotary cutting-off system: Cut off by rolling cutter synchronously, cutting length controlled precisely, flexible, and easily adjustable nonwoven length.
Folding and conveying device: Folded neatly by manipulators, synchronous, and flexible transmission of wet wipes.
Bag-making and forming device: The tension of the film and the width and height of packing bags can be adjustable automatically.
Packaging, cutting, and sealing device: Adopting Taiwan Rufong vertical sealing technology, advanced horizontal sealing of the Chinese mainland. The seal is firm and beautiful.
Safety guarantee system: Fixed, movable, and closed preventive device, conforming to ISO.
Wet Tissue Machine Manufacturer – YG Machinery
There are two types of wet wipes on the market, one is sanitary wipes and the other is disinfection wipes. As the name suggests, disinfecting wipes have a powerful disinfecting effect. Most of the disinfectant wipes are made of disinfectant or alcohol, purified water is used as production water, and fabrics and dust-free paper are used as carriers. Disinfecting wipes can disinfect other items, such as disinfection or sterilization of skin abrasions and scratches. Therefore, disinfection wipes can be applied to the human body, general equipment, or medical equipment. Almost every family buys and uses disinfectant wipes, and their popularity is quite high. Disinfecting wipes can also easily deal with kitchen stains and can be used as soon as they are drawn, allowing families to easily deal with stubborn stains. YG Machinery's wet wipe machine can also produce wet wipes for children, which is safe and hygienic. At the same time, YG Machinery also has canister wet wipe machines, towel-making machines, wet tissue packing machines, shoe cover machines, glove making machines, sandblasting chambers, paper cup making machines, paper bowl making machines, paper straw making machines, paper dish making machines, paper carton erecting machines, paper bag making machines, paper printing machines, diaper making machines, egg tray making machines, etc. If you want to know more equipment information, please contact us for the latest information.【WhatsApp/WeChat/Phone/Skype】+86 136 1385 6800