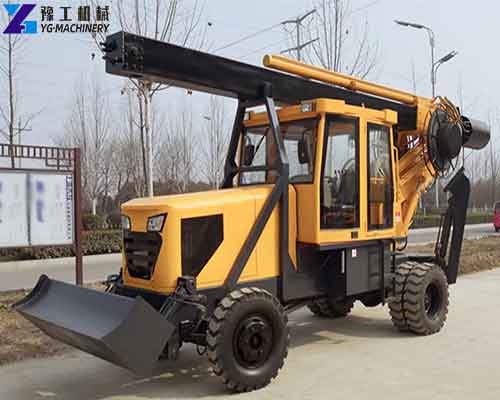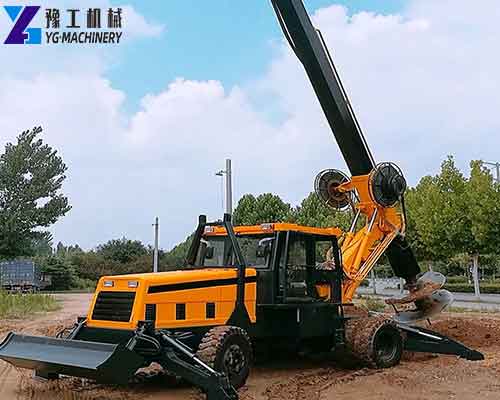 The rotary drilling rig is also called a rotary drilling machine, pile driver. The rotary drilling rig is a comprehensive drilling rig, which can use a variety of bottom layers, has the characteristics of fast hole formation, less pollution, and strong maneuverability. Short auger drills can be used for dry excavation, and rotary drills can also be used for wet excavation with mud protection. The rotary excavator can be used with the hammer to drill and break the hard ground and then carry out digging operations. If it is matched with an enlarged head drill, the hole can be reamed at the bottom of the hole. Rotary excavator adopts a multi-layer telescopic drill pipe, which has less auxiliary time for drilling, low labor intensity, and does not require mud circulation to discharge slag, which saves costs. It is especially suitable for the basic construction of urban construction.【Whatsapp/Wechat/Skype/Phone】+86 136 1385 6800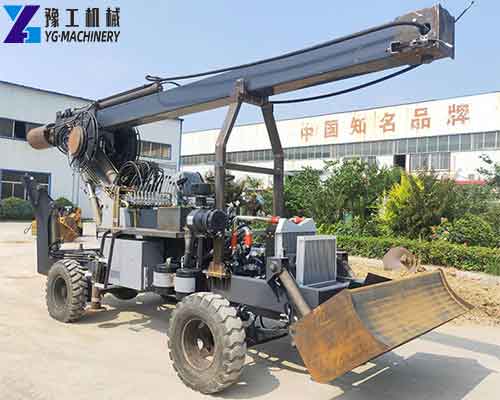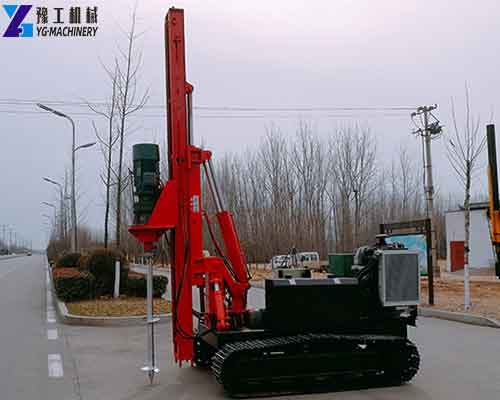 Rotary Drilling Rig Parameter:
| | |
| --- | --- |
| Dimensions (mm) | 7900*2260*3100 |
| Vehicle mass (kg) | 8000 |
| Wheelbase (mm) | 3150 |
| Wheelbase (mm) | Front 1400 After 1060 |
| Drilling depth (m) | 13 |
| Drilling diameter (mm) | 600-1600 |
| Rotation angle | 180 degree |
| Walking speed (km/h) | 50 |
| Gear pump model | CBJT2080 |
| Hydraulic system working pressure (Mpa) | 20-25 |
| Hydraulic system displacement (ml/r) | 80 |
| engine model | 4108 |
| Engine power (kW) | 88 |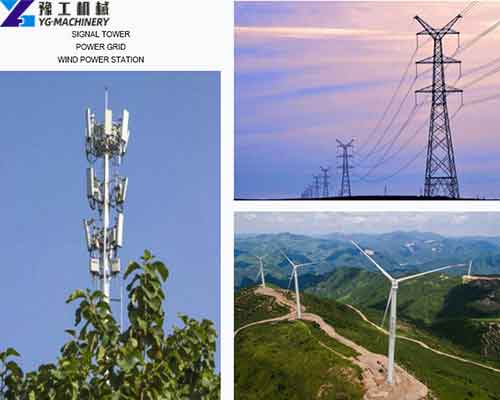 Application of Hydraulic Drilling Machine:
A rotary drilling rig is a construction machine suitable for hole-forming operations in building foundation engineering. It is mainly suitable for sandy soil, cohesive soil, silty soil, fill layer, and silt layer, some of which contain pebbles, gravel, and strong weathering. Rock strata are used for housing construction, high-speed rail catenary support, slope protection piles, urban construction, civil construction, new rural construction, power grid transformation, landscaping, and other engineering projects, used in filling piles, continuous walls, foundation reinforcement, etc. The foundation is under construction.
Rotary Drilling Machine Feature:
Adopting a folding mast structure, simple and delicate structure, good durability, good stability of the whole machine, saving cost, and making maintenance more convenient.
The upper guide frame structure is adopted to ensure the verticality of the drill rod and the ground, making the construction more convenient, improving the construction efficiency, and increasing safety.
The powerhead has a reasonable structure design, reliable lubrication, strong power, and cost-saving, and it is not easy to be damaged and easy to maintain.
Main winch: The original imported hydraulic motor is used, which is sensitive and can be used freely. The lifting speed can reach 82m/min, which greatly improves construction efficiency. The main winch is placed on the right front of the operator so that the operator can observe the working status of the main winch at any time, and avoid rope disorder caused by other factors.
Lock Rod Rotary Drilling Rig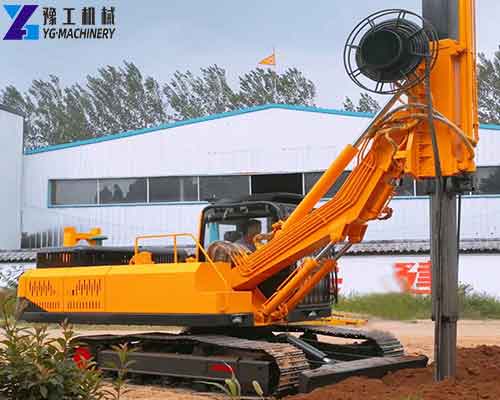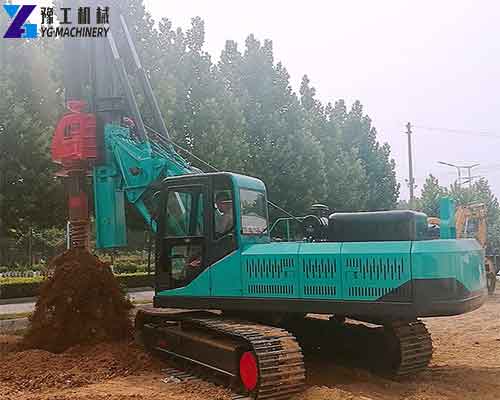 The machine lock rod rotary drilling machine adopts a number of technical applications such as hydraulic crawler telescopic chassis, self-lifting foldable drill mast, telescopic drill rod, etc., small rotation radius, large torque, the hydraulic system installed plunger pump, high flow rate, low noise, long life, The torque of the power motor is large and the drilling speed is fast. The drilling adopts the pressurized and self-weight sliding type, which is fast and efficient.
Compared with ordinary rotary drilling rigs, machine-locked rotary drilling rigs have many objective advantages, such as drilling through cement floors, harder sand layers, rock layers, and other special geology. They are suitable for large-scale engineering construction, building buildings, high-speed, high-speed rail, railway engineering construction.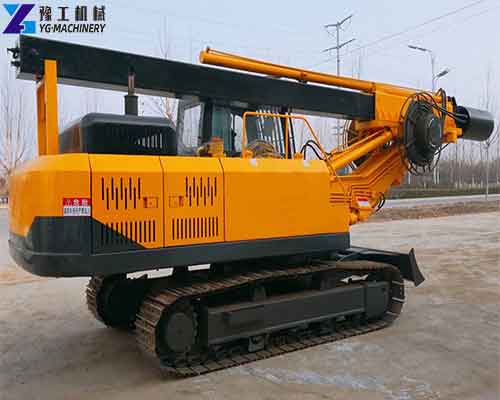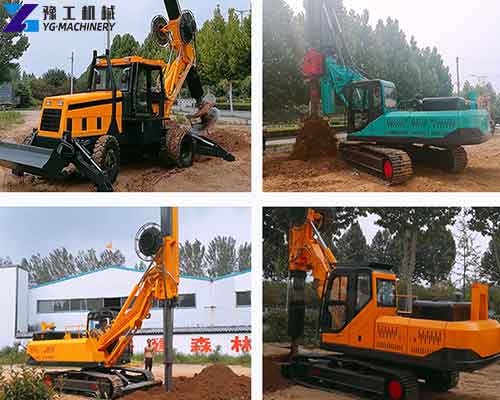 The Correct Way to Unlock the Drill Rod of A Rotary Drilling Machine:
①After completing the drilling process, the drill pipe and the drill bucket cannot be lifted immediately by the main rolling yard.
② Lift the powerhead by 200-300mm with a pressurized oil cylinder.
③Reverse rotation of the drill bucket (opposite to the drilling direction) 2-3 times.
④ Lift the drill bucket at a uniform speed, and it is advisable to lift it with a slow reverse spiral.
⑤In the process of lifting the drill bucket, please pay attention to whether the drill rod and mast have an instant increase in weight and then move downwards every time they reach the length of a section of drill pipe. This action is called the "nodding of the rotary drilling rig" ".
⑥ If you feel that the rotary drilling rig does not "nod your head", stop lifting the drill bucket immediately, lower the drill bit to the bottom of the hole, and repeat the previous operation until you feel a "nod" feel.
Rotary Rig Price – YG Machinery Manufacturer
Rotary drilling rigs are mainly used in municipal construction, highway bridges, industrial and civil buildings, underground diaphragm walls, water conservancy, anti-seepage slope protection, and other basic construction. And the rotary drilling rig is very cost-effective. Wide range of applications. In addition, we have horizontal direction drilling rigs, crawler DTH drilling rigs, portable DTH drilling machines, small water well drilling rigs, trailer mounted water well drilling rigs, core drill machines, etc. Contact us to know more about drilling rigs!【Whatsapp/Wechat/Phone/Skype】+8613613856800