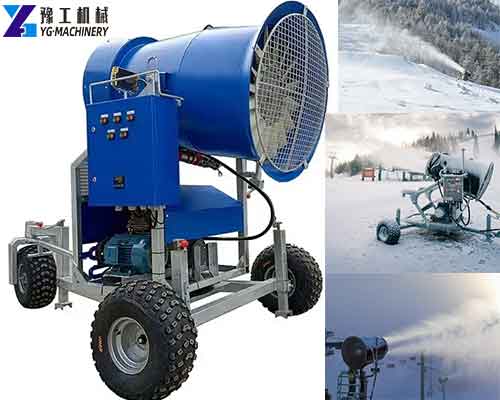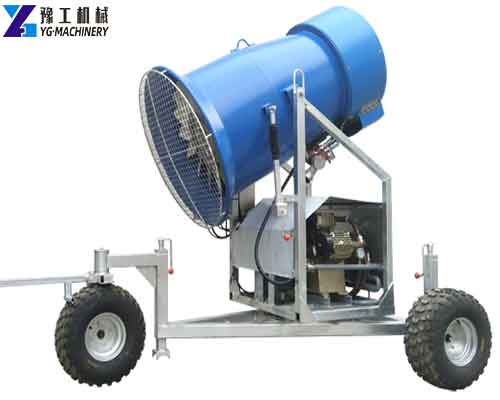 The new ski resort snow-making machine is a fully automatic snow machine system that can be remotely controlled on site, it is adapted to most areas of the country, and a change in the traditional snow machine zero on the defects of the snow can not be made. It can make snow at 2 degrees above zero. Not affected by the ambient temperature and humidity, in a bad environment, can also work, in addition to large, medium, and small ski resorts, snow park use can also be used to do large-scale activities and a variety of ice and snow landscape projects. Provide planning, construction, implementation, a full set of solutions, and one-stop service.【WhatsApp/WeChat/Phone/Skype】+86 136 1385 6800
Snow Making Machine Parameter:
| | |
| --- | --- |
| Dimensions | 2600*2100*2200mm |
| Fan motor | 15kw |
| Air compressor | 7.5kw |
| Nozzle heating | 4*1500w |
| Snowmaking nozzle | 300-360 |
| Number of nozzles | 5 rows |
| Nuclear nozzle | 20-24 |
| Structure | 3 tires and a rotatable bracket |
| Water filter | 100 mesh Stainless steel replaceable and washable |
| Inlet | 2-inch stainless steel quick-change joint |
| Manual control angle | 0°-360° rotation |
| Automatic snow angel | 0°-45° swing |
| Water pressure | 8-40 kg |
| Water output | 3.456-35.81 cubic meters/hour |
| Snow production | 89.525 cubic meters/hour |
| Range | 120 meters in diameter |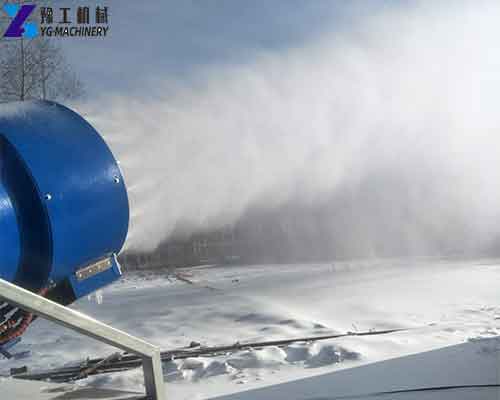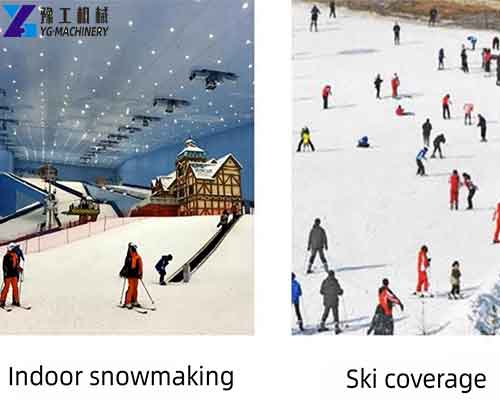 Application of Artificial Snow Machine:
Our company sells snowmaking machines all over the country's snow fields, suitable for ski resorts, snow sculpture, tree hanging, and play snow paradise, it has clean air quality good reputation, reliable. Automatic backflow protection snow machine, automatic preheating control of electric heater, off-road tires, large nozzle diameter, high snowmaking performance, no freezing, no blocking, maintenance-free (do not need to clean the nozzle often), durable.
The machine adapts to most areas, overcomes the defect that traditional snowmaking machines cannot make snow above zero, and can make snow excellently at 2 degrees. It is not affected by ambient temperature and humidity and can work in harsh environments. In addition to being used in large, medium, and small ski resorts, it can also be used for large-scale events and various ice and snow landscape projects.
9 Features of YG Ski Resort Snow Making Machine:
High-strength aluminum alloy precision forging.
Multi-nozzle technology (300-360 water nozzles, 20 nuclear nozzles).
Perfect nozzle design for optimum snowing.
School conditions are not affected by the climate (0 degrees – minus 40 degrees).
The snow produced is very dry, high quality, and can be preserved for a long time.
Snow spray distance is far (can reach more than 100m).
360° rotation, adjustment of the elevation angle, automatic swinging head 45° laying area, saving manpower.
Longer use value is higher.
Low energy consumption, small size, and less environmental pollution.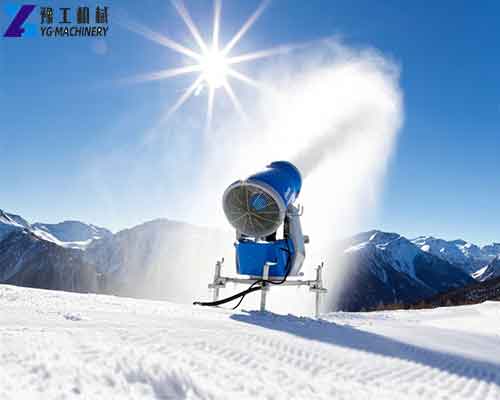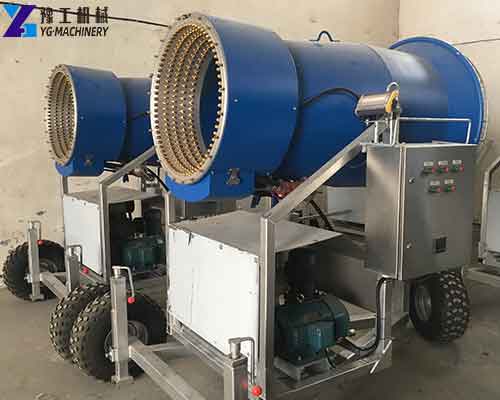 Ski Resort Snow Making Machine Manufacturer – YG Machinery
Snowmaking machines are one of the important items in the construction of current ski resorts. The existence of snowmaking equipment also makes the construction of ski resorts easier. They replace traditional natural snowfall and use artificial snowmaking equipment to complete the foundation of the ski resorts. During construction, snowmaking machines are connected to water and electricity, and snowmaking operations can be started under suitable conditions. This cannon snow-making machine can make high-quality snow under any temperature and humidity. It is low cost, low noise, available in any weather, safe, simple, and small volume. It enjoys the advantages of sports & recreation, especially catering for the recreation or friend's party as well as commercial activities for citizens at the weekend. In addition, we also have electric snow blowers, electric road sweepers, mini skid steer loaders, micro excavators, small backhoe loaders, electric forklifts, fog cannon machines, aerial lifts, mini spider cranes, sandblasting machines, mini concrete pumps, concrete curb machines, etc. Contact us to know more details!【WhatsApp/WeChat/Phone/Skype】+86 136 1385 6800