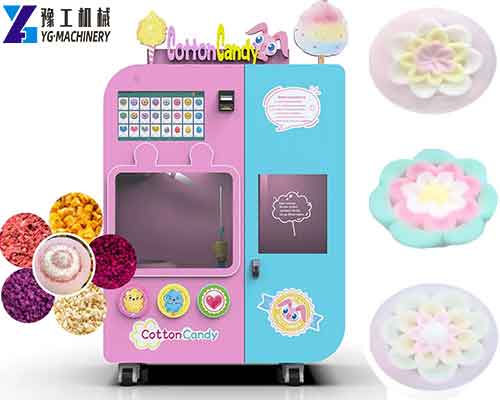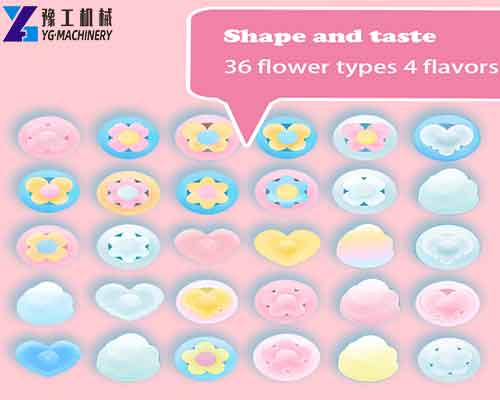 Cotton candy has a wide audience, adults and children like to eat it, and the market is vast! Unmanned self-service vending machines are occupying every corner of our lives in all directions, shopping malls, schools, scenic spots, and office buildings. You can always see them when you need them. Vending machines are not limited by their location and time. Features such as convenient payment have won the favor of many consumers and are in line with the advantages of young people's consumption habits. So it is a good choice to invest in vending cotton candy machine, if you want to know the cotton candy vending machine price, please contact me now.【WhatsApp/WeChat/Phone/Skype】+86 136 1385 6800
Cotton Candy Vending Machine Technical Parameter:
| | | | |
| --- | --- | --- | --- |
| Name | Cotton candy vending machine | Power | 220V 110V |
| Overall size | 202cmL * 64cmW*132cmH | Frequency | 50Hz 60Hz |
| Power | 2.5KW | Weight | 260kg |
| Flower type | 36 kinds | Payment | banknote, coin, credit cars |
| Sugar consumption | 35~40 sugar/KG | Clean water consumption | 25 sugars/liter |
| Screen | 21.5 inches | Humidifier water consumption | 3~9L/8hours*2 |
| Warranty | 1 Year | Custom | appearance/size/logo |
Support Payment
Coin acceptor
bill acceptor
Alipay
WeChat pay
PayPal pay
Apple pay
Credit card
Google pay
Coin exchanger
PayNow
Boost pay
Other payment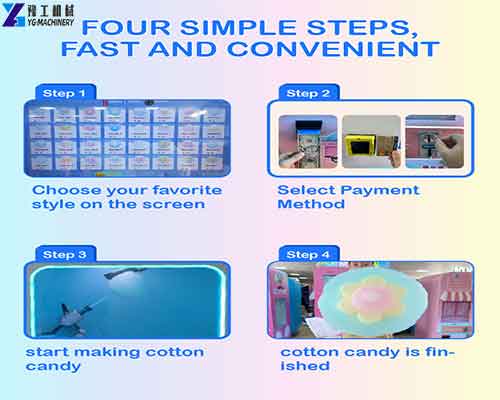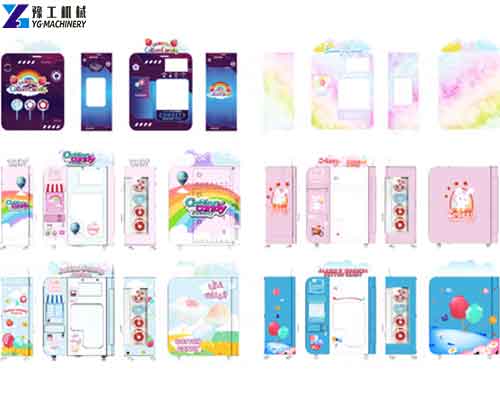 The self-service fancy cotton candy machine has a novel and unique appearance. It comes with popular effects such as the Internet celebrity TIKTOK. It is placed in shopping malls, amusement parks, parks, school gates, etc., which is very attractive to customers.
The self-service fancy cotton candy machine has double bins and double doors, and the independent door makes sugar. The sugar-making process is non-contact, safer, more hygienic, and clean.
Self-service fancy cotton candy machines can make 36 types of cotton candy and more shapes will be updated later.
The machine business automatically arrives at the bank card or cash to the machine every day, and there are prompts for machine failure or lack of materials; there is little warning for paper stick inventory, and the background machine is upgraded and maintained (pattern upgrade maintenance, remote adjustment of equipment parameters, remote sugar making, Remote switch, remotely can view the working status of the machine, remotely switch the machine, query the background check function).
The furnace head has its own cleaning function, which reduces manual cleaning and management of the machine.
Do the humidification function in the sugar silo, adopt nozzle-type humidification, reduce water consumption, better protect the machine, and extend the service life of the machine.
Q: How many languages does the machine support?
A: 29 languages.
Q: How many cotton candy patterns does the machine support?
A: 36 kinds of flower shapes, and it has 4 colors and 4 flavors.
Q: Does the machine support viewing sales data?
A: Yes, the machine has a background app, so you can view the daily sales data.
Q: How many grams of sugar was used per cotton candy?
A: About 40 grams.
Q: How long does it take to make a cotton candy?
A: About 80~120 seconds.
Q: Are there any special requirements for sugar?
A: No, just normal sugar with color or flavor, the size is 1.5~3mm. You can buy it in your local market.
Q: Can I use my own sugar? If I use it, will there be any problem?
A: Yes, you can use your local sugar or buy sugar from us. Sugar colors and the flavor is mixed simply. We will teach you how to mix color and flavor.
Q: Do you provide the paper stick? How much does it cost?
A: Yes, you may buy paper sticks from us or your country, it is not special.
Q: How many paper sticks can be put in the machine at one time?
A: About 200pcs.
Q: Will you provide training on how to use the machine and operate the system?
A: We have 24-hour technical staff, an online service, an APP for training, user manuals, and videos to study the machine, as well as online engineers to answer all questions via WeChat, WhatsApp or email, or telephone.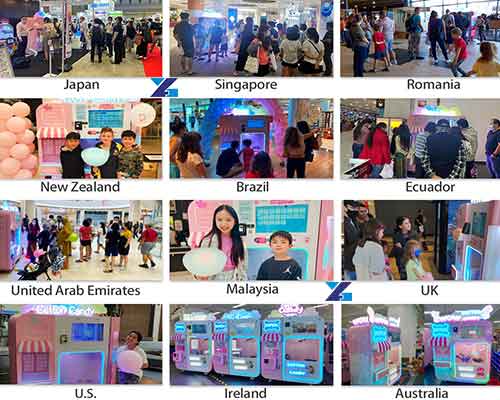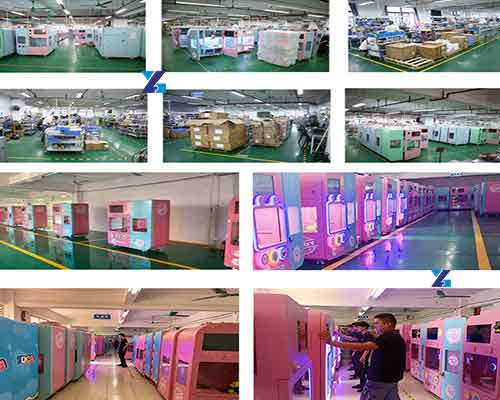 Cotton Candy Vending Machine Price – YG Machinery Manufacturer
YG is dedicated to producing timeless, classic cotton candy, commonly known as fairy floss. Its aim is to deliver fun and art through cotton candy in a very innovative way, using an automated vending machine. The machine is able to produce a variety of colors of 32 artistic candy designs to choose from. The machine's viewing windows allow you to visibly look at how your fairy floss is made which is definitely enjoyable and entertaining. Countries like Canada, the USA, Russia, UAE, Kuwait, Qatar, Ukraine, Malaysia, Indonesia, and others are also enjoying this new advanced technology. In addition, we also have disposable cup making machines, paper bowl making machines, paper dish making machines, paper straw making machines, paper carton erecting machines, aluminum foil container machines, egg tray making machines, tissue making machines, A4 paper making machines, napkin making machines, diaper making machines, sanitary napkin making machines, wet wipe making machines, etc. Contact us if you want to know more machine details!【WhatsApp/WeChat/Phone/Skype】+86 136 1385 6800