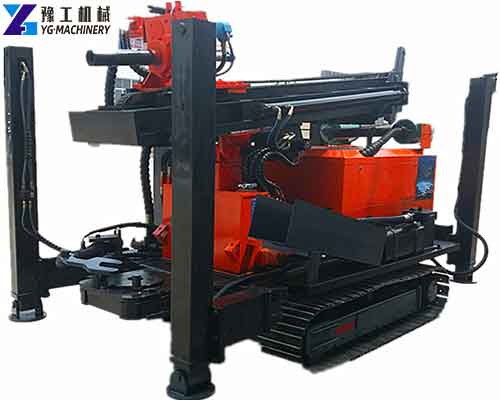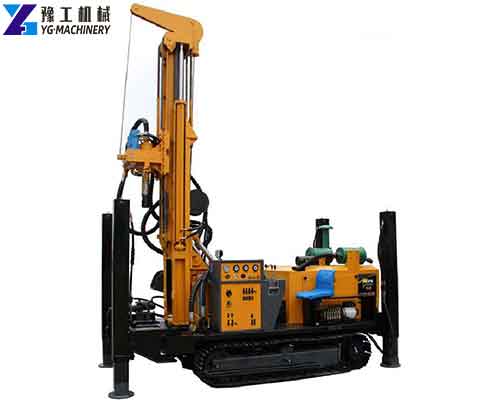 Crawler water well drilling rig built inside the manufacturer of YG is driven by a hydraulic system, featuring high efficiency and multi-functions. The crawler-mounted water well drilling machines are multi-functional, they could be applied for well drilling, geotechnical drilling, geothermal drilling, mining exploration, and offshore drilling. On August 20, 2023, our Mexican customer ordered a crawler water well drilling rig to be used with an air compressor for drilling water wells. Contact us for a commercial quote!【WhatsApp/WeChat/Phone/Skype】+86 136 1385 6800
Crawler Mounted Water Well Drilling Rigs Technical Parameter
Model
YGF-180
YGF-200
YGF-260
YGF-300
Weight (Ton)
4.5
5
6.5
7.2
Drilling Diameter (mm)
140~254
140~254
140~305
140~325
Drilling Depth (m)
180
200
260
300
Walking Speed (Km/h)
2.5
2.5
2.5
2.5
Climbing Angles (°)
30
30
30
30
Equipped capacitor (Kw)
55
65
70
85
Using Air Pressure (Mpa)
1.7~2.5
1.7~3.0
1.7~3.0
1.7~3.0
Air Consumption (m³/Min)
17~31
17~31
17~31
17~36
Drilling Pipe Length (M)
1.5/2/3
1.5/2/3
1.5/2/3
1.5/2/3
Rig Lifting Force (T)
12
13
20
24
Swing torque (N.m)
3200-4600
3400-4700
4000-5300
5700-7500
Swing speed (rpm)
45-70
45-70
45-70
45-70
Dimension (mm)
3950*1630

*2250

3950*1750

*2250

4000*1850

*2300

4100*2000

*2500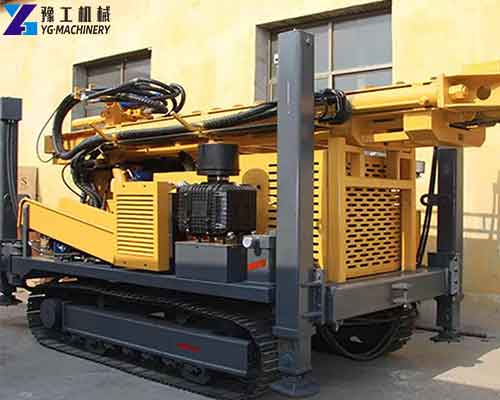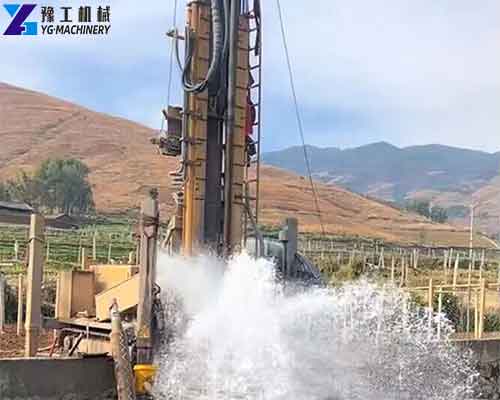 10 Advantages of YG Crawler Type Water Well Drilling Rig:
Fully hydraulic control is convenient and flexible. The speed, torque, propulsion shaft pressure, reverse shaft pressure, propulsion speed, and lifting speed of the drilling machine can be adjusted at any time to meet the needs of different drilling tools and different construction processes.
Top drive rotary propulsion. It is convenient for the drill pipe to be connected and unloaded, shortening the auxiliary time, and also facilitating the drilling with the pipe.
Multi-functional drilling. Various drilling processes can be used on such drilling rigs, such as down-the-hole drilling, through-air reverse circulation drilling, gas lift reverse circulation drilling, cutting drilling, cone drilling, heel drilling, and The core is being developed and so on. The rig can be equipped with mud pumps, foam pumps, and generators according to user requirements. The rig also comes standard with a variety of winches.
High work efficiency. Thanks to the full hydraulic and top drive rotary propulsion, it is suitable for various drilling processes and various drilling tools. It is easy to operate and flexible, with fast drilling speed and short auxiliary time, so the work efficiency is high.
Low cost. Drilling on the rock is dominated by the DTH hammer drilling process, and the DTH hammer rock drilling operation is highly efficient, and the single-meter drilling cost is lower.
High-leg crawler. The high-legged legs are easy to load and transport and can be directly loaded without a crane. Tracked walking is more suitable for muddy on-site movement.
Positive and negative axial pressure regulation. The optimum impact efficiency of the various impactors has their optimum axial pressure and speed. During the drilling process, as the number of drill pipes increases, the axial pressure on the impactor also increases. Therefore, the positive and negative axial pressure valves are adjusted during construction to ensure that the impactor can obtain a more matching axial pressure. At this time, the impact efficiency is higher.
The role of the oil mister. Patented oil mister and oil mist pump. During the drilling process, the high-speed impactor is lubricated at all times to extend its service life to a greater extent.
Drill chassis. It can be a crawler-type self-propelled chassis or a self-propelled chassis.
More valuable. Since the main components of the rig are all imported brands, the main frame of the rig is made of high-quality high-strength low-carbon alloy steel, which increases the overall strength and is super wear-resistant. There is also a heavier hydraulic system, which is very valuable.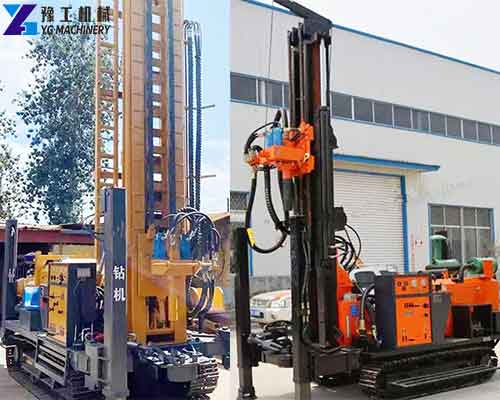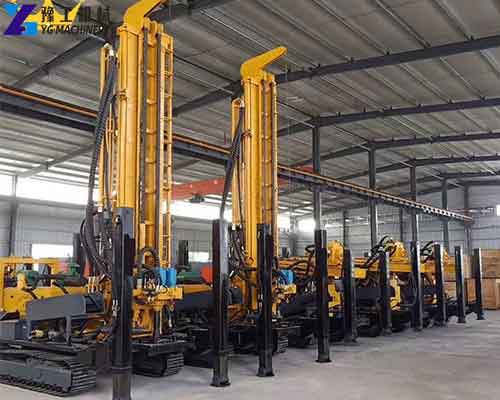 Crawler Water Well Drilling Rig for Sale in YG Machinery
As a professional drilling rig manufacturer, Yugong Machinery has 18 years of experience. Our equipment is constantly upgraded and updated. Combined with customer feedback, we use the latest technology to bring customers a better experience. There are 200, 300, 400, 450, 500, 600, 800, and other water well drilling rigs with a drilling depth of 200-2,500 meters and a hole diameter of 100-350mm. And the specifications and types of similar products are available. We also have trailer-mounted water well drilling rigs, tractor-mounted water well drilling rigs, core drilling rigs for mining, crawler DTH drilling rigs, horizontal directional drilling rigs, rotary drilling rigs, anchor drilling rigs, hydraulic drilling rigs, small water well drilling rigs, portable DTH drilling rigs, portable air compressors, mud pumps, hydraulic pile drivers, etc. Contact us know more details!【WhatsApp/WeChat/Phone/Skype】+86 136 1385 6800