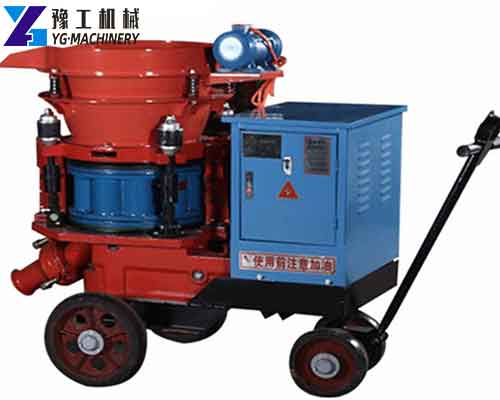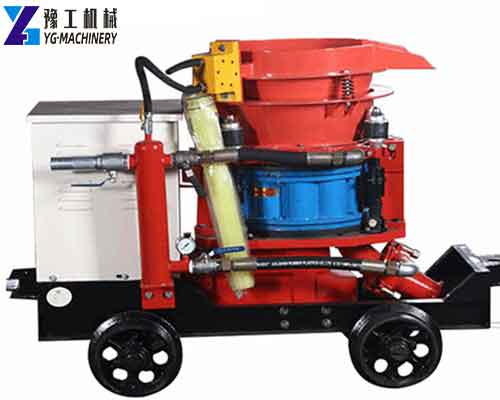 The shotcrete machine is a new type of high-efficiency shotcrete machine, which is mainly suitable for concrete shotcrete of 5m*5m section roadway. The device has a reasonable structure, humanized design, reliable performance, convenient operation and maintenance, and long service life. No dust, low noise, and low rebound rate during work. The machine greatly reduces the dust concentration near the machine and the nozzle improves the working environment of the workers and reduces the pneumoconiosis caused by the dust. Applicable to iron (gong) road tunnels, high-rise buildings, and water diversion culverts. The machine is simple in structure and easy to operate and maintain.【WhatsApp/WeChat/Phone/Skype】+86 136 1385 6800
Technical Parameter of Dry Shotcrete Machine:
Model
PZ-3
PZ-5
PZ-7
Spray Capacity
3m³/h
5m³/h
7m³/h
Max. Convey Distance
Horizontal
200m
200m
200m
Vertical
20m
20m
20m
Water Cement Ratio
<0.4
<0.4
<0.4
Max. Aggregate Size
Ø20mm
Ø20mm
Ø20mm
Rotor Diameter
350mm
440mm
480mm
Operating Air Pressure
0.4-0.6mpa
0.4-0.6mpa
0.6-0.8mpa
Air Consumption
3-4m³/h
6-8m³/h
7-8m³/h
Power
3kw
5.5kw
7.5kw
Size
1040*550*950mm
1300*705*1300mm
1600*750*1200mm
Weight
260kg
600kg
700kg
Wet Shotcrete Machine Specification:
Model
HSP-5
HSP-7
Spray Capacity
5m³/h
7m³/h
Max. Convey Distance
Horizontal
30m
30m
Vertical
20m
20m
Max. Aggregate Size
Ø15mm
Ø15mm
Power
5.5kw
7.5kw
Size
1280*700*1280mm
2000*800*1300mm
Weight
700kg
800kg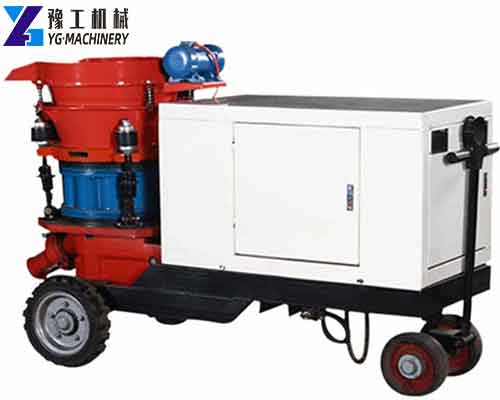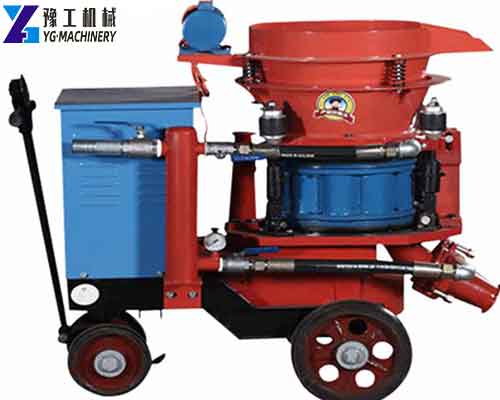 Working Principle of YG Gunite Equipment:
The cement slurry pumped by the mud pump is mixed with the sand and quick-setting agent sprayed from the sprayer in the mixer, and then the mixture is sent to the spray gun by the transfer pipe to perform the spraying operation.
Gunite Sprayer Application Range:
Underground engineering: Main support and lining of mine roadways, flexible tunnels, hydraulic tunnels, and cavities of various types of use (underground power stations underground warehouses, movies, etc.).
Thin-wall structure engineering: Thin-shell roof, prestressed construction of reservoirs and storage tanks, etc.
Repair and reinforcement work: Bridges, seawalls, chimneys, cooling, bridges, dams, tunnels, wharves, building structural reinforcement, chemical corrosion, fire, earthquake, explosion impact, overload or construction quality, the most unfavorable factors, such as repair Damaged institution.
Breakwaters in geotechnical engineering: Slopes, dams, tunnels, reservoirs, swimming pools, deep foundation pits, irrigation, and retaining walls.
Protective engineering: All kinds of steel structure fireproof coatings.
Refractory Project: Building chimneys and various hot melt furnaces and repairs.
High-quality Shotcrete Machine for Sale in YG Machinery Manufacturer
Shotcrete machine (jet machine) is widely used in building wall spraying, slope protection, tunnel construction, and other places where there is no harmful gas and concrete spraying is required. In engineering construction, mines, tunnels, culverts, subways, hydropower projects, slope protection and greening construction, soil transportation, and spraying. In addition, we also have mortar spraying machines, fog cannons, sandblasting machines, hydroseeding machines, mini concrete pumps, putty spraying machines, concrete mixer machine with pumps, micro excavators, auto brick-making machines, GRC machines, etc. Contact us now!【WhatsApp/WeChat/Phone/Skype】+86 136 1385 6800