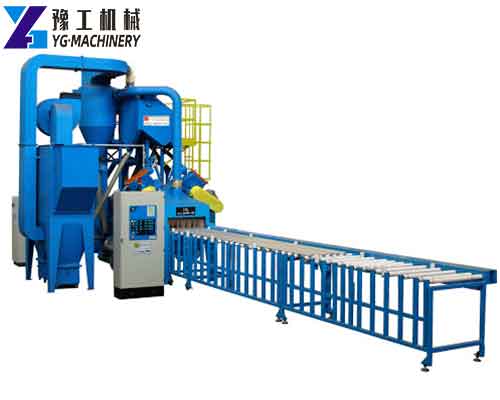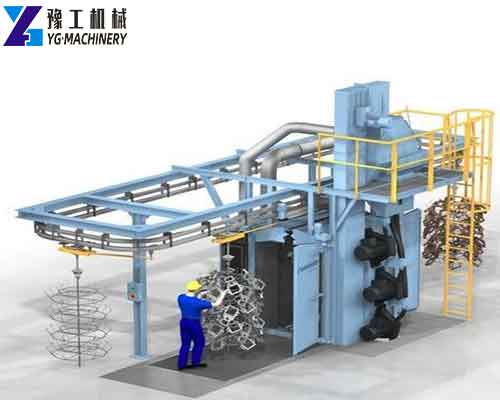 The pass-through shot blasting machine is the most extensive type of shot-blasting machine for shot blasting machines. Pass through shot blasting machine is suitable for de-stressing and surface descaling of steel, angle steel, rebar, metal structure weldments, steel products, railway vehicles, construction machinery, and bridge manufacturing. It can apply strong shot blasting to the surface of the steel in its original state, remove the rust layer, and obtain a uniform and uniform metallic luster surface to remove stress and improve the steel structure and the surface finish quality and corrosion resistance of steel. In addition, we also have sandblasting chambers, sandblasting rooms, floor shot blasters, portable sandblaster machines, rebar derusting machines, hanger shot blasting machines, etc. that can be used for de-rusting. Contact us to know more. 【WhatsApp/WeChat/Phone/Skype】+86 136 1385 6800
Pass-Through Shot Blasting Machine Parameter:
Parameter
YG-698
YG-6912
YG-6915
YG-6920
YG-6925
YG-6930
YG-6940
The effective cleaning

width(mm)

800
1200
1500
2000
2500
3000
4000
The room feed-in

size(mm)

1000*400
1400*400
1700*400
2200*400
2700*800
3200*800
4200*400
The length of cleaning

The workpiece (mm)

1200-12000
1200-1600
1200-12000
1200-12000
3000-12000
2400-12000
4500-18000
The speed of the conveyor

(m/min)

0.5-4
0.5-4
0.5-4
0.5-4
0.5-4
0.5-4
0.5-4
The thickness of the cleaning

steel sheet(mm)

3-60
3-60
1.5-60
3-60
3-60
3-110
4.5-100
The section steel

specification(mm)

800*300
1000*300
1500*300
2000*300
2500*700
3000*700
4000*300
The quantity of shot

blasting(kg/min)

4*180
4*250
4*250
6*250
6*250
6*360
8*360
The first enclosed

quantity(kg)

4000
4000
4000
4500
4500
8000
11000
Roll brush adjusting

height(mm)

200
200
350
450
600
850
900
Total power (kW)
90
78.3
113.5
156.6
204.8
224.55
293.6
Airness size(m3/h)
22000
17560
19000
19550
27758
28050
38000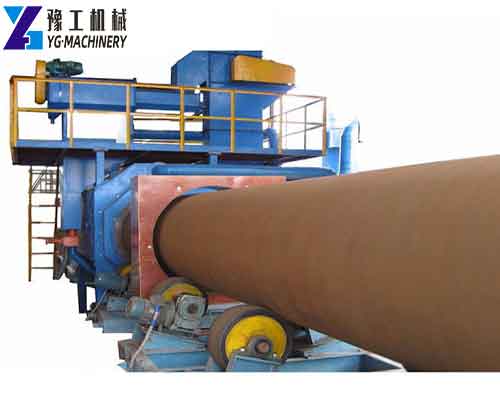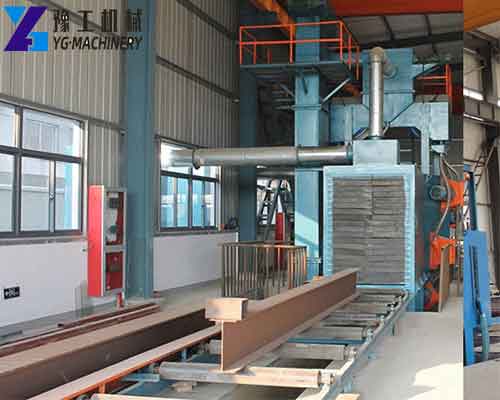 Application Scope of Pass-Through Shot Blasting Machine:
It is mainly used for the surface smoothing and scratch treatment of metal workpieces such as stainless steel, aluminum steel, and aluminum panels, and the surface cleaning and surface strengthening treatment of metal workpieces in cast pipes, steel pipes, petroleum, and chemical industries. It can also be used for surface strengthening, surface cleaning, surface pretreatment, removal of rust, oxide scale, least, impurities, dirt, and other surface residues of steel structures, steel sections, sheet metal, and other metal workpieces, resulting in appropriate roughness to meet the demand. Degree and matte surface, increase the adhesion of the surface of the metal workpiece.
YG Pass Through Shot Blasting Machine Features Introduction:
The use of a pitless structure makes installation and maintenance convenient and reduces investment costs.
The utility model has the advantages of a compact structure, high production efficiency, good cleaning quality, safe and reliable work, and stable operation of the equipment.
It adopts a high-quality and high-efficiency blasting machine with a variable frequency speed regulation function, which can control the shot blasting force to meet the surface cleaning requirements of workpieces with different thicknesses.
The angle of the projectile can be adjusted, and the cleaning area is flexible.
It is equipped with a fully automatic monitoring system to monitor the working condition of each transmission part at any time. If an abnormal situation is found, it will automatically alarm and prompt.
The lower shot is controlled by automatic pneumatic control, which can control the number of shots freely, enduring the perfect cleaning effect.
The workpiece conveying speed can be adjusted by frequency to meet different production efficiency requirements.
The whole electrical system adopts "PLC" centralized control and the performance of the main components is relatively stable.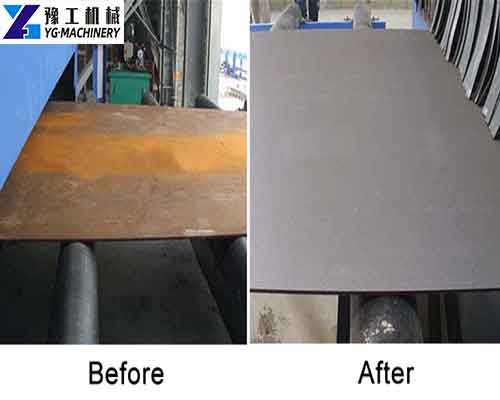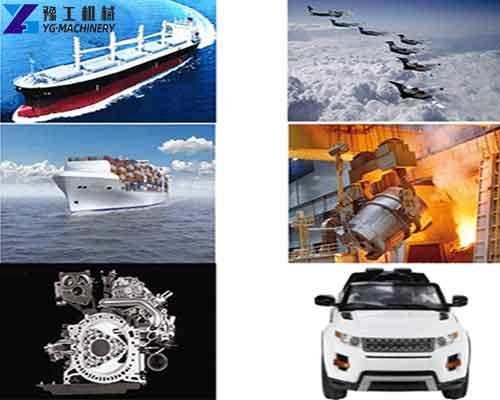 Shot Blasting Principle:
The shot blasting is performed by the impeller rotating at a high speed, and the abrasive at the center of the impeller is pre-accelerated by a regulator and an impeller and is sent to the blade area to throw the abrasive at a high speed, and the speed can exceed 100m/s. due to the large coverage of shot blasting, there is no need to use air pressure, and the energy efficiency is higher than sandblasting. Shot peening is used to improve the fatigue strength of workpieces subjected to high stress and alternating stress. Shot peening has replaced a wide range of other time-consuming and expensive processes, enabling the design of lower-cost and lighter-weight parts. Shot peening is used to improve the workpiece. Physical performance has played a significant role.
Shot Blasting Strengthening Features:
The steel shot is thrown onto the surface of the workpiece without compressive stress and tensile stress, obtaining a regional distribution of pressure and tension. Through surface strengthing, the stress can be made uniform, and the shot peening hardening is especially weakened, and the surface tension is weakened, which is why shot peening can improve the fatigue strength of the metal.
Shot Blasting Pretreatment-refurbishment and Transformational:
In the painting industry, the shot blasting machine is used for the surface pretreatment of the workpiece, such as radiators, cylinders, steel drums, containers, drums, pipes, drums, etc., to ensure the perfect adhesion of paint on the workpiece. Shot blasting is also used to remove old paint before new paint is applied.
In addition, large cleaning rooms with wheels and shot peening can be used for mechanical de-rusting or refurbishment of large work items such as welded steel structures, freight cars, ship plates, and railway vehicles.
Pass-Through Shot Blasting Machine Manufacturer – YG Machinery
Henan YG Machinery has more than 15 years of manufacturing and export experience. our different types of machines that can be suitable for many engineering projects. Products are exported all over the world and are well received by customers. CE, ISO 9001, and strict production policies guarantee the high quality of our products, convenient for export. Customer service staff is available 24 hours a day and provides free technical support. We offer factories and competitive R&D technical teams at competitive prices. Our company sells a variety of mechanical equipment to meet your needs. Engineers can guide the installation and handling of other issues. We offer OEM&ODM services to meet all your requirements. If you are interested in our machines, please contact us in time.【WhatsApp/WeChat/Phone/Skype】+86 136 1385 6800