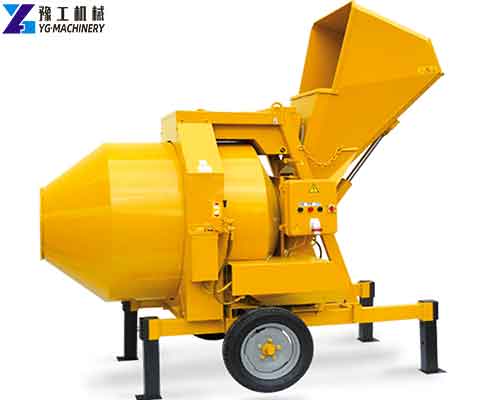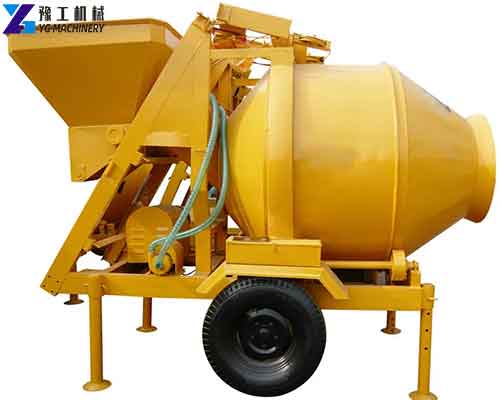 A diesel concrete mixer is a machine that mixes cement, sand, gravel aggregates, and water into a concrete mixture. The machine of this utility model has a simple and reasonable structure and can effectively overcome rain and fog weather. Widely used in road, bridge, house construction, and other engineering construction and prefabricated component factories. So if you are interested, contact us today, and we will help you choose the ideal concrete mixer machine.【WhatsApp/WeChat/Phone/Skype】+86 136 1385 6800
Diesel Concrete Mixer Parameter:
Model
YG350
YG400
YG500
YG750

Working performance

Discharge capacity
350L
400L
500L
750L
Feed capacity
560L
650L
800L
1200L
Productivity
10-14m3/h
18-28m3/h
14-18m3/h
20-22m3/h
Speed
14r/min
14r/min
13r/min
13r/min
Maximum aggregate size
60mm
60mm
60-80mm
60-80mm
Motor
Stirring motor
5.5KW
7.5KW
11KW
15KW
listing motor
5.5KW
7.5KW
5.5KW
7.5KW
Pump motor
0.55KW
0.75KW
0.75KW
1.1KW
Dimension
2766*2140*3000mm
3850*2200* 2850mm
5226*2200* 5460mm
6116*2056* 6060mm
Total weight
1950kg
1950kg
3100kg
4200kg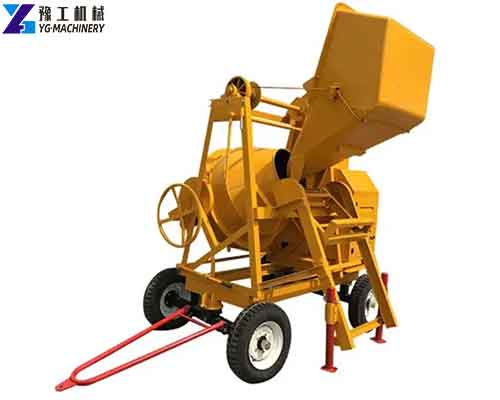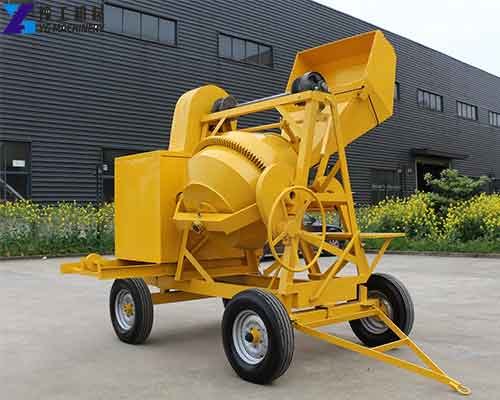 Concrete Mixer Product Advantages:
It adopts four rubber supporting wheels for friction transmission, which is not easy to slip.
Smooth operation, low noise, and does not disturb people.
Easy to operate and move.
Reasonable structure and novel design.
Lightweight and beautiful appearance.
Good mixing quality.
High production efficiency.
Why Are YG Concrete Mixers Widely Used?
The quality of the concrete mixed by the concrete mixer is good. The concrete mixer mixes relatively evenly. Moreover, different concretes have different mixing times, and the concrete mixer can set the time.
It can mix different concretes. Different concrete mixer models have different mixing performances. Users can choose the appropriate concrete mixer model according to their project needs.
High mixing efficiency. Whether it is a large project or a smaller project, no matter how much concrete you need, the concrete mixer can produce it for you according to your needs without delaying the construction period.
Save labor. There are many shortcomings of manual mixing of concrete, such as the concrete quality is not up to the requirements, the production speed being slow, and one type of concrete requiring several people to mix. The important thing is that mixing concrete is a relatively physical work. However, concrete mixers can solve these shortcomings. Only one person is needed during mixing. As long as the materials to be mixed are put in, only one person can operate it.
Protect the environment. Manual mixing is a job that pollutes the environment because it is located on the open ground. However, mixing in a concrete mixer can effectively avoid environmental problems such as dust and significantly reduce environmental pollution.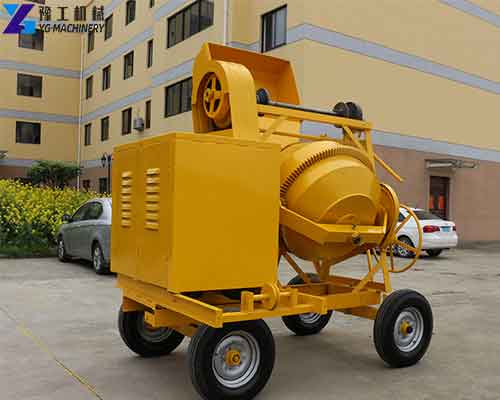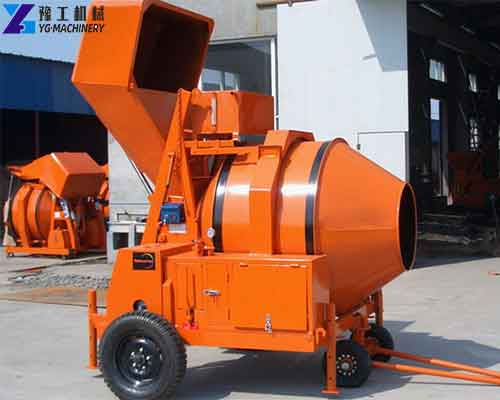 Diesel Concrete Mixer Price in YG Machinery:
YG has exported more than 200 concrete mixers to Mexico, Nigeria, the United States, Malaysia, Australia, Thailand, the Philippines, Indonesia, and other countries for various projects. So we have rich experience in concrete mixer sales and have a clear understanding of construction projects. A concrete mixer is a professional machine that mixes cement, sand, gravel, and water in a certain proportion and mixes them evenly. The operation is simple and reduces labor. In addition, we have small concrete pumps, concrete mixer with pump, mortar spraying machines, shotcrete machines, fog cannons, GRC machines, sandblasting machines, hydroseeding machines, micro excavators, mini skid steer loaders, small backhoe loaders, electric forklifts, aerial lifts, mini spider cranes, etc. If you want to know more details, contact us now!【WhatsApp/WeChat/Phone/Skype】+86 136 1385 6800