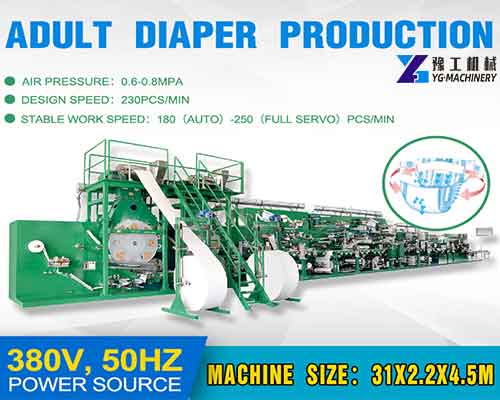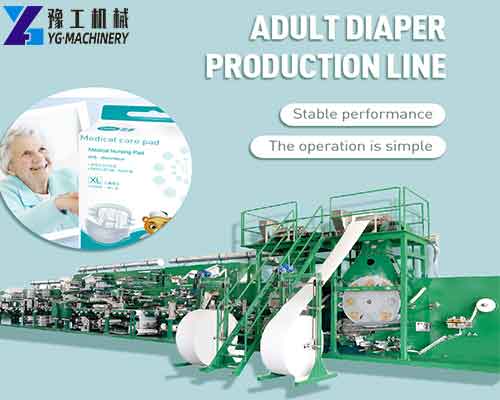 The adult diaper manufacturing machine includes the mainframe, gluing machine, packaging system, and other supporting equipment, including an air compressor, visual inspection system, and metal detector. The adult diaper machine can produce various sizes of diapers according to the order. We can customize I-type and pull-on adult diapers according to customer requirements.【WhatsApp/WeChat/Phone/Skype】+86 136 1385 6800
Diaper Manufacturing Machine Configuration:
| | |
| --- | --- |
| Product size | M: 680×650 L: 800×650 XL: 950×760 |
| Product structure | SAP core, hydrophobic non has woven (leg cuff), top sheet nonwoven, ADL, spandex, back sheet, tapes, elastic waistband, and frontal tape. |
| Control system | PLC control system, operating on the touch screen, configure HDTV monitor. |
| Drive system | Servo Drive(Easy to change size), timing belt, and flat belt are imported products, and all the key parts, are imported bearings. |
| Tension system | Top tissue paper, bottom tissue paper, hydrophobic non-woven (leg cuff), top nonwoven, ADL, back sheet, and elastic nonwoven are adopted A&B shaft active unwinding by inverter motor. |
| Safety system | It has a safety device on the operating side, matched with an urgent stop switch. The high audio fan uses sound insulation or a silencer. |
| Materials corrective system | Germany BST automatic web guide system (optional). |
| Packing way | Equipped with the stacker at the request of the client. |
Following Material:
The adult diaper-making machine requires the following materials: fluff pulp, non-woven fabric, tissue paper, film, SAP, glue, ADL, elastic webbing, front tape, side belt, and waist belt.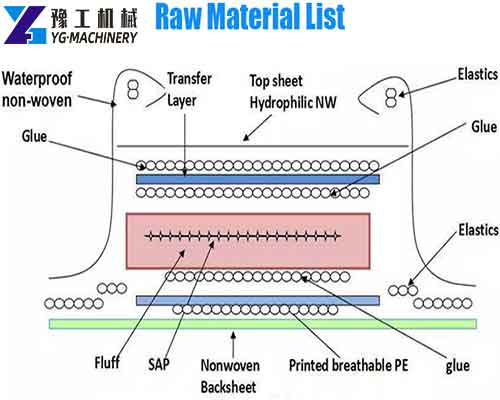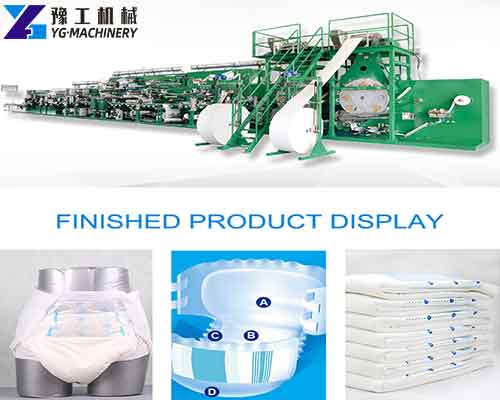 The Difference Between Adult Diapers and Baby Diapers:
Adult diapers are single-use paper-based incontinence products and belong to a category of adult care products. Adult diapers are similar to baby diapers in terms of product principle and structure, but there are big differences between the two in terms of technical indicators and safety standards for the following reasons: babies and children have delicate skin and poor immunity, and baby diapers are better than adult diapers in terms of absorption rate, reverse osmosis volume, and hygiene and safety indicators. Adults, on the other hand, have large urine volume and large body size, and the absorption volume and size of adult diapers are much larger than those of infant diapers. Adult diapers are suitable for the disabled elderly, bedridden elderly, pregnant women, and people with mobility problems.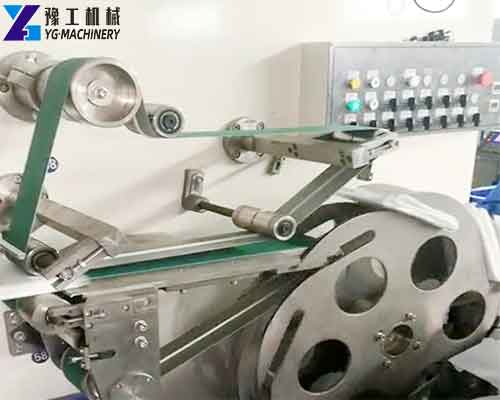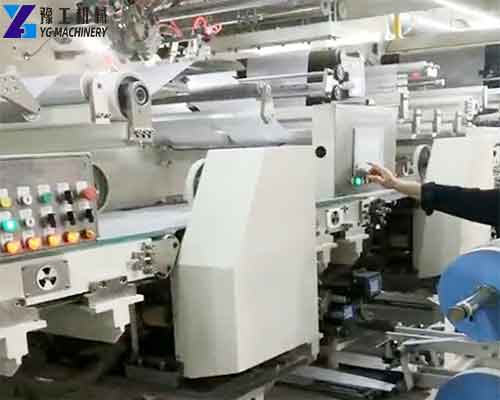 Pull-Up Making Machine Main Structural Devices:
The crushing device.
Negative pressure suction device.
Demoulding forming device.
Polymer application device.
Toilet paper wrapping device.
Cotton core compaction device.
Cotton core cutting device.
Core cutting device.
Core steering device.
Elastic unwinding device.
Grooming layer application device.
Anti-side leakage standing enclosure embossing device.
Trouser waist synthesis device.
Product folding device.
Discard the sticker-applying device.
Finished product cutting device.
Finished product folding device.
Waste rejection device.
Safety protection door.
Dust removal and noise reduction system.
Elastic point-breaking device.
Color picture sticker applying device.
Stacker.
Diaper Making Machine Price in YG Machinery Manufacturer
Nowadays, there are various brands of diapers to choose from on the market, but we often buy those that are not suitable for our children or parents. Why is this? Due to the mixed market, many diaper manufacturers have not bought a suitable diaper making machine, so a series of adverse reactions have occurred. Now I will introduce Henan YG Machinery, a machinery manufacturer recognized by public customers. We have a dedicated scientific research team as well as sales and after-sales teams. When you buy our machine, there are no worries at all. You will know that the customer will use the machine and debug the machine to the best working condition.
In addition, YG Machinery also has sanitary napkin making machines, toilet paper making machines, disposable cup making machines, double wall paper cup machines, roll die cutting machines, paper cup printing machines, paper bowl making machines, folder gluer machines, lunch box making machines, shoe cover production lines, wet wipe production lines, paper bag making machines, balloon making machines, condom making machines, etc. the same series of equipment. If you want to make more money, please invest in our equipment.【WhatsApp/WeChat/Phone/Skype】+86 136 1385 6800